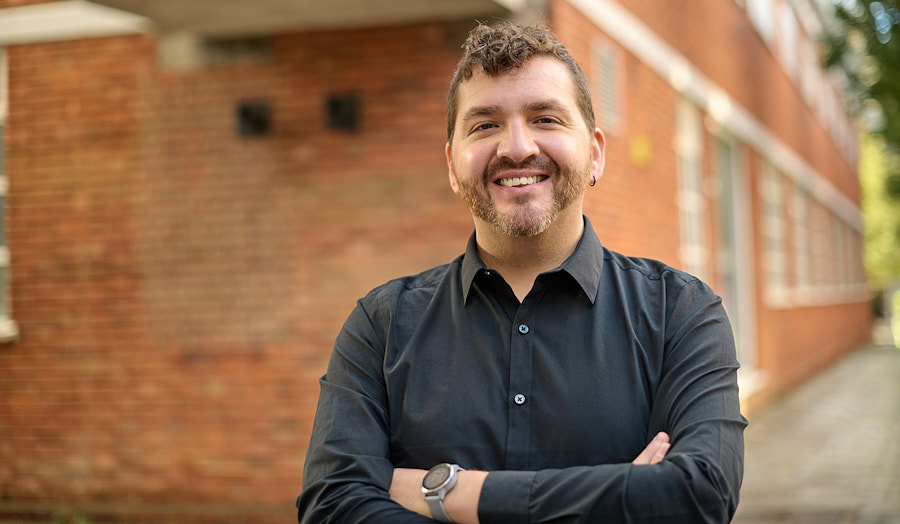 Dr Sebastian Cordoba is a social and LGBTQ+ psychologist. He holds a BA in human development from California State University Long Beach; an MA in general psychology from The City College of New York; and a PhD in psychology from De Montfort University. He has held teaching posts at various universities including The City College of New York, University of Suffolk, and De Montfort University.
Dr Cordoba's areas of research expertise are broadly related to the psychologies of language, gender, sexuality, and health. Specifically, he is interested in researching how gender and sexual minorities (i.e., LGBTQ+ people) experience and enact their identities in the social world. His research interests are inherently interdisciplinary, drawing from sociology and linguistics, and using mixed methods designs.
Cordoba, S. (2022). Non-binary gender identities: The language of becoming. London: Routledge's Gender and Sexualities in Psychology
Cordoba, S. (2020). Non-binary sexualities: The language of desire, practice, and embodiment. In Z. Davy, A. Santos, C. Bertone, R. Thoreson & S. Wieringa (Eds.), The SAGE handbook of global sexualities (Vol. 1 & 2, pp. 877-896). London: SAGE.
Davy, Z. & Cordoba, S. (2019). School and gender variant children: Parents' and guardians' perspectives. Journal of LGBT Family Studies.
Do ask, do tell: Practical strategies for enhancing student success drawn from research into EDI experiences at the University of Suffolk. Advance HE Teaching and Learning Conference 2022. Northumbria University, Newcastle, UK. (July 2022). With Louise Carter, Pallawi Sinha, and Maureen Haaker.
I'm such a Tomboy': a multimodal analysis of the commodification of perceived non-femininity in The Real Housewives of Beverly Hills. Lavender Languages and Linguistics 28. University of Catania, Italy. (May 2022). With Lotte Verheijen.
Language, identity, and experience beyond the gender binary. School of Communication and Multimedia Studies' "Critical Conversation" series. Florida Atlantic University, USA. (January 2022).
Queer Paradigms in Research. Do Better Research Podcast. Hosted by Dr Suzanne Albary. (December 2021).
Affirming trans and queer identities through language. Continuing professional development and short courses. University of Suffolk, UK. (September 2021).
Queering the Curriculum Seminar Series – Pride 2021. Organiser. University of Suffolk, UK. (June 2021).
AutOnoME: Gender Diversity and Autism: Photo-elicitation Study. La identidad de género en infancia y juventud autista. Ciclo de Psicología Infantil y Juvenil. Universitat Oberta de Catalunya. Barcelona, Spain. (February, 2021).
With Dr Begonya Enguix Grau and Danielle Roe. Non-binary Sexualities: The Desire, Practice, and Embodiment Assemblage. Gender Studies Conference 2020: The Future of Sexuality Studies: Assemblage and Embodiment. Tampere University, Finland. (November 2020).
Non-binary Sexualities: Exploring a Corpus of Non-binary Language. Lavender Languages & Linguistics 26. The University of Gothenburg, Sweden. (May 2019).
Gender Diversity. World Social Work Day 2019: Power in Practice. De Montfort University. Leicester, UK. (March 2019).
Non-binary Genders: Language and Identity – Confronting Linguistic Normativity. Lavender Languages and Linguistics 25. Rhode Island College. Providence, USA. (April 2018).
Articulating and Navigating Non-Binary Identity: Insights from Language. Gender in the Contemporary World: Articulation, Navigation, and Change Conference. Queen Mary University. London, UK. (March 2018).
With Ynda Jas. School and Gender Variant Children: Parents' and Guardians' Perspectives. European Sociological Association 13th. PANTEION University of Social and Political Sciences. Athens, Greece. (September 2017).
With Dr Zowie Davy. Non-Binary Genders and Language Use. Lavender Languages & Linguistics 24. Nottingham University. Nottingham, UK. (April 2017).
Dr Sebastian Cordoba
Senior Lecturer in Psychology
s.cordoba@londonmet.ac.uk