The Poetic Dimension in Architecture #5 – Tom Emerson
A lecture by Tom Emerson, as part of The Poetic Dimension in Architecture lecture series. Organised by Florian Beigel and Philip Christou for the Architecture Research Unit.
Tom Emerson, 6a Architects, London
Cowan Court, Churchill College, Cambridge
In this lecture, Tom Emerson will speak primarily about the recently completed new hall of residence for Churchill College, Cambridge University.
"The 68-room building is the first completely new court to be built since the early years of the college, the early 1960s. The original college buildings were designed by Sheppard Robson following one of the most important architectural competitions of the post-war period and in 2008, 6a won an international competition to add the new courtyard building.
... Today the Grade II-listed college is one of the finest examples of English Brutalism in the UK. Half a century after the college was founded, Cowan Court turns the picturesque Brutalism of the original college towards the twenty-first century. 6a has transformed the raw sensuality of the original brick and board-marked concrete courts into an innovative, contemporary, low-energy timber building.
... Cowan Court's DNA is firmly rooted in that of Churchill College and the University of Cambridge, adding another cell to its thriving college community while addressing the pressing environmental issues of our times. Cowan Court reflects this exceptional, progressive college, with its thirty-two Nobel Prize winners and the pioneering thinking of the next generation."
Information available on: http://6a.co.uk/projects#

Image credit: Cowan Court, Churchill College, Cambridge. Photo: Johan Dehlin.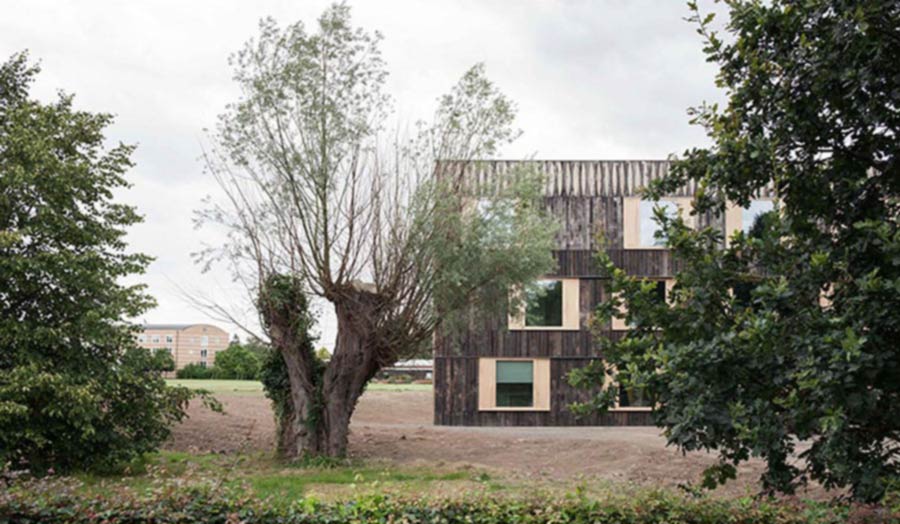 The Poetic Dimension in Architecture lecture series