'Grand Stations Design' proposals
Repair Station by Ellie Boggans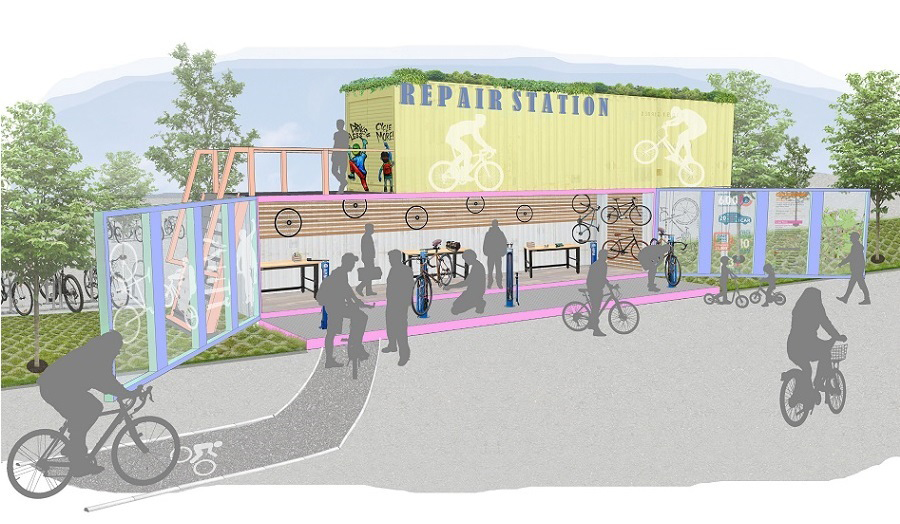 Interior design by Mari Moreno Mirallas
MA Students win Highly Commended and Commended in prestigious national design competition.
Mari Moreno Mirallas and Ellie Boggans who study MA Interior Design at The Cass have been Highly Commended and Commended respectively in the annual RSA Student Design awards for their responses to the 'Grand Stations Design' brief.
The brief asked participating students to design a way to reinvigorate and/or repurpose an ageing commuter train station building, utilising its existing structures and resources.
Starting at Bethnal Green station and working along the overground line, Mari Moreno Mirallis' response wich won Highly Commended is proposal to transform a network of unloved and ageing stations into green hubs which encourage residents to grow and share plants and produce, improving community and wellbeing. Her solution includes using use the empty space on platforms for modular allotments and seating, a coffee shop and a Gardener in Residence in charge of the program. Her overall aim is to connect her project with the Mayor of London's current strategy to re-green the city in at least 50 per cent by 2050.
The judges commended Maria's focus on stations as places for learning, growing and gathering, and loved her 'storyteller / gardener / teacher in residence' concept. They commented that Green Stations is a 'genuinely valuable, topical and usable proposal' and said how much they liked the modular kit and broad scale applicability. They also applauded her great presentation and execution.
Ellie Boggans solution, which was Commended by the panel, focuses on Mottingham Station. She identified that the surrounding area offers little to the teens and adolescents and that the youths tend to gather in the streets, sometimes appearing intimidating to the public. Realising the popularity of bicycles among young people in the area, she proposed The Repair Station. The Repair Station is a bicycle repair centre at the station which allows the teens/ adolescents in the Mottingham area become a part of the community to help with bicycle repairs. The project encourages young people to focus on positive behaviour and give them a chance to show and share their knowledge of bicycles and cycling.
The judging panel commended Ellie's 'very thoughtful, authentic, well researched and beautifully executed' response to the brief, and Sir Peter Hendy said he considered her design skills to be 'exemplary'. The judges were also extremely impressed by ellie's passion for social inclusion and talent for applying design methods to local community issues.