The Africa Centre and London Met collaborate on Afropolitan culture series
London Afropolitan, an event held in September, adopted the African diaspora experience as a starting point for exploring the future of London's culture of architecture and design.
Date: 18 October 2023
The fourth in a series of architectural events, London Afropolitan presented an opportunity for students, professionals, academics and members of the Africa Centre's extended community to engage in dialogue across the creative arts and forms of professional practice.
It followed three events hosted by the British Pavilion at the Venice Biennale 2023 as part of a research initiative entitled "Afropolitan Architecture: Imagining the African Urban Future by Design" which responds dialogically to Biennale curator Lesley Lokko's curatorial provocation 'the laboratory of the future'.
For the project, London Met's School of Art, Architecture and Design (AAD) partnered with the Africa Centre, a hub showcasing the best of contemporary African culture and heritage, which has become a 'home away from home' for the African diaspora in London. This partnership aims to embody a culturally geared dimension of the University's Empowering London agenda with particular focus on the challenges of social wealth and discrimination.
Dr Harriet McKay, who helped organise the event, said "… creating space for dynamic events like London Afropolitan – within architecture but also beyond it – presents opportunities for real collaboration between academia, industry, and the wider community." Other members of the team include Emma Carpenter, Mavernie Cunningham, and Adeyemi Akande.
Topicality and talent on the panel of speakers
The main feature of London Afropolitan was a panel conversation chaired by Matthew Barac, the project's Principal Investigator and Professor of Architecture and Urban Culture at London Met, in which several high-profile speakers addressed the topic of diasporic expression in urban life and design culture.
Following his inauguration as RIBA President (Royal Institute of British Architects) just five days earlier, Muyiwa Oki made one of his first public appearances. Well aware that all eyes were on him, he was quick to note that "It is incumbent on leaders to set out a vision for practice", a vision that he went on to describe in several ways, including "advocating for a more sustainable environment (and) promoting fairer, more inclusive practice in architecture," sentiments that alignment with the Venice Biennale's themes of 'decolonisation and decarbonisation'.
Other speakers included President of the South African Institute of Architects and the project's Co-Investigator Mokena Makeka (recently appointed to a new leadership role at New York's Cooper Union), Meneesha Kellay (British Pavilion curator at the Venice Biennale), and Nana Biamah-Ofosu (Architectural Association, African Futures Institute, and Kingston University).
Oba Nsugbe, who chairs the Africa Centre's board, observed in his welcome message that it is "really timely to be having this conversation", alluding not only to the widely acknowledged 'Africa moment' in debate, but also to the opportunity to convene it in the recently opened new home for the Africa Centre in Southwark.
Breadth of interest and depth of engagement
The panel generated interest among students and academics with diverse engagement across African architectural and urban research fields and related disciplines. Attendees included Rowan Moore (Observer architecture critic) and Neba Sere, founding member of BFA (Black Females in Architecture). Ingrid Shroder joined in her capacity as Director of the Architectural Association (London) which has come on board as one of two academic partners, the other being the Cooper Union (New York) represented by Mokena Makeka and series participant Hayley Eber, Acting Dean of the Irwin S. Chanin School of Architecture.
Also present was Anne Markey, Dean of AAD, who praised the event's success: "It serves as a milestone in our partnership with the Africa Centre. It also provides evidence that we are not only engaging with the Race Equity Strategy to which London Met has committed, but in terms of debate in Architecture, Art and Design we are leading the conversation."
Providing an opportunity to address diasporic culture from a local and contemporary perspective, and to investigate questions of Blackness in regard to urban and architectural culture including professional practice, London Afropolitan builds on the work of the Decolonising Met Working Group at the university. This group was created in 2020 to establish decolonising academia as an essential institutional ambition.
The ambition to decolonise has been actively vocalised by London Met students including MASS: the Metropolitan Architecture Student Society who reinforced the call for institutional change in a University news item in 2021. Current MASS member and 2023 Venice Fellow Amy Young offered a snapshot of what London Afropolitan means to her:
"It is amazing that the RIBA's first black and youngest president is here at an event organised by the tutors at London Metropolitan University; hearing from the incredible individuals on the panel was inspiring, starting important conversations amongst students about expanding and challenging architectural discourse and our education. A project like this is something we can be proud of as students and get involved in".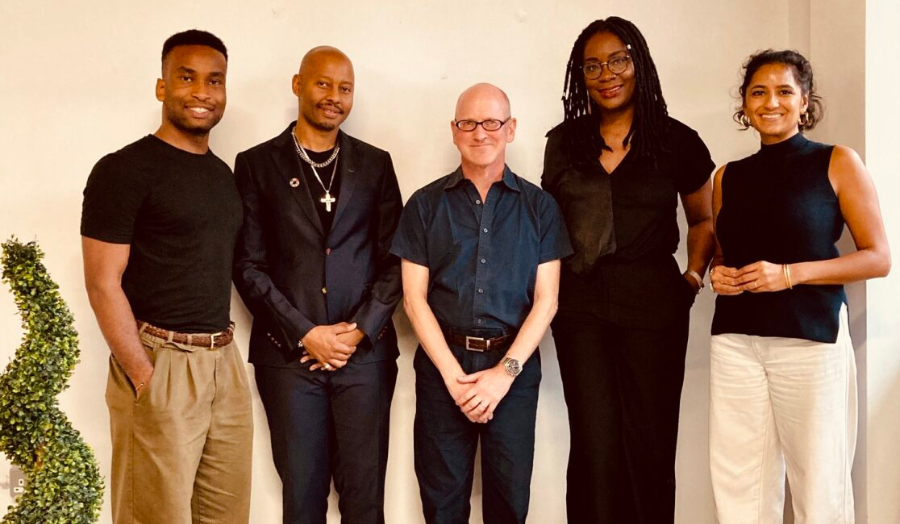 Photo: Amanni Hollands
Speaker line-up (l-r): Muyiwa Oki, Mokena Makeka, Matthew Barac (chair), Nana Biamah-Ofosu, and Menesesha Kellay.