EVENT: The Orrery - Musarc Winter Konsert at LCMF
Annual performance by architectural choir/ research group based at The Cass will form part of the London Contemporary Music Festival.
Date: 2 December 2019
Musarc, the Cass's resident choral collective, is opening the London Contemporary Music Festival 2019 (LCMF) this Saturday at Ambika P3 with The Orrery, an eclectic programme bringing together modern and contemporary music and new commissions.
The show will include the first UK performance of Fritz Hauser's Schraffur (2009–present) with its collective solitudes of compulsive, percussive sonic rubbing and hatching sets the tone. The evening revolves around a performance of Jennifer Walshe's 30-minute long politico-pataphysical assemblage The White Noisery (2013) for choir and tape, and the snow-muffled post-war harmonies of Franics Poulenc's Un soir de neige (1944). A rendition of Györgi Ligeti's Poeme Symphonique for 100 metronomes and new commissions by Lina Lapelytė and Joseph Kohlmaier test the choreographic and cartographic possibilities of the choral machine.
Musarc's The Orrery is a collaboration between Sam Belinfante, the artists, members of the ensemble, the choir's director of music Cathy Heller Jones and artistic director Joseph Kohlmaier.
A decade of Musarc
Musarc's inception at The Cass more than ten years ago begins with a fall: the immediate expulsion from the humanist paradise of ordered rhythm, harmony and proportion in favour of Baroque messiness: the convoluted revolutions of civic bodies, walking minerals mopping up the debris of social life in the city. These are the origins of the choir's collagist tactics, its flux, its joint incantations, the reason for its tendency towards the Gesamtkunstwerk – and everything forever at once, in forever changing constellations conjuring new interpretations, raw and cooked ingredients stirring in steaming cauldron: what is the choir thinking?
Image: Musarc performing at Whitechapel Bell Foundry, July 2019. Photo: Yiannis Katsaris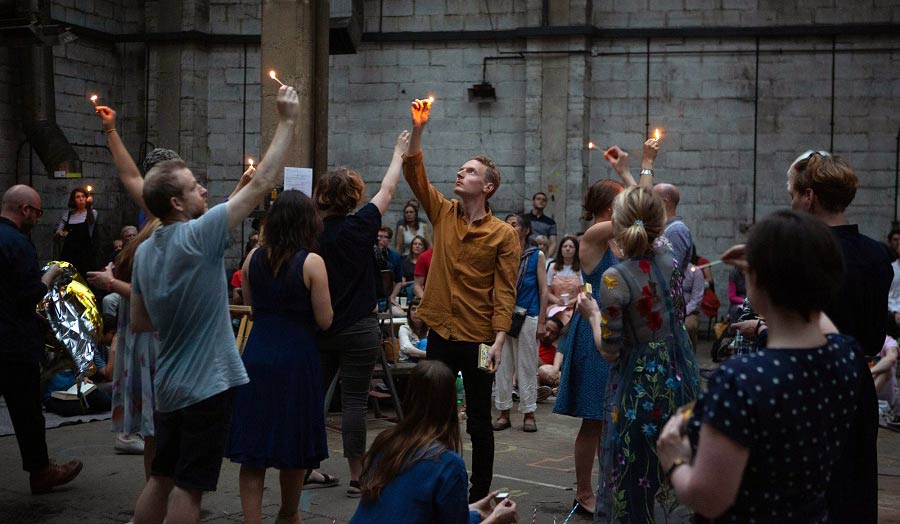 News details
Date
Saturday 7 December 2019 at 7pm

Book now

Tickets (£15 Advance, £18 on the door)

Book for tickets here
Location
London Contemporary Music Festival
Ambika P3
35 Marylebone Road
London NW1 5LS (google maps)
The Cass on Twitter
@TheCassArt