Logo files and branded templates
The files linked to from this page are available to London Metropolitan University staff and procured designers only.
Access to some files (for example InDesign files) is restricted to staff undertaking graphic design as part of their role. If you find there is something you can't access please email marketing@londonmet.ac.uk to request permission to view.
This is not an exhaustive list of the types of materials London Metropolitan University produces. Read more about our design and print process.
The design of all publicity materials needs to be signed off by Marketing or PR before they can go to print. Again, more information is available from the design and print process page.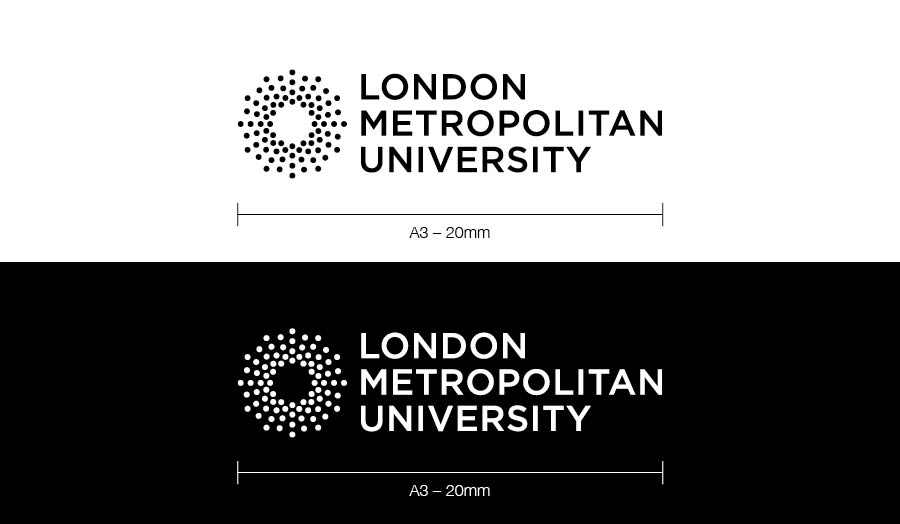 Logos are available as .eps files (which can be converted into a range of other formats by designers), as .jpegs sized for use in documents at A4 or A3 and as .png files without backgrounds.
To request a logo in a particular format, please contact marketing@londonmet.ac.uk.
The following links provide access to master copies of our logos:
Read more about positioning and sizing our logo.
There are a range of templates available for staff to download and print locally. Please download the templates and edit them on your own computer, rather than as live Google documents within the drive.
Editable posters
Microsoft Word
Similar Word document templates for sub-brands are also available.
Microsoft PowerPoint
Microsoft files are supplied as template (.dotx or .potx) documents.
Microsoft Teams branded backgrounds
Read more about London Metropolitan University stationery and signage.
How to save a document as a template
Once you have downloaded these Microsoft Word and PowerPoint files you can save them for easy access later. The following instructions apply to a PC running Word 2013.
To do this click "File", "Save as", then select a folder and from the "Save file as" drop down list select "Word Template (*.dotx)". Click "Save".
You can now easily access these files when starting a new document: click "File", then "New", then "Custom" and select your desired template.
Don't forget to check back occasionally to re-download templates that you use, to ensure you are using the most up-to-date version.
Important information about using these document templates
Documents published on our websites, like all other public sector websites, must meet accessibility standards. This is a legal requirement. Please ensure you've read our guidelines on how to ensure your documents are accessible to ensure that all documents published online adhere to accessibility regulations. Please note, this applies to designed PDFs (such as digital brochures and guides) as well as simple PDFs that use the University's document templates. In mamy cases, it may be better to publish the information you're proposing to create in PDF format on a web page.
If you are looking for our social media icons to brand your social media accounts, please see "Social media", below.
The representative icons we use (eg to indicate Twitter, Facebook etc at the bottom of posters or on PowerPoint slides) we use are standardised across all our publicity materials.
All staff can access PNG files of our icons that can be used in presentations (although most of these are already positioned in the PowerPoint template).
Staff undertaking design can access the following folders:
Read more about London Metropolitan University icons and graphics.
If you need an invitation created, please contact the marketing team on marketing@londonmet.ac.uk with plenty of notice prior to the event.
For temporary posters detailing building opening times, room changes or for use as directional signage during events see the "Editable posters" section of "Documents, presentations and letters" above.
For templates for digital signage using the TV screens see the the "Microsoft PowerPoint" section of "Documents, presentations and letters" above.
Our promotional poster templates are supplied as InDesign files and are only available to staff capable of undertaking graphic design work. Templates available are sized A0, A1, A2, A3 and A4.
Read more about London Metropolitan University promotional materials.
There are a number of design assets available for staff managing University affiliated social media accounts.
All staff can access the following:
Read more about social media branding.