Signage helps us to navigate and understand our environment and can include:
Signs that direct us to different areas, offices and classrooms
Posters to provide instructions during events
Information about opening times
Wayfinding systems, such as the colour coding system we use in some buildings at London Met, must enhance the experience of our students and staff when they enter our buildings.
Our signage is looked after by the London Met Estates department and is regularly reviewed to make sure that everything is up-to-date. If you are considering changes to permanent signage in your area you must contact Estates for guidance.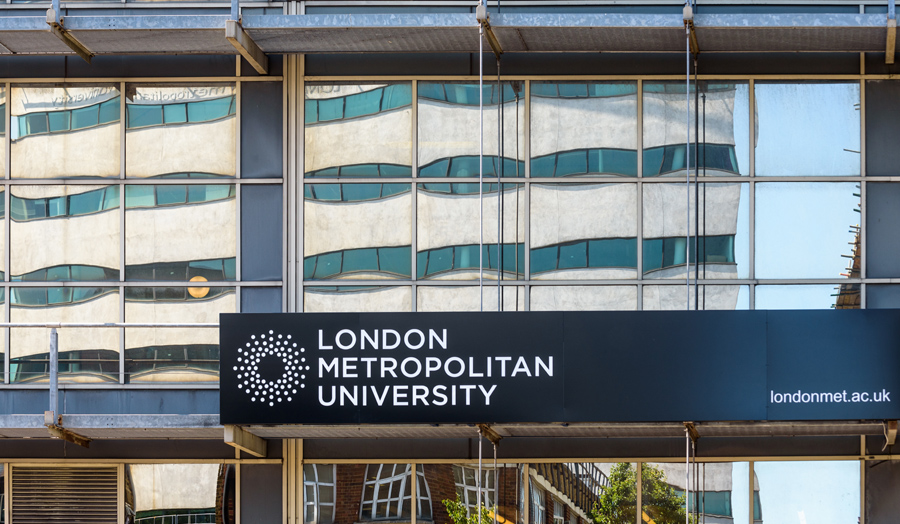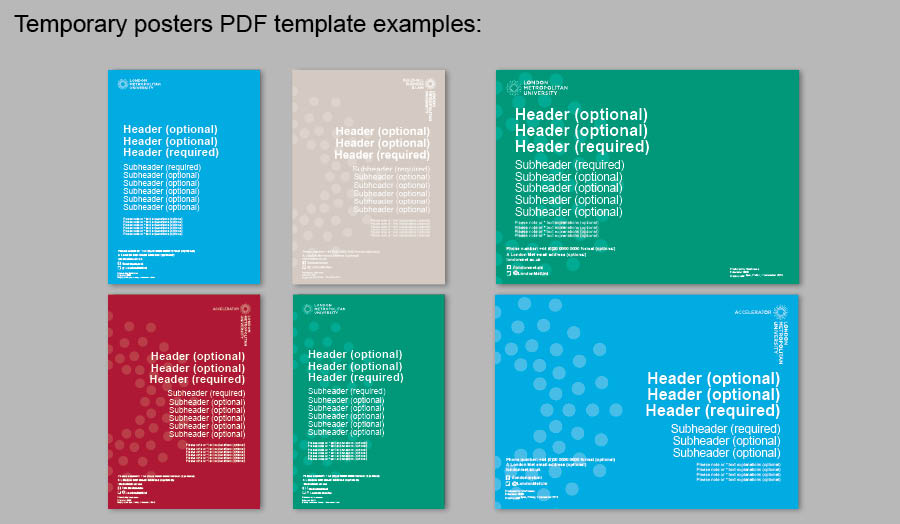 Permanent signage on the exterior of buildings should use the London Metropolitan University logo and not a sub-brand logo. This ensures our look is standardised across buildings, and, as building occupants may change over time, is cost effective. It also avoids confusion where multiple sub-branded identities inhabit one building.
In some rare instances, the height and size of a sign may mean that the logo cannot be presented at a size that will be legible from a required distance. In these instances a second signage format is used, which uses the words "London Metropolitan University" in the same font as is on the logo, on one line and without the graphic device. This presentation of our identity is not to be used anywhere else beyond permanent external building signage.
Wherever it will be clearly legible, the preferred version of the sign (using the logo) should be used.
On all occasions the logo or text should be aligned to the left of the sign and presented in white on a black background.
Temporary posters displayed inside of our buildings are created for use for a limited time only and include information about:
directions (to an event, for example)
maintenance works
instructions for students, visitors or staff (for example, if exams are taking place and there is a need for silence)
opening hours
forthcoming events (open days or one off talks, for example)
If you need to create a temporary sign you can download a template and change the text for your own purpose. The font used for signage is Arial. Any signage aimed at internal audiences only (this does not extend to materials for publicity purposes) should use these templates to create consistency around the University.
Temporary signage must be removed once it is no longer relevant to prevent clutter around the University. When creating your sign please include an expiry date, your name and telephone extension in the fields at the bottom of the sign.
There are designated display cabinets around the University for students and staff to place posters and information. Posters that are placed outside of these areas, such as University walls, will be removed by the Estates department. Similarly, posters that do not adhere to the brand guidelines will also be removed. For more information please contact the Estates department.
We have various digital signage screens across the University. If you want to add content to a screen, you can download a template (staff access only) and change the text for your own purpose. There is a landscape version and a portrait version depending on which screens you'd like your content to be displayed on. Once you've edited the template, you can then send the finished design to the PR and Internal Communications team at communications@londonmet.ac.uk specifying the start and end date of the digital display and which screens you want the content to be displayed (eg "all Holloway campus screens").
The Estates team seeks to ensure that all of our signage is compliant with the Disability Discrimination Act (DDA). In practical terms, this means that signage must appear at a certain height and that the font must be of a particular size. Text and graphics must also stand out clearly from the background.
All queries about signage, requests for new signage or noticeboards, or requests for changes to existing signage infrastructure should be directed to Estates: ask@londonmet.ac.uk