Material Engagement: towards an experience of thinking with material
An AAD Session hosted by CREATURE
About this event
To make well, a maker must be able to converse directly with their material and, like human conversation, effective communication is helped by understanding something of the characteristics of the other party: so, to be able to 'speak' to material, a maker must also know something of that material's character. This takes the form of an embodied knowing. As makers, we have this embodied knowing, but we wanted to know whether we could prompt a dialogue about material with an audience of non-makers.
Making Sense is an experiment undertaken at Material Matters fair during London Design week 2022. Amongst 40 world-leading brands, designers and makers we created an 'object playground' from existing 3-dimensional forms made from different combinations of metal and offered them to participants for selection and arrangement on a rectangle of grey felt.
Two questions underlined this project:
How can you give people who don't make in your material an experience of thinking through making?
How can artefact elicit an articulated i.e., non tacit experience of material, and can this lead to a notion, or experience of thinking through making?
Given the show was materials-based, and our experiment was for visitors to the show, our audience was to a certain extent self-selecting. However, this also provided an opportunity for rich conversation. We took images of the creations the participants made and recorded a summary of some of the conversations we had with them.
The positive way in which people responded to the invitation to touch, play and place 'stuff' (with it is inherited notion of 'stuffness') was unexpected and led to interesting observations and discussions. Juliette Bigley is a sculptor working in metal who exhibits nationally and internationally and has work in public and private collections. A member of Royal Society of Sculptors and a Fellow of the Royal Society of Arts, she produced her first publication, Material Perspectives, in 2018. She is represented by Cavaliero Finn. Simone ten Hompel is a silversmith of international repute and has been working with metal for over 40 years. Based in the UK, she is known for her metalwork, being regarded as one of the most inventive silversmiths of her generation. Her work is presented in museums and galleries in the UK and abroad. Her most recent project is the Glenmorangie Commission at the National Museums Scotland.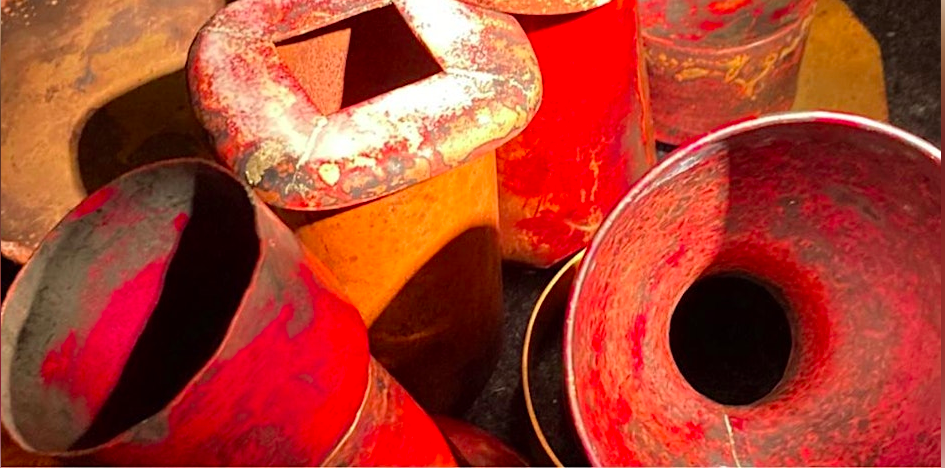 Details
| | |
| --- | --- |
| Date/time | Wednesday 7 December 2022, 5.30pm GMT |
| Book ticket | Event ended |
| Location | Online |