Little Star Rising is the title of a recent documentary screened internationally about Nudzejma Softic, now a PhD student at London Met. The documentary charts her success in bringing diverse communities together through initiatives such as her running club #TiTo.
Nudzejma gained a distinction in her International Business Management with Project Management MSc at London Met, and we're delighted that she was awarded a VC Scholarship to study Intermediaries and Inclusion in the Uni's business school. We find out more about her journey to London Met and what's up next.
You've clearly had a pretty harrowing childhood. Tell us a little bit about yourself.
Yes, I was born in Bosnia and Herzegovina in 1987. My first childhood memories are of the war in my country. In 1992, my father was killed. After that, my mother, who was pregnant, my sister and I were deported to Croatia, where we lived in a refugee camp for some time. After the war, my mother remarried and we all returned to Bosnia and Herzegovina.
After many relocations, we finally settled in Sarajevo, where I finished high school and after that bachelor and master's studies. I have always loved reading and even writing poetry and prose, so the logical choice of study at the time was languages and literature. I have always been an idealist and through books I could live the life I wanted. However, when you face reality, you see that things work differently and that you have to fight a lot and constantly for the life as shown in the books.
I understand you worked for Al Jazeera for a bit ­– tell us more.
Immediately after completing my first master's degree, as the student with the highest grades, I got a job at Al Jazeera as a copy editor. At the same time, I received an offer to start working in college as an assistant professor, but I turned it down because my job at one of the largest media houses in the world made it much more challenging and closer to my personality.
I initially worked on the web portal and later moved to the newsroom. I worked there for eight-and-a-half years and I have many beautiful memories of that media house. However, I was never completely satisfied because we were always overwhelmed with negative news. When you find yourself in a position to do the job mechanically and at the end of the day you don't know what the news of the day is because you're so off, you know it's time for a change.
What made you decide to start #TiTo Running Club – and what has it meant to you?
Exposed to the negative news at work and after the divorce I went through, I started running, getting ready for half marathons and marathons, but also for triathlons. Little by little, running completely changed my life. No physical activity so far has brought me so much happiness, so many positive people, so many complete personalities.
During that period, I was a member of the only running club in Bosnia and Herzegovina. However, I saw that many people around me were unable to pay the monthly membership fee in that club, and that physical activity along with community support was very much needed. That was the reason I started the running group "Trčanje i to". The literal translation means "Running and other things that come along". The abbreviated name is an acronym for the Bosnian name of the group, #TiTo. The group was founded in 2017 and is still the best thing I've done in my life.
We established a fund from which we donated sports equipment to our members, we had long-term projects in which obese people completely changed their lifestyles, people who recovered from various diseases, people who recovered from severe trauma. We have deaf people in our community, people in wheelchairs who finish races and inspire people around them. That group has become much more than a running community; it has become a group that changes people's lives for the better. Ever since I came to London, the group has been led by my friends, just as successfully as when I was there, which is proof that we have done a great job from the beginning.
What is your biggest passion in life and where did that passion come from?
Privately, my biggest passion is running. Through running marathons, I learned how to reach a goal that's very far away, when the path is not short and easy. Running was the path to the #TiTo community, and the experience through that community led me to dedicate my life to the equality of people in society.
Throughout my first master's degree, my focus was on women's rights in the late 19th and early 20th centuries. Now I am focused on business, and I want to contribute to ensuring equal rights for people of different backgrounds in business education.
What drives you?
I am driven by great ambitions and a firm belief that with every right step we make the world a better place for all of us.
Tell us more about Little Star Rising – how did that come about?
The author of the film "Little Star Rising" is my colleague from Al Jazeera, Slađana Lučić. She followed the changes I was going through for years when I started running. Guided by the positive changes I experienced myself, I started talking about the projects I wanted to do and she then decided to make a documentary. The film crew followed me for two years. They recorded the origin and development of the #TiTo club. They went to many marathons and triathlons with me, went through my personal dramas and fights, supported me, cheered and waited in the finish line of my races.
The film was created under the auspices of the Croatian production company Wolfgang and Dolly, in co-production with Al Jazeera. We had the premiere at the Sarajevo Film Festival in 2019. The documentary was shown twice at this festival, because the tickets for the premiere sold out within an hour – which was a festival first. The hall was full. Personally, I consider the greatest success a large number of messages I received from teenage girls, who are more ready than ever to fight for their ambitions, desires and dreams after watching the film.
For anyone who hasn't seen it yet [spoiler alert] – you learnt to swim as part of your entry into Ironman. Tell us how you overcame your fear of the water.
I am a person who does not like to have fears. At some point in my life, I decided to overcome everything I feared. I was 28 then and decided to learn to swim. To make sure I persevered, I registered for the Ironman triathlon, paid for private swimming lessons, and started training. For three months I swam only in the children's pool, trying to relax and make friends with the water. Coach Anja helped me a lot and her support and faith in me were crucial to be persistent with the lessons.
Someone told me that every movement repeated 1,000 times becomes a semi-mechanical movement. I remember counting the swings and indeed, if you repeat something you are afraid of a thousand times – you will not even feel like doing it again. I swam three times a week for a year without a break, and in the end it all paid off. I finished Ironman 70.3 and fulfilled my long-held dream.
I understand you're also featured in a Belgian documentary about inclusion and diversity...
Yes, my story was chosen as one of six among a large number of life stories of people around who have dedicated their lives to overcoming differences and including less fortunate people in society. The film is called "Nous Tous" (All of us) and the author of the film is the Belgian film director Pierre Pirard.
The film had the misfortune of being completed at a time when coronavirus was ravaging the world, so it is currently only shown in Belgium. However, the world premiere is coming soon and I am really looking forward to the opportunity to meet other participants through the screenings of the film, because each of the shown stories is extremely inspiring. Through this documentary you see how we can live with differences and how they, in fact, are the driving force of the world.
What's the proudest moment in your life?
I grew up in a patriarchal society and in a patriarchal family. Growing up, even in my adult years, I often had to argue with my parents and fight for my position and make my life exactly what I want and the way I want it, not the way they think is best for me.
A few years ago, my stepfather had a serious conversation with my brothers about their future and he showed me as an example of how it should be done. I swear I have never been more proud in my life. As much as we do not like some things in our environment, among close people, we just as much want to be recognised by them, because they are important to us and because we love them. For me, this was a moment in which all the rebellion during the previous years paid off.
What brought you to the UK and London Met in particular?
Through my running group, I met the British Ambassador to my country, Matt Field. He came to us once as a guest and stayed as a member. I ran his first half marathon with him in Bosnia and Herzegovina and during that race he told me that I should apply for Chevening, a UK Government scholarship awarded to the best students with several years of experience and proven leadership. I had not heard of this scholarship until then, so I researched it and decided to accept the challenge, because I was certainly dissatisfied with my job at that time. The process lasted almost a year, but I received the scholarship from the first attempt, which was a great success.
I had offers from the University of Manchester, the University of Birmingham and the London Metropolitan University. I chose London Met, because London is one of my greatest loves, and it also became London "met". Although I did my entire master's online due to the pandemic, it is still one of the most beautiful years of my life. During that period, I remained eager for the faculty building, professors and colleagues. I am happy to continue my studies at London Met and to be able to make up for it now.
What did studying at London Met mean to you?
As I already mentioned, the previous year I spent at London Met for me was one of the best years of my life. Although the whole study was online, I learned a lot and switched from language and literature to business management completely in just one year. In that sense, I would especially like to thank Dr Konstantinos Pitsakis, who introduced us to the real sector through his dissertation and gave us the opportunity to work with clients as consultants. When we didn't believe that we could do it, he believed in us and accompanied the writing of the dissertation from start to finish. He read everything we wrote in detail, taught us what is important and how to look at things from different angles, especially from the client's perspective. Of course, the foundations for this were laid by other lecturers in other subjects and each made their own and special contribution to our success.
One of the things I single out as special is the International Business Strategy with Simulation course. I think we learned the most through the simulation part about how businesses work and how decisions are made to win the biggest market share. It was probably the most difficult part of the study, but it taught us many lessons, including the importance of teamwork and joint decision-making. When I come to decision-making positions, I'm sure I'll know what I'm doing.
How did you feel when you found out you'd been awarded the PhD scholarship?
The moment I found out I got a PhD scholarship is one of the best in my life. Of course, I was proud to have been selected from a large number of applicants. That decision completely changed my life. Various possibilities opened up for me to achieve all the ambitions that I secretly nurtured in my country, but I did not have the opportunities or resources to achieve them.
I understand your PhD is about Intermediaries and Inclusion. That's a fascinating topic – has there been much research in this area?
The pre-internet connecting role of intermediaries was based on possessing proprietary information. We know little of how contemporary intermediaries work in the digital age, and critically, their contribution to inclusion or exclusion. Do contemporary business intermediaries support (or distort) the provision of equal access to opportunities and resources? The question is especially relevant, as many theories used to study intermediaries were developed in a world that privileged the status quo of gender, race and class.
My supervisors are Dr Nigel Caldwell, Dr Christina MacNeil and Dr Zainab Fakhr. I am very happy to go through this doctoral experience with the support of these extremely successful professors.
What's next in your career?
I am currently a full-time PhD student and my visa only allows part-time jobs. I am looking for such a job in which I can express my passion for inclusion and diversity. After completing the doctorate, we will see what the possibilities are.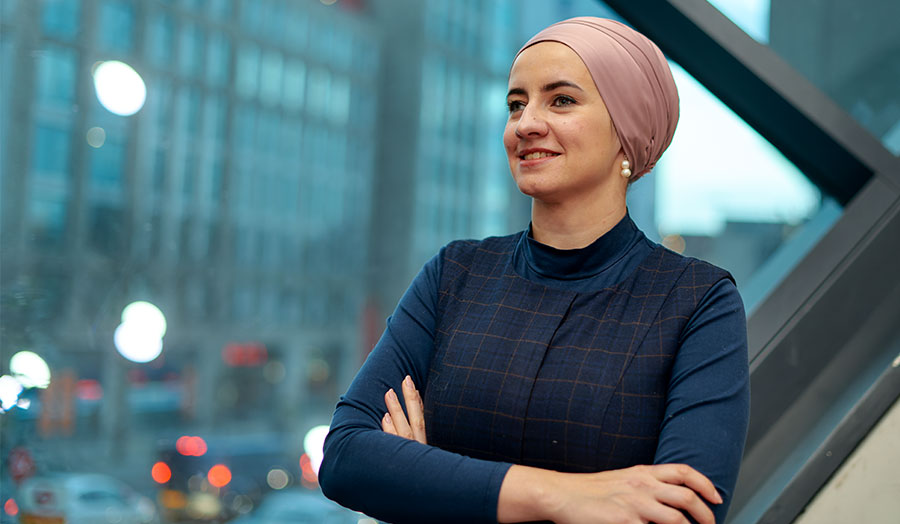 The moment I found out I got a PhD scholarship is one of the best in my life... Various possibilities opened up for me to achieve all the ambitions that I secretly nurtured in my country, but I did not have the opportunities or resources to achieve them.