There's an alarming volume of microplastics in our seas that also makes its way into our tapwater, and as yet, little research on the potential health effects on us, PhD candidate Medah Ramchurn explains. She talks us through her educational journey as a mature student from Mauritius – she's chosen to study at London Met for her Human Nutrition BSc, her Public Health MSc, and now her PhD in this area of human science that she's passionate about.
Tell us a little bit about yourself...
I was born in Mauritius (a small island in the Indian Ocean). I came to the UK when I was 23 years old to pursue further studies, during which I achieved a level 4 BTech in skin laser treatment, followed by working as a medical aesthetician in the Skin Clinic in London. I have 14 years of experience in the field. I am married, I have a 12-year-old son and live in London.
What brought you to London Met?
I am very passionate about nutrition and was eager to learn more. On my first call to London Met to enquire about the course, the staff were very helpful. They provided professional advice on how to start my university journey at London Met, especially as a mature student. I was very impressed and felt very much welcomed, so, six years ago, I decided to join the University. Reflecting on my decision, opting to study at London Met was an excellent choice.
What has studying at London Met meant to you? I understand you've completed several degrees here…
Studying at London Met for six years has been a great journey, involving joy and hard work. The past six years have taught me a lot about myself and what I am capable of achieving. It has been very challenging and there have been many ups and downs, but was all worth it in the end.
As a mum, I had to juggle between constantly looking after my family and undertaking assignments. Fortunately, the University's academic lectures were planned in order to give me the flexibility to complete my courses and assignments on time. I came to realise that all the effort I put in has paid off – I have become a stronger, wiser and better person. The knowledge gained and the skills acquired at London Met will help greatly in my future endeavours.
The lecturers are very supportive at London Met. They are always there for any help required, either after lectures or through arranging face-to-face meetings. The on-site facilities are excellent, such as the library, career advice and reading corners. The course mentors have been very supportive for helping me to study progressively without taking any breaks from my studies. Furthermore, the University has one of the largest laboratories in Europe, which I am very proud of, as it has provided me with state-of-the-art laboratory equipment and facilities. As a science student, I feel privileged to have benefited from these fabulous resources. In addition, recordings of lectures were my favourites as I could revise them in my own time. This was particularly important given that that English is my second language.
I completed my undergraduate degree in Human Nutrition with first class honours and then an MSc in Public Health with a distinction. After completing my MSc course, my supervisor Alison Blackhouse gave me an opportunity to work on her research project on Dementia Care using Dementia Care Mapping (DCM). I have enjoyed every moment. This experience has made me realised how much I want to continue with research and so, currently, I am undertaking my PhD studies in School of Human Sciences at London Met.
Can you tell us about your PhD topic – what are you hoping will be the real-world impact of your research?
My PhD topic is focused on the effects of microplastics in human health. Microplastics are created by the weathering and breakdown of plastic objects, car tires, clothing, paint coatings and leakage of pre-production pellets and powders. They may also be intentionally added to daily-life products (eg cosmetics and abrasive cleaners). The ubiquity of microplastics (plastic particles < 5 mm, including nanosized plastics < 1 μm) in the global biosphere raises increasing concerns about their implications for human health. Recent evidence indicates that humans constantly inhale and ingest microplastics; however, whether these contaminants pose a substantial risk to human health is far from understood.
Furthermore, biofilms growing on microplastics may be a source of harmful microorganisms. A better understanding of the ability of microplastics to cross the epithelial barriers of the airway, gastrointestinal tract, and skin is needed to reduce the current uncertainty in the human risk assessment of microplastics. My research project aims to determine the effects of these microplastics particles in the development of cancer and oxidative stress. This project investigates the effects of these microplastics on human cells lines in vitro and whether they play a role in the development of malignancies and metabolic disorders.
What made you choose the topic in particular?
I am passionate about science and the environment, particularly, the alarming global production of plastics yearly (approximately 270 million tonnes and the corresponding waste production is around 275 million tonnes) which is a major concern. Additionally, data has shown that around eight million tonnes of plastic may enter the global water bodies each year and it is estimated that there might be 10,000-100,000 tonnes of plastic in the surface water and even more in greater depths on the seafloor.
Moreover, tap water from 159 global sources was tested and 81% were found to contain microplastics. The statistics are alarming regarding the quantities of micro and nanoplastics that humans are inhaling, ingesting and exposed to via dermal contact. Meanwhile, less is known about the toxicity of microplastics in human tissues and organs such as lungs and intestines. Therefore, I would like to investigate the potential risk of microplastics on human health.
How have you found the support at London Met from the research office and from your research supervisors?
The support at London Met from the research office and my supervisors has been excellent. I am enjoying working with my first supervisor, Dr Samireh Jorfi. The best thing about my supervisor is her being that she's down to earth. I enjoy learning research techniques from her and listening to her own research experiences. People say you can only do things that you enjoy – and whenever I talk to her, that's exactly what I see. She shares her PhD experience and the excitement of seeing the results in the research lab. Her enthusiasm has really inspired me to work harder and find the joy of doing science. She is very supportive and is helping me to develop my personal skills such as lab skills, presentations,and attending weekly research meetings, among many other skills.
My second supervisor, Dr Eirini Meimaridou, is also very kind and supportive. My supervisors are very inspirational and instil in me strong motivation to achieve my goals.
Tell us about your current role if you're working now.
At present, I am volunteering for Haringey Council's public health ONE YOU. The role involves promoting the services of ONE YOU Haringey in order to increase awareness of the services that support the local community, such as raising awareness regarding various health risks and informing the local community about other free local health services. I also encourage people to attend health and wellbeing community events. In addition, I promote increasing project engagement through various outreach activities. In addition, I shadow the well-being coaches on the Healthy Living and Smoking Cessation programmes.
What is your biggest passion in life and where did that passion come from?
My biggest passion in life is learning. I believe that learning can open many doors and broaden my horizon. I have had this passion since I was a little girl, when I was always eager to know more about everything. This passion comes from the willingness to be an independent scientist. I learnt how to protect my health through yoga, meditation, a healthy diet, swimming, playing tennis, dancing and riding a bicycle. My goal is to contribute and have a positive impact in my research area to make the world a better place.
What drives you?
My family, my son and my husband. And my friend Max.
What's the proudest moment in your life?
The proudest moment in my life was when I graduated.
What's your favourite piece of Uni equipment or your favourite space at London Met and why?
My favourite space at London Met is the research lab. This is because I like performing experiments as well as using the state-of-the-art equipment.
Tell us a little bit about your interests outside of uni and why they are important to you.
I have many interests outside the University, for instance, cooking for my family, playing tennis with my son, going for a bicycle rides, running and engaging in volunteer work, all of which make me feel very happy.
Do you have any advice for anyone else considering studying at London Met?
My advice to anyone who wants to join London Met for their studies, is that you should not hesitate and just enrol. Also, what I have learnt from my experience being at University is that you don't just go to University to learn, but do so to make an impact, inspire others and enjoy yourself. Trust me, once you finish at University you will miss it a lot.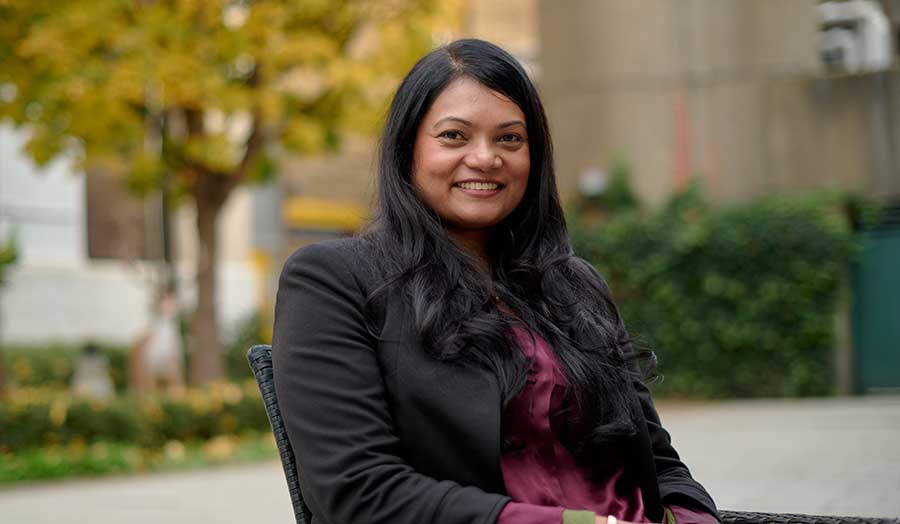 "The statistics are alarming regarding the quantities of micro and nanoplastics that humans are inhaling, ingesting and exposed to via dermal contact."