One of the coldest cities on earth, best known for revealing the ice-age secrets of long-gone woolly mammoths, Yakutsk in deepest Siberia is home to one of our architecture PhD candidates, Maiia Sivtseva. We talk to Maiia to find out more about her life and her studies in this frozen world.
Can you describe your home town and what sorts of challenges architects face in designing buildings and spaces in Yakutsk?
As you mentioned, Yakutsk is the best known for its extreme climatic conditions and continuous permafrost landscape. It is also a capital of a quite diverse republic of Sakha, where indigenous Siberian cultures meet Russian culture.
If you look at the urban character of the city, it's a mix of old Soviet architecture and new modern buildings that reflect on traditional Sakha architecture and its beliefs of animism and shamanism.
The built environment in Yakutia has many regulations due to the contextual affordances. For example, all the large-scale buildings must be designed 1.5m above the ground level to prevent melting of permafrost – and the material structure of buildings should be thick enough to survive the winter season, when temperatures drop below -50C.
I understand that one aspect of your research concerns the lack of conservation of the identity of the indigenous culture?
Yes, that's right. Architecture as a discipline is very much linked to its context: not only physical characteristics, but also the political and cultural history and realm. Being raised in a traditional Sakha family, I was always interested to learn more about my native culture. Although the Soviet regime took a toll on indigenous cultures as it was supressing any kind of identity and otherness, Sakha traditions and language managed to survive.
However, culture is fluid and constantly transforms with time. Especially nowadays – with globalisation and technologies, everything changes rapidly. It's fascinating to investigate how traditional cultures/architecture naturally evolve and adapt to the modern world.
I understand that you are researching civic projects, particularly shared urban spaces – can tell us more?
Yes, my research is on participatory placemaking possibilities in Yakutsk, how it can work as a democratic tool for shared-space development by its users. I'm particularly interested in the combination of a bottom-up and top-down approach, where grassroot movements and initiatives get support from the top.
I believe this could make tangible change in the way shared spaces are built (with local materials) and function (ie specific architecture that meets the needs of the users).
Are there signs of climate change affecting Yakutsk? How is the issue of sustainability being tackled there?
Climate change effects are certainly worsening in Siberia: there's melting of the permafrost, flooding and wildfires. Especially wildfires. Last summer, more than 8.5 million hectares of forests burned down in Yakutia, including wildlife and villages. Heavy smoke and fog, and the pollution formed by wildfires poisoned the air in settlements for many months.
Unfortunately, only the symptoms of climate change are being tackled – not the causes. Hopefully, small changes such as authorised waste recycling, the use of local resources in food supplies and in construction will lead to bigger changes.
What are you hoping will be the real-world impact of your research?
I hope that my research findings from the PhD will contribute to a knowledge of architectural participatory placemaking in Yakutsk, and more broadly, to arctic and subarctic regions.
I aim to examine to what extent participatory design and collaborative making can unravel specific place-based affordances and ways of approaching existing issues, using and expanding the potential of the local materials. This could lead to more sustainable, inclusive and meaningful shared-space design that improves the quality of life of the users.
What made you choose London Met in particular for your research?
The primary reason was my supervisors Maurice Mitchell and Bo Tang (Architecture of Rapid Change and Scarce Resources (ARCSR) research group at London Met's School of Art, Architecture and Design), their philosophical framework and practical approach to design. Secondly, the support of the whole research school and my peers with their fascinating projects, from and with whom I can constantly learn.
How does your study in the UK differ from your study at Novosibirsk State Academy of Architecture?
Architectural schools in the UK and Siberian Russia are drastically different in their approaches. In my opinion, Siberian Russian school is more about normatives and regulations, technologies and details, academic drawing and structural mechanics. It's more about theory and following the rules, I'd say. The UK schools are more about teaching us to think, being imaginative and including the human aspect of architecture more. However, it doesn't exclude the technical part either. At ARCSR, we use a learning-by-making methodology that gives an even deeper understanding of materiality and construction.
Has it been hard accessing support remotely?
Studying remotely was challenging. The pandemic has cancelled a couple of my life projects back in Yakutsk and changed my research methods. That was topped with my personal circumstances. But my supervisors and some counselling sessions helped me throughout the very worst bits.
Have you been able to interact much with other researchers from the University?
We have weekly research seminars at the School of Art, Architecture and Design, where we can listen to work from our peers and discuss our difficulties and our findings.
You not only get inspired, but also receive insightful advice from the other researchers.
Where are you hoping this research will take your career?
I hope to stay both in academia and practice after completing my PhD. It would be great to implement my imaginative research work into live projects.
This year I have started co-teaching a module at Oxford Brookes University which is very exciting. It would be ideal to continue to expand the principles of our ARCSR work in the other parts of the UK and the world. Humanitarian architecture can be very imaginative and sensitive to the needs of a place.
Do you have any tips or advice for anyone considering a PhD at London Met?
I would advise anyone to participate in as many activities as you can. This could be online seminars, presentations or discussions. Meeting and talking to experts in your field is the key too.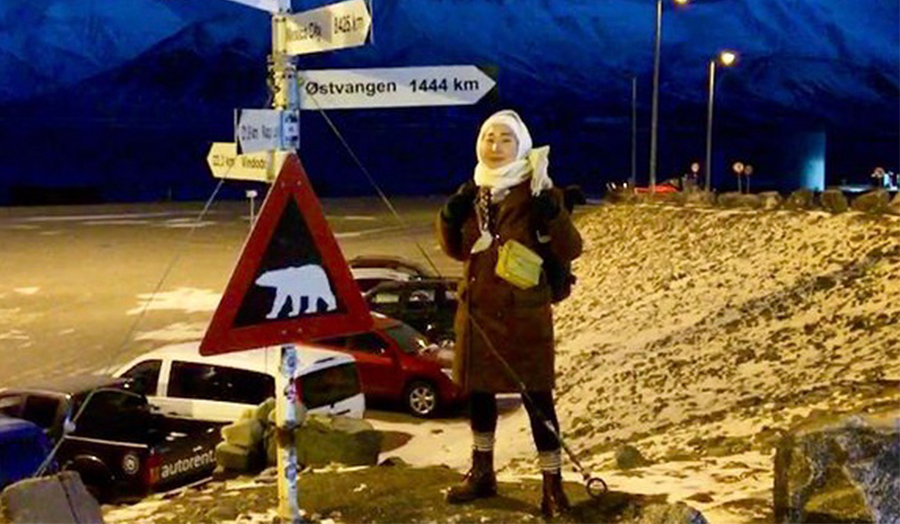 "All the large-scale buildings must be designed 1.5m above the ground level to prevent melting of permafrost – and the material structure of buildings should be thick enough to survive the winter season when temperatures drop below -50C."