Lou Dillon – kombucha entrepreneur
Calling all foodie entrepreneurs – London Met Food Science MSc graduate Lou Dillon shows you what it takes to start your own business. Lou runs her own successful small-batch, craft-brewed kombucha enterprise, Twisted Kombucha, which recently won a coveted Great Taste Award. She's even taking care of some of the product waste in a rather creative way… thanks to a unique partnership with material designer Riina Õun. We talk to Lou and Riina to find out more...
First of all Lou, what exactly is kombucha?
Kombucha is a fermented tea beverage that is typically made from sweetened black or green tea and a symbiotic culture of bacteria and yeast, known as a SCOBY. During the fermentation process, the SCOBY consumes the sugar in the tea and produces a variety of organic acids, enzymes and probiotics that give the drink a slightly sour, tangy flavour and a slightly effervescent quality. Kombucha has become increasingly popular in recent years as a health drink due to its potential probiotic and antioxidant benefits.
Why did you start producing kombucha?
I began brewing kombucha with a SCOBY named "Henry," which a friend gave me to help with some digestive issues I was experiencing. At the time, I was working as a nutritionist in the NHS, but I found that my own health was suffering due to long hours and an unhealthy work environment. As a self-professed foodie, I decided to leave my job and return to university to study Food Science. During my MSc studies, I had the opportunity to explore kombucha in the lab and investigate its potential as a nutrient-rich beverage that could support digestive and immune health. After conducting numerous tests and completing my thesis, I was inspired to start my own kombucha business, which eventually grew into a small brand.
Are there health benefits to drinking kombucha?
Although some of the claims about kombucha may seem exaggerated, the benefits that are backed by scientific research are largely related to the probiotics it contains. Probiotic bacteria are found in all fermented foods such as yoghurts, sauerkraut and kefir, and kombucha is no exception. Through the fermentation process, probiotics are produced in kombucha, which can help balance the gut microbiome and improve digestion. In my lab at London Met, I was able to extract Lactic Acid Bacteria from my culture, which are particularly useful as they are known to survive digestion through stomach acid.
Moreover, kombucha is a rich source of antioxidants, which play a crucial role in protecting the body from oxidative damage caused by free radicals. Tea, particularly green tea, is high in a group of antioxidants called polyphenols, which are also present in kombucha. Additionally, kombucha contains small amounts of vitamins and minerals, including vitamin C and B vitamins B1, B6 and B12, which are produced when the yeast breaks down the sugars.
Tell me about the production process and how long it takes to produce a batch?
Kombucha is made by introducing a SCOBY into brewed black and green tea, and sugar. The mix is left to ferment between 10-20 days. The result is a fizzy drink that can vary from sweet to vinegary, depending on how long it ferments. Fruit, herbs and spices can be added for a second fermentation, to add additional flavour.
I understand you've formed a unique partnership with a material designer – can you explain more?
I have established an innovative collaboration with a textile artist who utilises the byproduct of kombucha production, known as the scoby. The scoby is a cellulose pellicle that appears similar to a thick and healthy rawhide. This scoby is typically discarded in traditional kombucha production but is repurposed by the material designer to create a one-of-a-kind textile. The designer collects the excess scoby from me and transforms it into a distinctive textile that has been exhibited to great acclaim. This textile is akin to vegan leather and provides a sustainable alternative to traditional leather production.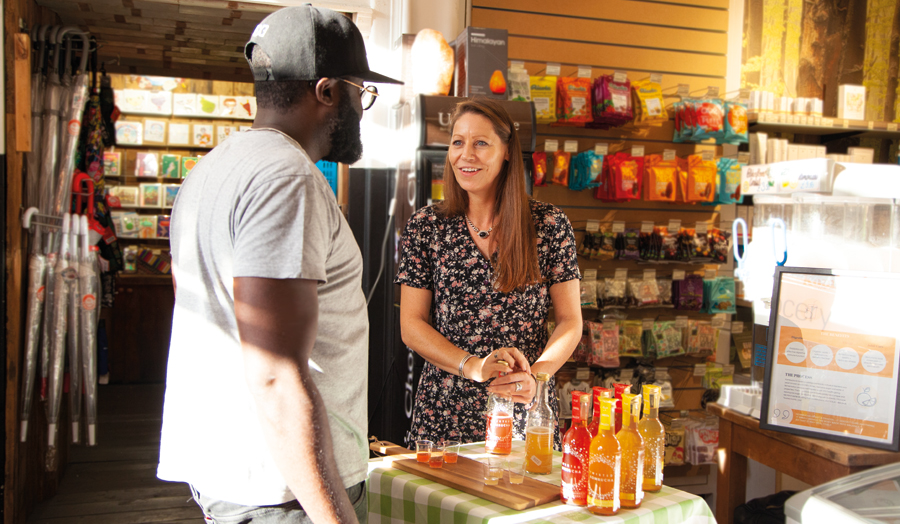 "In my lab at London Met, I was able to extract Lactic Acid Bacteria from my culture, which are particularly useful as they are known to survive digestion through stomach acid."
Lou Dillon
Find out more about our Food Science MSc
Read more about Lou's product Twisted Kombucha and Riina's SCOBY designs
Sustainable science – using kombucha waste to produce high-end fashion items
Lou holding a batch of kombucha in progress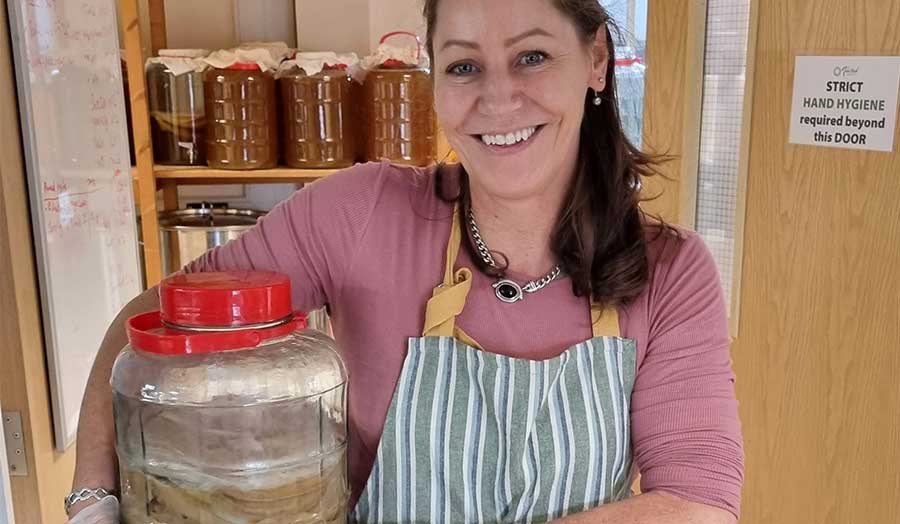 Lou's kombucha bottles ready for market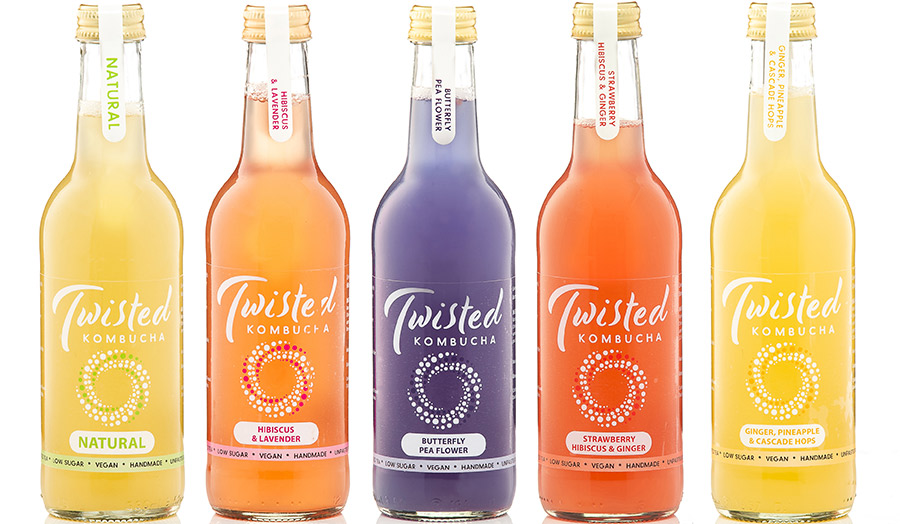 Riina processes the kombucha SCOBY waste from Lou
Riina examining the processed SCOBY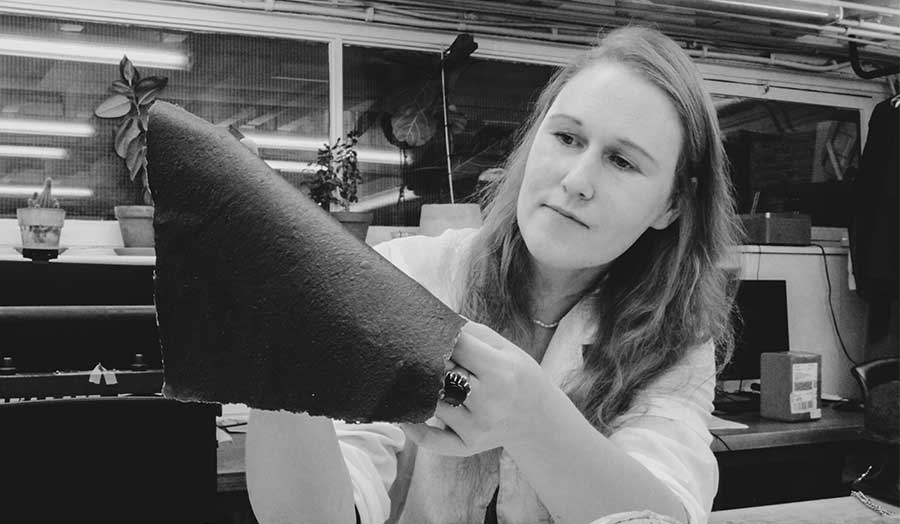 Some examples of Riina's products using Lou's kombucha waste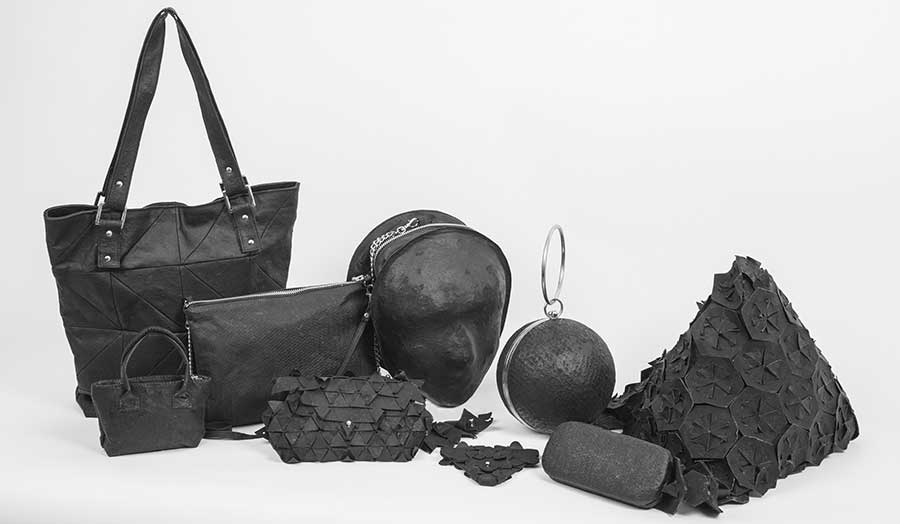 How Riina and Lou's creative partnership evolved
Riina, how did your partnership with Lou come about?
My research is developing leather-like material from bacterial cellulose. Instead of growing it myself on a large scale, I started working with kombucha breweries around London, collecting their waste SCOBY, the side product of kombucha drink production. Lou was one of the kombucha brewers in London who very kindly agreed to donate her SCOBY waste for my material research.
Can you explain how and why you developed this new material?
I have a luxury leather gloves brand Riina O – turning 10 this year. About five years ago, I started getting more vegan clients who did not want to use leather for obvious reasons and this started a conversation – what is vegan leather made of? Unfortunately, the vegan leather suitable for making gloves is plastic-based, which is very unsustainable at every step of its life cycle. That got me thinking about the materials and led to the MA Material Futures course at Central Saint Martins, where my research started.
For me, an eco-centric approach to design is very important, thinking through to the end of the life cycle of a product and how it decomposes.
Tell us about what you've made from the SCOBY (Symbiotic Culture of Bacteria and Yeast) so far.
I have developed my own material recipe of only organic ingredients, where SCOBY plays the main role. The new material is called SCOBY-compo. From this, I made a pair of concept gloves that even NASA showed interest in, a selection of coasters in various colours, my graduate collection of handbags within which I explored how craft has to adjust to working with new biomaterial, and most lately, a lighting sculpture called "Breath of Air".
I also formed a collaboration with vegan fashion brand Felder Felder earlier this year. My SCOBY-compo material with a Riina O lasercut pattern was used to make a corset for one of their sustainable couture outfits.
What's been most enjoyable about re-using this kombucha waste material?
For me, it's the comforting fact that it will biodegrade safely and instead of polluting nature, it will nurture it.
What would you like to do next in your work with SCOBY?
I have some footwear ideas I'd like to explore with this material.
___
Lou – what made you decide to call it Twisted Kombucha?
After brainstorming ideas that aligned with my values, it became apparent that other products in the wellness industry had similar names related to holistic wellness, yoga, raw, live and healthy. Due to the urgency of creating labels and getting the product to market, I ultimately decided on the name "Twisted" for my Kombucha brand. While the process of selecting a product name can be time-consuming, in the end, Kombucha is essentially tea with a twist, and the name felt fitting for my unique blend.
I understand you did some free courses at London Met's business incubator, Accelerator. Tell us more.
The Foodie Founder was facilitated by an exceptional mentor, Claire Brumby. Her vast knowledge and motivational skills helped me understand the intricacies of the startup process. She provided valuable guidance on structuring my journey, from creating a product and testing it, to navigating legislation, brand creation, sales and pricing.
I continue to refer to the notes/ and also her published book as they serve as a useful reminder and help me refocus whenever I encounter obstacles. Launching a food business is a complex journey, and having the support and guidance of an experienced mentor is invaluable when dealing with the inevitable challenges along the way.
Tell us about your experience of Accelerator's Launchpad scheme…
Launchpad has been an immensely beneficial program. Its 12-week summer curriculum is thoughtfully designed to instill critical thinking around product validation and testing, financial literacy and the inner workings of startups. It proved to be an invaluable resource for my business by equipping me with the fundamental knowledge necessary for establishing a successful business. From conducting market research to identifying gaps in the market, acquiring customers and scaling production to sell at summer festivals, Launchpad provided the guidance and support necessary for business growth.
Moreover, the Accelerator team has continued to assist me in this learning process by offering regular courses in financial management, marketing and other relevant topics, while also being a source of guidance for any queries or concerns. Beyond professional assistance, they provide a welcome break and help keep connections through fun social events.
Where are you currently selling Twisted Kombucha?
My business centres around the sale of Twisted distributed through local farmers' markets in London and Surrey, as well as over 35 independent retailers, cafes and coffee shops. Although I aim to increase production capacity, insufficient funds create a Catch-22 scenario, making it challenging to employ additional personnel. In addition, the pricing offered by wholesalers undervalues the time and effort put into producing the beverage, leading me to respectfully decline such deals as they do not align with my forecasting. Despite these obstacles, I manage all sales and deliveries independently and rely on DHL for logistical support.
Furthermore, I have expanded my market reach by listing my product on various online shopping platforms. As a sole proprietor, I am responsible for overseeing all aspects of the business, from production to marketing, with occasional assistance from friend's who I can get involved to do some shifts.
What drives you?
My driving force is to produce a pure kombucha that promotes digestive health, fueled by my passion for wellness and nutrition. My goal is to build a brand that captures the attention of individuals who need these healthy products in their lives. I am aware that many kombucha products available in the market are made with artificial ingredients that can cause digestive problems. Therefore, I strive to educate consumers about the importance of using natural ingredients in kombucha production to avoid digestive disorders. As a nutritionist, I am always eager to share my knowledge, and kombucha provides me with an excellent platform to achieve this.
What made you choose London Met's Food Science MSc in particular?
I decided to attend London Met Uni due to its convenient location, as I was a working mature student at the time and needed a university that was close by. I obtained my nutritionist degree there and enjoyed it so much that I decided to pursue a master's degree at the same institution. I had a fantastic learning experience, particularly during my master's studies, as I was able to leave work and fully immerse myself in the program's content.
How did you find the course and the lecturers?
The course leaders were amazing and we still keep in touch. My experience on my master's was fantastic and the lecturers were really invested in helping us achieve our goals as students.
What advice would you have for other London Met students looking to start a food/drinks business?
My advice is that you need to be dedicated and passionate about what you produce. Because you have to keep pushing through barriers to get it to the stage of product development, trading standards, the legal part, the operations and trying to find suppliers who don't only have huge MOQ's (minimum order quantities).
Also, while keeping an eye on the long-term goal, you can only do it by making really short-term goals, so all those small steps count. And you have to force yourself to make time for yourself and switch off. I am finding this the hardest thing to do – I have a life/work imbalance right now – but keeping this in mind is important. You need to be keeping your mental health stress levels down while enjoying the journey.
___
Find out more about our Human Nutrition BSc, Dietetics and Nutrition BSc and Food Science MSc courses
Read more about Lou's product Twisted Kombucha and Riina's SCOBY designs
Photo above: Lou mixing up a batch of kombucha.
"From the SCOBY, I made a pair of concept gloves that even NASA showed interest in..."
Riina
"The Accelerator team has continued to assist me in this learning process by offering regular courses in financial management, marketing and other relevant topics, while also being a source of guidance for any queries or concerns."
Lou