We believe that the more involved you are in student life, the more you get out of your experience of studying with us. Whatever your interests, there are many stimulating and fun ways to get stuck in at London Met.
Students' Union
Once you've enrolled at London Met you become a member of the Students' Union. The Students' Union is here to support, represent and enrich the lives of our students. As well as supporting you if you're facing issues with your academic work and need advice and information, the SU can lobby the University and government to improve opportunities for all students. It's also the place to go to immerse yourself in uni life. Be a good sport, join a society or get involved in our student media hub.
Here are just a few of the activities on offer:
Get involved as a journalist, graphic designer, DJ, researcher, technical assistant and more with our student magazine and radio station, Verve Magazine and Verve Radio – run by students for students. Tune in online or pick up a copy of the magazine at an open day to read the latest news and reviews.
No matter where your interests lie, there are more than 50 societies to choose from, but if none of them catches your eye you can always set up your own.
Take up a sport – it's not just about getting fit, it's also a great way to have fun and meet new people. Basketball, cheerleading, futsal, cricket, football, rugby, badminton, tennis and volleyball are just a few of the sports you can take part in at London Met. Some of our teams – which you'll see around campus sporting red hoodies – also represent London Met in the British Universities and Colleges Sport (BUCS) championships and the London Universities Sport Leagues (LUSL).
The Students' Union moved into a new home in 2017, providing the Union with its very own stand-alone building for the first time in its history. A state-of-the-art office on London Met's Islington campus, it provides a new and exciting home for Verve Radio.
Get fit
We run an extensive programme of fitness classes. Our facilities are excellent and include gyms with state-of-the-art cardiovascular equipment, a full-sized basketball court complete with scoreboard, a dance studio, the Aldgate exercise room and a fitness studio. We also run a health and wellbeing programme with personal training, mindfulness and yoga classes among others. Our staff are always helpful and friendly, and will happily give you information on the classes and how to become a member.
Food and drink on campus
There are plenty of places to get food and drink on and around our campuses, whether you need a breakfast pit stop, full-on lunch or quick caffeine fix. Our Islington outlets include The Junction and Highbury Canteen, and you'll also find an on-campus café at Aldgate.
Outdoor areas

We have several areas where you can enjoy the beautiful outdoors. Our Islington campus has a courtyard complete with deck chairs and table tennis. We may be urban in location, but we have a green heart – you'll find 40,000 bees on our roof, a large pond complete with ducklings in the spring and two roof gardens. You can even join our gardening club.
Social spaces

Our student venue, The Rocket, is a great place to meet your friends and relax between lectures. With Wi-Fi, pool tables, video gaming, board games and an outdoor courtyard, our café bar is ideal for catching up on work, chilling, socialising and partying. The Rocket also hosts gigs, club nights, parties and film screenings throughout the year. Some events to look out for:
Freshers' fortnight: A whole two weeks of special events including the likes of club nights, comedy, live music, a pub quiz and much more at The Rocket. It's the best way to dive headfirst into the social life at London Met and make friendships that will last throughout university and beyond.
Music, night outs and theme parties: The Rocket is the best place to hear new urban music from the freshest DJs. Are you a budding DJ? Get involved! The Rocket has also held events for international students as well as theme nights such as the prohibition party and the summer ball. In previous years, we've had special appearances from the likes of Tinie Tempah, Roll Deep, Jodie Connor and Hotsteppa.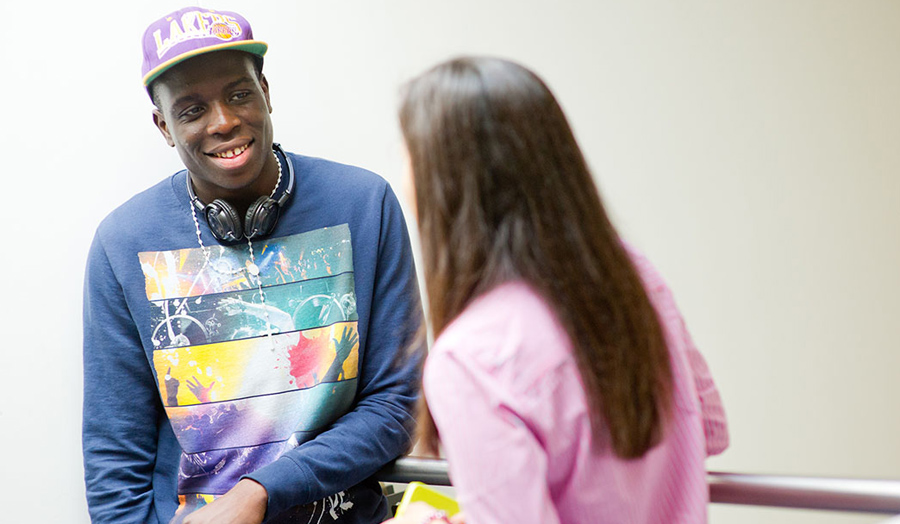 "I was made to feel really welcome and accepted into the sporting community at London Met and a year after I find myself as captain of the rugby team. Being part of sports at university is a great way to make friends for life, as well as fill any free time you may have."
Callum Morin – Sports Therapy BSc student and captain of the London Met rugby team