We have a fun-filled programme of exercise classes running throughout the week that are open to students, staff and the public.
There are aerobic, toning, strength, holistic and specialist classes that are suitable for all abilities. The emphasis is on exercise in a fun and friendly environment, meeting new friends and finding something you enjoy.
View London Met's Active Lifestyles Fitness and Recreation guide to find out more about what's on offer.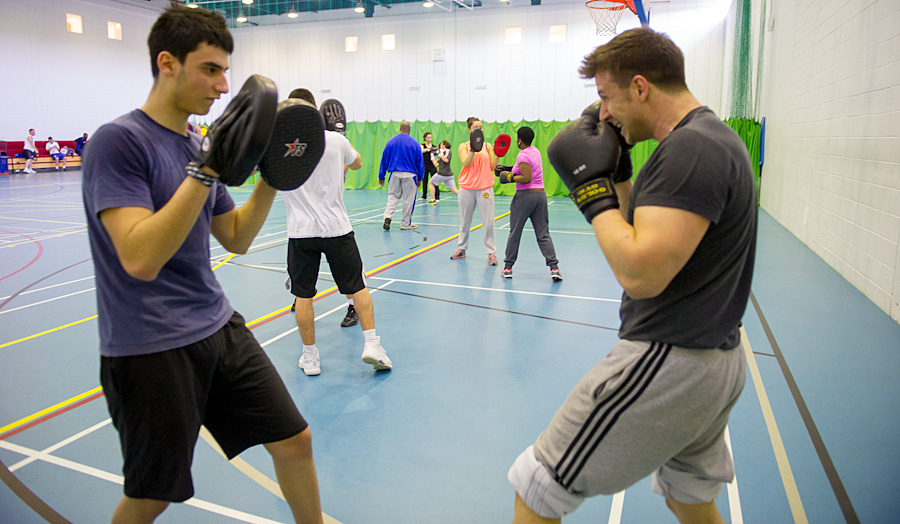 Please note, classes run in term time only (see the London Met term dates for more information).
| | | | |
| --- | --- | --- | --- |
| Monday | | | |
| Time | Activity | Venue | Site |
| 12pm – 12.45pm | Circuit and Fitness (with kettlebells) | Sports Hall | Sports Centre |
| 12pm - 1pm | Mindful activities - Chess and learn to sew | Wellbeing Room | Tower Building |
| 1pm – 1.45pm | Badminton (learn to play) | Sports Hall | Science Centre |
| 1pm – 1.45pm | Circuit Training | Sports Hall | Science Centre |
| 1pm – 1.45pm | Yoga | Wellbeing Room (TMG-75) | Tower Building |
| 12pm – 1pm | Ashtanga Yoga | The Wash Houses | Aldgate Building |
| 1pm - 2pm | Couch to 5K | Meet at reception | Science Centre |
| 1pm – 2pm | Personal Training* | Main Gym | Science Centre |
| Tuesday | | | |
| Time | Activity | Venue | Site |
| 12pm – 12.45pm | Circuit (20-20-20) | Sports Hall | Science Centre |
| 12pm - 1pm | Mindful activities - learn to play the guitar | Wellbeing Room | Tower Building |
| 1pm - 1.30pm | Spinning | Main gym | Science Centre |
| 1pm – 1.45pm | Boxing | Sports Hall | Science Centre |
| 1pm – 1.45pm | Brazilian Jiu Jitsu | Sports Hall | Science Centre |
| 1pm – 1.45pm | Yoga | Wellbeing Room (TMG-75) | Tower Building |
| 1pm – 3pm | Tennis (recreation) | Islington Tennis Centre | N7 9PL |
| 7pm – 8.30pm | Volleyball (recreation) | Sports Hall | Science Centre |
| 8.30pm – 10pm | Handball | Sports Hall | Science Centre |
| Wednesday | | | |
| Time | Activity | Venue | Site |
| 12pm – 1pm | Stretch / Mindfulness | The Wash Houses | Aldgate Building |
| 12pm – 12.45pm | Pilates | Wellbeing Room (TMG-75) | Tower Building |
| 1pm – 2pm | Walking/runing club | Meet at reception | Science Centre |
| 1.15pm - 2pm | Salsa | Dance studio (BE3-10) | Tower Building |
| 4pm – 5pm | NEW Core Power | Wellbeing Room (TMG-75) | Tower Building |
| 5.30pm – 6.30pm | Yoga | Dance studio (BE3-10) | Tower Building |
| 6pm - 7pm | Personal Training* | Main Gym | Science Centre |
| 6.30pm – 8.30pm | Aikido | BELB-17 | Tower Building |
| Thursday | | | |
| Time | Activity | Venue | Site |
| 12pm – 12.45pm | Stretch/Mindfulness | Wellbeing Room (TMG-75) | Tower Building |
| 12pm - 1pm | NEW Soft Tennis | Sports Hall | Science Centre |
| 12pm - 1pm | Personal Training* | Main gym | Science Centre |
| 1pm – 1.45pm | Pilates | Wellbeing Room (TMG-75) | Tower Building |
| 1pm – 1.45pm | Boxfit | Sports Hall | Science Centre |
| 1pm – 1.45pm | Basketball (learn to play) | Sports Hall | Science Centre |
| 1pm – 1.45pm | Netball (learn to play) | Sports Hall | Science Centre |
| 4pm - 5pm | NEW Women's only session | Wellbeing Room (TMG-75) | Tower Building |
| 5pm – 6pm | Zumba | Dance studio (BE3-10) | Science Centre |
| 6pm – 8pm | Badminton (recreation) | Sports Hall | Science Centre |
| Friday | | | |
| Time | Activity | Venue | Site |
| 12pm – 12.45pm | Stretch / Mindfulness | Wellbeing Room (TMG-75) | Tower Building |
| 12pm – 1pm | Personal Training* | Main gym | Sports Centre |
| 1pm – 1.45pm | Low impact HIIT | Sports Hall | Science Centre |
| 1pm - 2pm | Relaxation/Breathing | Wellbeing Room (TMG-75) | Tower Building |
With our wide range of classes, there's plenty of opportunity to get adventurous and try something new. Here you'll find a brief description of each class:
| | |
| --- | --- |
| Aikido | A non-competitive Japanese martial art teaching self-defence and physical fitness, Aikido also develops mind and body coordination and confidence. |
| Badminton | Meet new people, get fit and enjoy a beautiful sport. |
| Boxfit | Circuit-type exercise using boxing techniques. All the gain, but no pain! |
| Boxing | Learn self-defence, build strength and stamina, enhance hand-eye coordination, improve self-confidence, increase muscle tone and de-stress! No experience needed – everyone is welcome. |
| Brazilian Jiu-Jitsu | A practical grappling martial art that serves as the basis of modern mixed martial arts (MMA), learn how to take down, control and neutralise an opponent. Jiu-jitsu develops respect, discipline, self-confidence and fitness and can provide a high-intensity workout as well as developing self-defence skills. |
| Circuit training | Short bursts of vigorous activity to train your heart and tone the body. |
| Core Power | Improve your posture and build core muscle groups through a variety of exercises designed to strengthen your abdomen and back muscles while increasing your flexibility. Walk taller, feel stronger. |
| Spinning | An intense and fun cycling workout. |
| Stretch/Mindfulnes | Group class consisting of gentle stretches, movement sequences, body awareness, breathing awareness and deep relaxation using mindfulness techniques. |
| Pilates | Guaranteed strong abdominal and back muscles. Great for posture and stress relief. |
| Tennis/soft tennis | Come along and get help from our coach! |
| Low Impact HIIT | High-intensity impact training. |
| Yoga | Suitable for everyone regardless of age and experience, this class features a variety of yoga styles and is a gentle way to improve flexibility. |