Workout with a difference
Our number one focus is your health and wellbeing. We want to help you move as much as possible and look after your physical and mental wellbeing during these times. To help you, we have created a new timetable for the start of term.
Please follow our Instagram and Facebook pages as we regularly post helpful stretches, tips and motivational quotes!
Please read our Virtual class disclaimer before participating in any session. By joining the class your consent and agreement to the disclaimer will automatically be given.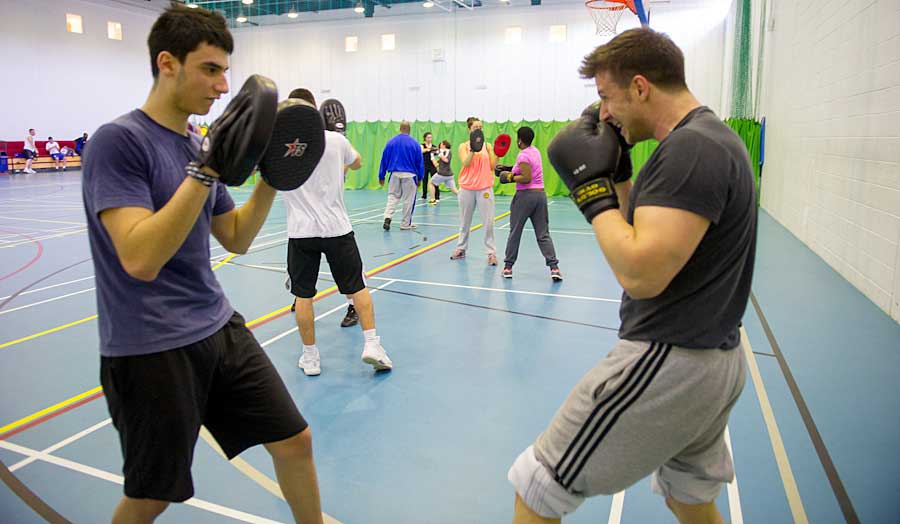 Classes start on Monday 5 October 2020.
Please note these classes are subject to change. Further details on how to book and sign up will follow shortly!
| Time | Class | Instructor | Location |
| --- | --- | --- | --- |
| Monday | | | |
| 7.30 to 8.30am | Yoga flow | Cristina | Online |
| 8am to 10am | The Strava Cycle Club | John & Kostas | Outdoor & online |
| 12pm to 12.30pm | Desk to 3K walk | John | Outdoor: meet outside Science Centre |
| 12.30pm to 1pm | Fitness & wellbeing tea break | John & Kostas | Online |
| 1pm to 1.30pm | Introductory fitness circuits (four week plan - local area) | Derrick | Outdoor: meet outside Science Centre |
| 1pm to 1.45pm | Yoga | Suzannah Hall | Online |
| 5pm to 6pm | PT workout plans | Claudia | Online |
| | | | |
| Tuesday | | | |
| 8.30am to 9am | Spinning (your virtual cycle) | John | Online |
| TBC | Horseriding/Stable management (Trent Park) | John | Outdoor - email for further details and to express an interest |
| 12.30pm to 1.30pm | Yoga | Laura | Online |
| 1pm to 1.30pm | Introductory fitness circuits (four week plan - local area) | Derrick | Outdoor: meet outside Science Centre |
| 1pm to 1.30pm | Speed walk | John & Kostas | Outdoor: meet outside Science Centre |
| 1pm to 3pm | Social tennis (recreational) | Kostas | Islington Tennis Centre (indoor) |
| 2.20pm to 3pm | VI Tennis (visually impaired) | Kostas | Islington Tennis Centre (indoor) |
| 5pm to 6pm | Zumba dance | Katja | Online |
| | | | |
| Wednesday | | | |
| 7.30am to 8.30am | Yoga Flow | Cristina | Online |
| 11am to 12pm | Pilates | Yana | Online |
| 12pm to 12.30pm | Fitness & wellbeing tea break | John & Kostas | Online |
| 12.30pm to 1pm | PT sessions | Jessica | Online |
| 1pm to 1.30pm | PT core exercises | Judit | Online ** |
| 1pm to 2pm | Salsa dance (learn to dance) | David Marquez Bravo | Online |
| TBC | Chess | Lucas | Online |
| TBC | Climbing/bouldering at The Castle, Manor House | John | Outdoor - email for further details and to express an interest |
| | | | |
| Thursday | | | |
| 10am to 10.30am | Circuits | Derrick | Online |
| TBC | Swimming (Queen Elizabeth Olympic Park) | John | Outdoor - email for further details and to express an interest |
| 12.30pm to 1.30pm | PT sessions (local area) | Jessica | Outdoor: meet ouside Science Centre |
| 1pm to 1.30pm | PT core exercises | Judit | Online ** |
| TBC | PT workout plan | Klaudia | Online |
| 6pm to 7pm | Pilates | Inga | Online |
| | | | |
| Friday | | | |
| 7.30am to 8.30am | Yoga flow | Cristina | Online |
| TBC | Golf/Driving range skills in Trent Park | John | Outdoor - email for further details and to express an interest |
| 12pm to 12.30pm | Speed walk (exploring the boroughs and local history) | John | Outdoor: meet outside Science Centre |
| 12pm to 12.45pm | Mindfulness gentle breathe/yoga stretch | Cristina | Online |
| 1pm to 1.30pm | PT core exercises | Judit | Online |
| 1pm to 2pm | HIIT (local area) | Inga | Outdoor: meet ouside Science Centre |
** External off site visits may incur a charge (i.e to visit specific centres - TBC times)
With our wide range of classes, there's plenty of opportunity to get adventurous and try something new. Here you'll find a brief description of each class:
| | |
| --- | --- |
| Aikido | A non-competitive Japanese martial art teaching self-defence and physical fitness, Aikido also develops mind and body coordination and confidence. |
| Badminton | Meet new people, get fit and enjoy a beautiful sport. |
| Boxfit | Circuit-type exercise using boxing techniques. All the gain, but no pain! |
| Boxing | Learn self-defence, build strength and stamina, enhance hand-eye coordination, improve self-confidence, increase muscle tone and de-stress! No experience needed – everyone is welcome. |
| Brazilian Jiu-Jitsu | A practical grappling martial art that serves as the basis of modern mixed martial arts (MMA), learn how to take down, control and neutralise an opponent. Jiu-jitsu develops respect, discipline, self-confidence and fitness and can provide a high-intensity workout as well as developing self-defence skills. |
| Circuit training | Short bursts of vigorous activity to train your heart and tone the body. |
| Core Power | Improve your posture and build core muscle groups through a variety of exercises designed to strengthen your abdomen and back muscles while increasing your flexibility. Walk taller, feel stronger. |
| Spinning | An intense and fun cycling workout. |
| Stretch/Mindfulnes | Group class consisting of gentle stretches, movement sequences, body awareness, breathing awareness and deep relaxation using mindfulness techniques. |
| Pilates | Guaranteed strong abdominal and back muscles. Great for posture and stress relief. |
| Tennis/soft tennis | Come along and get help from our coach! |
| Low Impact HIIT | High-intensity impact training. |
| Yoga | Suitable for everyone regardless of age and experience, this class features a variety of yoga styles and is a gentle way to improve flexibility. |