Workout with a difference
On behalf of the Fitness and Wellbeing team at London Metropolitan University, we would like to wish you all a very warm welcome!
Although our gyms remain closed due to the lockdown restrictions, we are hoping we will be able to welcome you all to the gym and our other sports and fitness facilities soon!


We appreciate that this has been a very difficult time for everyone and we wish to welcome everyone back to a safe if somewhat different environment.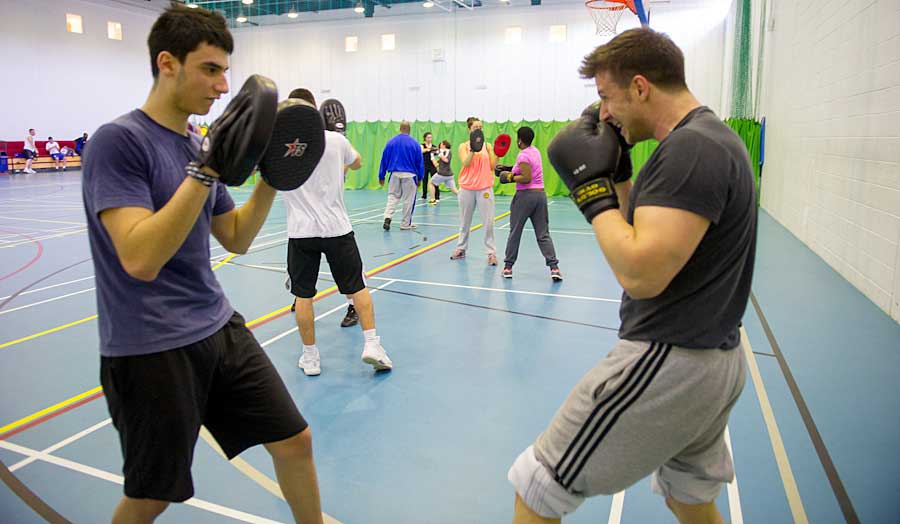 We have created a new step-by-step process to help you sign up for all the great fitness and wellbeing classes! Find out how to sign up.
Once you have completed the Fitness and Wellbeing membership form, you'll be registered and free to take part in our great range of classes!
For all online classes, you will need to be signed up to Zoom.

Our outdoor activities need to be booked 24 hours in advance and can be booked up to 7 days in advance.
Please note, bookings for outdoor activities are not currently available due to the lockdown restrictions.


Time
Class
Instructor
Location
Joining details
Additional information
7.30 to 8.30am
Yoga flow
Cristina
Online

Join via Zoom

Morning Yoga Flow
Meeting ID: 876 5103 6556

Passcode: 511373

8am to 10am
The Strava Cycle Club
John and Kostas
Outdoor and online
Connect to the London Met Strava Cycle Club
10.30am to 11.30am
Circuits/boxing/weights
Derrick
Online
Join via Zoom
Meeting ID: 825 5982 8267

Passcode: Derrick
12pm to 12.30pm
Desk to 3K walk
John
Outdoor: meet outside Science Centre
Book your place
Maximum of 5 people per session
12.30pm to 1pm
Fitness and Wellbeing tea break
John and Kostas
Online
Join via Zoom
Meeting ID: 876 9176 1139

Passcode: 161327
1pm to 1.45pm
Yoga
Suzannah Hall
Online
Join via Zoom

Meeting ID: 751 4316 3132


Passcode: 407334

5pm to 6pm
PT core exercises
Judit
Online
Join via Zoom

Meeting ID:
924 6333 0497


Passcode: G0vBBS
Time
Class
Instructor
Location
Joining details
Passwords / notes
8am to 9am
Yoga from Scratch
Cristina
Online
Join via Zoom

Meeting ID: 852 7549 9800

Passcode: 502376

9am to 6pm


Horse riding / Stable management (Trent Park Equestrian Centre)
John
Outdoor
Book your place
One-hour slots,
one participant per slot
10.30am to 11.30am
Circuits
Derrick
Online

Join via Zoom

Meeting ID: 825 5982 8267

Passcode: Derrick

12.30pm to 1.30pm
Yoga
Laura
Online

Join via Zoom

Meeting ID:858 0219 9699

Passcode: 069380

1pm to 1.30pm
Speed walk
John and Kostas
Outdoor: meet outside Science Centre
Book your place
Maximum of five people per session
1pm to 2.20pm
Social Tennis (recreational)
Kostas
Islington Tennis Centre (indoor)
Book your place
Maximum of two people per session
2.20pm to 3pm
VI Tennis (visually impaired)
Kostas
Islington Tennis Centre (indoor)
Book your place
Only one person per session
5pm to 6pm
Zumba dance
Katja
Online
Join via Zoom
Meeting ID: 826 5536 2345

Passcode: 483971
6pm to 7pm
PT workout plans
Klaudia
Online
Join via Zoom

Meeting ID: 566 265 8226

Passcode: 1Jdufq
Time
Class
Instructor
Location
Joining details
Passwords / notes
7.30am to 8.30am
Yoga Flow
Cristina
Online

Join via Zoom

Morning Yoga Flow
Meeting ID: 876 5103 6556

Passcode: 511373
11am to 12pm
Pilates
Yana
Online
Join via Zoom
Meeting ID: 544 902 6779
12.30pm to 1pm
PT sessions
Jessica
Online

Join via Zoom

Meeting ID: 777 3508 2820

Passcode: 7cZ9vt

1pm to 1.30pm
PT core exercises
Judit
Online
Join via Zoom
1pm to 2pm
Salsa dance (learn to dance)
David Marquez Bravo
Online
Join via Zoom

Meeting ID:
875 5541 5183

Passcode:
275083

8am to 6pm
Climbing / Bouldering (The Castle Climbing Centre)
John
Outdoor
Book your place
Two-hour slots, one participant per slot
Time
Class
Instructor
Location
Joining details
Passwords / notes

8.30am to 9am

Spinning (bike class for beginners)
John
Online

Join via Zoom

Meeting ID: 818 5416 6987

Passcode: 942417

10.30am to 11.30am
Circuits
Derrick
Online
Join via Zoom

Meeting ID: 825 5982 8267

Passcode: Derrick

8am to 10am
Swimming (Park Road Pools)
John
Outdoor
Book your place
30-minute slots,
one participant per slot
1pm to 1.30pm
Legs & Abs workout
Klaudia
Online
Join via Zoom

Meeting ID: 566 265 8226

Passcode: 1Jdufq

6pm to 7pm
Pilates
Inga
Online

Join via Zoom

Meeting ID: 859 589 87611

Passcode: inga39
Time
Class
Instructor
Location
Joining details
Passwords / notes
7.30am to 8.30am
Yoga flow
Cristina
Online

Join via Zoom

Morning Yoga Flow
Meeting ID: 876 5103 6556

Passcode: 511373
9am to 11am

Golf (Trent Park Golf Club)

John
Outdoor
Book your place
One-hour slots,
one participant per slot
9am to 11am

Driving range skills (Trent Park Golf Club)

John
Outdoor
Book your place
One-hour slots,
five participants per slot
12pm to 12.30pm
Speed walk (exploring the boroughs and local history)
John
Outdoor: meet outside Science Centre
Book your place
Maximum of five people per session
12pm to 12.45pm
Mindfulness (gentle breathe / yoga stretch)
Cristina
Online

Join via Zoom

Morning Yoga Flow
Meeting ID: 876 5103 6556

Passcode: 511373
1pm to 1.30pm
PT core exercises
Judit
Online
Join via Zoom

Meeting ID:
964 2430 1982



Passcode: AXc5dr

6pm to 7pm

Body Conditioning
Inga
Online

Join via Zoom

Meeting ID: 859 5898 7611

Passcode: inga39