Harriet McKay
Studio brief
I recently received a marketing email from IKEA, inviting me to take a look at the company's new SVÄRTAN range. I was struck by the incongruity of the use of the Swedish word for "river" to name a collection inspired by and co-designed in India. As a matter of fact however, the adoption of design ideas, appropriated, adapted and sometimes even stolen from elsewhere has long played a role, certainly in British interior design and decoration.
In the eighteenth and nineteenth centuries, the choice of the Orient as a means of styling the interior was a fashionable practice for the well-to-do. More recently, the post-modern and twenty-first century deployment of "exotic" motifs can be seen in British shopping centres, for example. Acquiring themes associated with the glamour or mystery of foreign lands has a long history as a tool in the interior designer's repertoire.
This studio will examine, reflect upon and critique this history, also reviewing theories around global-flow, translocation and post-colonialism.
Indicative bibliography
Arjun Appadurai, Disjuncture and Difference in the Global Cultural Economy in Theory Culture Society 1990; 7; 295
Emmanuelle Gaillard, Marc Walter, A taste for the Exotic: Orientalist Interiors, Thames & Hudson, 2011
Gervase Jackson-Stops, Views of the Royal Pavillion, Pavillion Books, 1991
John Potvin, (ed.) Oriental Interiors: Design, Identity, Space, Bloomsbury, 2015.
Edward Said, Orientalism, Penguin Books, 2003
Michael Turner, Osborne, English Heritage Guides, 2014
Outline of the first seven weeks of study
Week 1: Introduction: aims, outcomes and overview
Week 2: Visit to the Royal Pavillion Brighton
Week 3: Review of photos and drawings of the Royal Pavillion, presentations and class discussion
Week 4: Visit to Leighton House, Kensington
Week 5: The 'Exotic' in interior design, talk and class discussion
Week 6: How to construct a dissertation using ideas developed during this studio series
Week 7: Brief presentation and dissertation proposals, class discussion
Tutor biography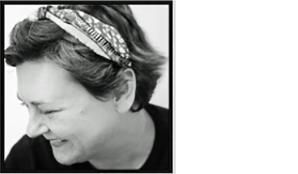 Photograph of Harriet McKay
CCS Lecturer and Co-ordinator for Interior Design.
Harriet McKay is a curator and academic with a specialism in interior design history.