Online: Neighbourhood Depth
The second in a series of interdisciplinary workshops asking how the built environment shapes our capacity to exercise autonomy in cities.
About this event
Join us at the second in a series of four interdisciplinary workshops questioning how the spatial, temporal and psychological ordering of space in the built environment shapes people's capacity to exercise their autonomy within our cities. Exploring depth and autonomy at a neighbourhood or block scale, by investigating how diverse communities and urban economies function within depth structures and how this shapes our capacity to exercise their autonomy within our cities, including by thinking about community cohesion and economic resilience.
Through informal presentations of research at the workshops, we will explore the nature of spatial order, and the relationship between people and their environments from a range of interdisciplinary perspectives. We aim to establish common ground; understand the nature and breadth of existing research into spatial ordering; define shared concepts and to begin to explore conceptual and normative issues around architecture and urban design.
Speakers:
Dr Jane Clossick is a senior lecturer in architecture (urban design) at London Metropolitan University and co-leads the Cities Research Group. Trained as an architect at The University of Sheffield and the University of East London, she worked at practices in London and Manchester before completing her doctorate, The Depth Structure of a London High Street, at London Met in 2017. She is an active researcher whose interests include urban depth and city morphology, high streets, industrial and work space accommodation, participatory design processes and activism through design. Jane is Principal Investigator on the Autonomy and Urban Depth project.
Colin Ellard is a professor of cognitive neuroscience at the University of Waterloo and the director of its Urban Realities Laboratory, where he studies wayfinding, cognition and emotion in the built environment. He works at the intersection of psychology, architectural and urban design, conducting experiments that measure how your brain and body respond to different kinds of settings.
Dr Agustina Martire is a senior lecturer in architecture at Queen's University Belfast with an interest in urban history and theory, specifically in the significance of local mixed streets, their fabric, histories and experiences. She leads the StreetSpace project, an international and interdisciplinary project, which works in collaboration with academia, government, NGOs and local communities to analyse streets and fulfil their potential to be people-centred, accessible and inclusive public places.
Vikas Mehta is Professor of Urbanism at the University of Cincinnati. His work focuses on the role of design and planning in creating a more responsive, equitable and communicative environment. His research on the urban street emphasises the street as a heterogeneous, multicultural, multigenerational and multiuse public space and has developed new measures of sociability that have advanced existing methods to study human behavior in public spaces.
Dr Lindsay McCunn is a professor of psychology at Vancouver Island University (VIU) and director of the Environmental Psychology Research Lab at VIU. Her research concerning sense of place, organisational commitment and other psychosocial constructs seeks to measure and understand building occupants' and community members' attitudes and behaviours in various built and natural environments, as well as in the design cycle. She is also an associate editor of the Journal of Environmental Psychology and the Commissioning Editor for Cities and Health.
Alice Cabaret is an urban strategist with international experience in the fields of creative industrial reconversion and urban innovation. She is the founder of the collaborative agency The Street Society, and interdisciplinary team of urban planning and cognitive science experts [S]City. She focuses her practice on the implementation of innovative urban projects including trend forecasting, spatial activations, industrial reconversions, public space upgrades, urban research and street art curation.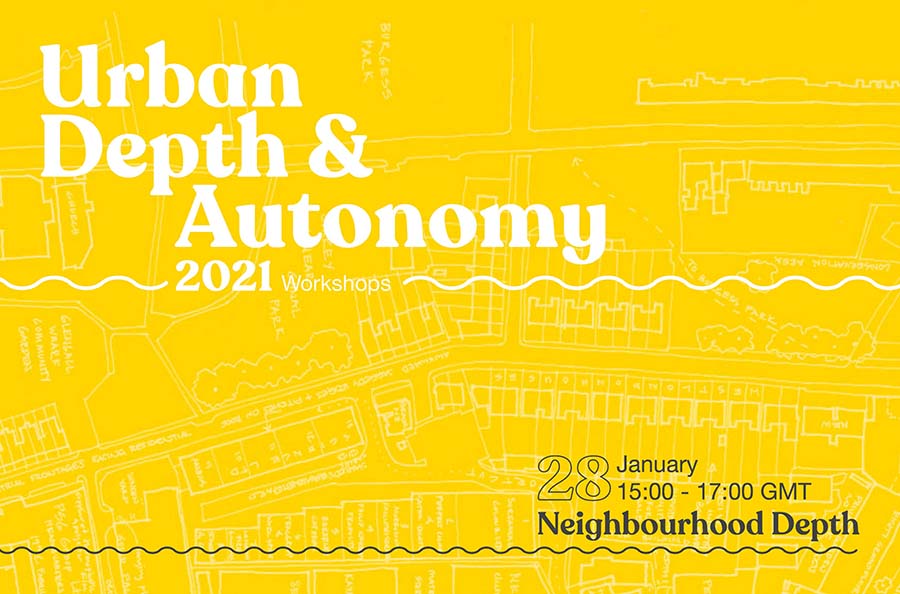 Details
| | |
| --- | --- |
| Date/time | Thursday 28 January 2021, from 3pm to 5pm GMT |
| Book ticket | Registration closed |
| Follow on Twitter | @Research_LMArts |
Neighbourhood Depth
The second in a series of interdisciplinary workshops asking how the built environment shapes our capacity to exercise autonomy in cities.
Urban Depth and Autonomy Workshops series