Online: Architectural Depth
The first in a series of interdisciplinary workshops asking how the built environment shapes our capacity to exercise autonomy in cities.
About this event
Join us at the first in a series of four interdisciplinary workshops questioning how the spatial, temporal and psychological ordering of space in the built environment shapes people's capacity to exercise their autonomy within our cities. Exploring depth and autonomy at an architectural scale, we will investigate the impacts of sociospatial boundaries in the buildings we occupy from housing, public buildings and commercial space.
Through informal presentations of research at the workshops, we will explore the nature of spatial order and the relationship between people and their environments from a range of interdisciplinary perspectives. We aim to establish common ground; to understand the nature and breadth of existing research into spatial ordering; to define shared concepts and begin to explore conceptual and normative issues around architecture and urban design.
Speakers:
Machiel van Dorst is a Professor of Urbanism at the TU Delft. He is an environmental designer and is specialised in environment-behaviour interaction and the implication for urban design. His behaviour research includes topics like (perceived) control, social safety, community design, child friendly cities and health and stress reduction through design.
David Littlefield is a Senior Lecturer in the Department of Architecture and the Built Environment at the University of the West of England, Bristol. David's research focuses on place, heritage, authenticity and its representation; he is presently working towards a DPhil with a focus on Bath Abbey. David's published works include investigations into architectural narrative and the role of regeneration in London and Liverpool. He is a Director-Trustee of the Interior Educators network.
Natalia Olszewska is a Researcher and Practitioner in Neuroscience Applied to Architecture. She works between disciplines and aims to create insights which can change our architectural and urban environment and make it more people-centred. Her specific professional interest is the impact of architecture on different aspects of our lives: social, behavioural, health and well-being and cognition. Natalia is a co-founder of Impronta, a neuroscience and behavioural sciences consultancy for architecture, and the Fellow of the Centre for Conscious Design.
Karolina Konecka is a practising architect and UX-designer based in Switzerland. She is interested in how people interact with their physical and digital environments. She advocates for a human-centred and research-based approach in design. Karolina holds an MSc degree in Architecture and Urban Planning from TU Delft and a BSc degree from TU Warsaw.
Paula Cawthorne is a Part 1 Architecture Student at London Metropolitan University. Supported by a previous degree in Spatial Design and Landscape, her working history encompasses the fields of Exhibition, Interior and Product Design. Nominated for the RIBA Bronze Medal Award 2020 and the AJ Student Prize 2020, Paula seeks a deeper understanding of how architecture impacts upon our everyday lives.
Bobby Supatira trained as an architect and worked in Thailand and London before commencing his doctoral studies at London Metropolitan University in 2017. His research focuses on the Thai immigrant population currently living in London, with a view to understanding the spatial and social practices involved in the creation of their cosmopolitan identity. The study argues that the techniques of cosmopolitanism require further examination to the question of how intercultural interaction in cities should be addressed.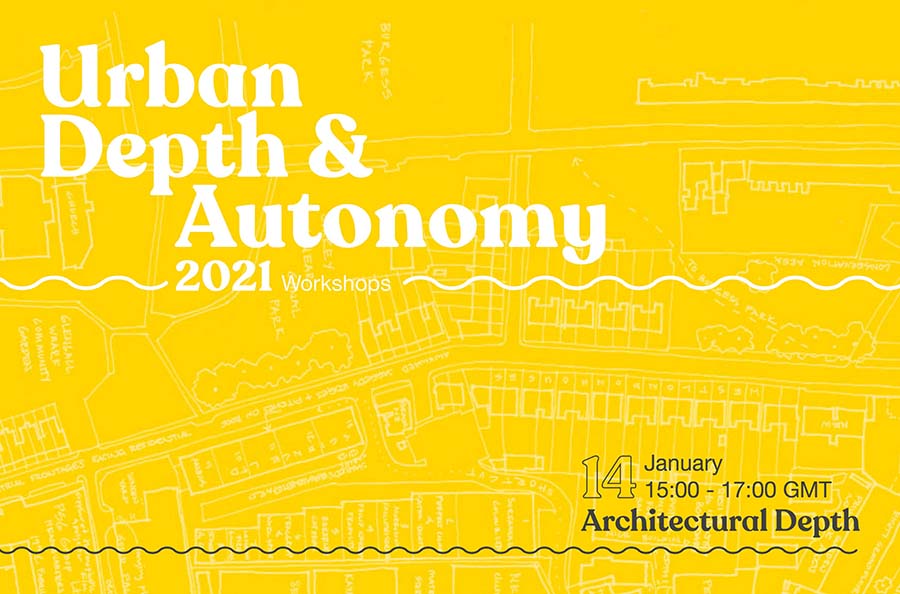 Details
| | |
| --- | --- |
| Date/time | Thursday 14 January 2021, from 3pm to 5pm GMT |
| Book ticket | Registration Closed |
| Follow on Twitter | @Research_LMArts |
Architectural Depth
The first in a series of interdisciplinary workshops asking how the built environment shapes our capacity to exercise autonomy in cities.
Urban Depth and Autonomy Workshops series