Who Cares? is a student-led series of lectures, debates and events at The Sir John Cass School of Art, Architecture and Design, in dialogue with MASS: The Metropolitan Architecture Student Society, and is linked to ARCSR: Architecture for Rapid Change and Scarce Resources. Our programme concerns the interface between architecture and humanitarianism through a variety of themes and forms of practice, at one and abroad.
Whether or not you identify with the word 'humanitarian', the role of the architect in emergency or post-conflict situations is almost always complex and highly challenging. Under such conditions, a professional must deal with resource scarcity in the context of rapid change, and try to help those attempting to survive after disaster, or trying to better themselves with little capital and precarious prospects. The series examines what it is like to work in such environments, drawing in a range of practitioners, experts, commentators and enthusiasts to investigate how to practice according to humanitarian and development principles, the motives for doing so, and the reality of not-for-profit architecture.
The talks are free and open to the public.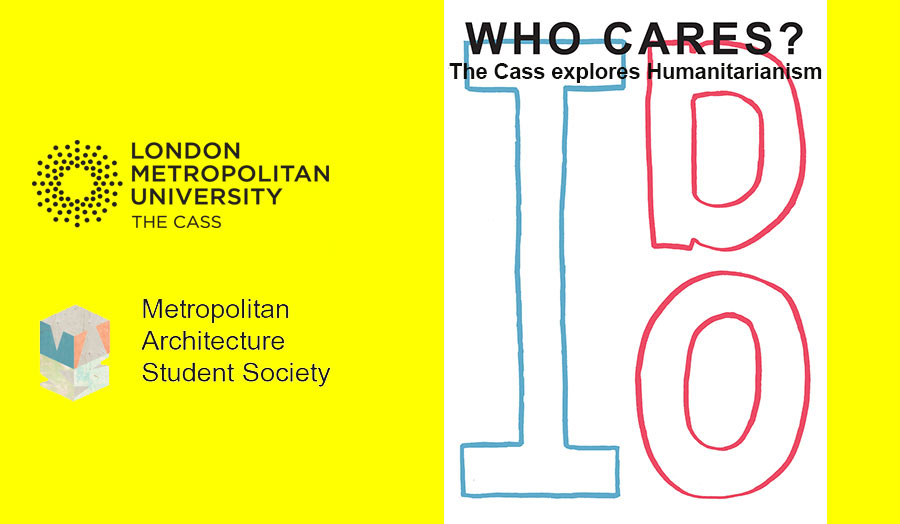 Lecture
Date/time
Location
Eventbrite
Building, Owning and Belonging – book launch with Jaime Royo Olid, Himanshu Parikh, Dr Matthew Barac, and El Parker
Monday 4 February 2019, 6.30pm
GSB-01, Goulston Street
Book now
'A global human crisis' in conversation with Paul Vick and Maggie Black
Monday 11 February 2019, 6.30pm
GSB-01, Goulston Street
Book now
Toby Pear – Article 25 and CA-UK-IN
Monday 18 February 2019, 6.30pm
GSB-01, Goulston Street
Book now
EVA Studio and Corina Tuna
Monday 25 February 2019, 6.30pm
GSB-01, Goulston Street
Book now
Nabeel Hamdi and Bo Tang
Monday 4 March 2019, 6.30pm
GSB-01, Goulston Street
Book now
Model Housing - Housing Models
Thursday 4 April 2019, 1pm to 10pm
The Sir John Cass School of Art, Architecture and Design (The Cass)
London Metropolitan University
Goulston Street
Book now
Antonio Capelao and Matt + Fiona
tbc
GSB-01, Goulston Street
tba
The Cass Who Cares? talks 2018-19