Model Housing - Housing Models
The Metropolitan Architecture Student Society (MASS) at The Cass is hosting a half-day symposium to explore how students and practitioners are approaching the future of housing in the UK. The programme of crits and talks will seek to investigate existing housing models and develop a series of diverse approaches to the challenges of our current context, such as building at density, retaining the public realm, and making truly mixed and affordable developments within the city. The emerging research will be displayed in an exhibition on the day and later collated into a research publication.
Symposium programme:
1pm - 6pm: Megacrit
Four MArch units from four different architecture schools will present the housing research they have been developing, to highly relevant guest critics Kate Macintosh, Alison Brooks, Akil Scafe-Smith (Public Practice) and Rae Whittow-Williams (GLA) amongst others.
6.30pm - 8pm: Lecture
David Levitt and Jo McCafferty (Levitt Bernstein) will be giving a lecture to discuss the new edition of the Housing Design Handbook, which will be chaired by Alex Ely (Mae).
8pm - late
Join us for drinks after the lecture to carry on the conversation!
Free admission. Everyone is welcome to join at any part of the day.
If you would like to make a donation to support our programme, you can do so through the ticket fee, or get in touch at massatcass@gmail.com. Thank you!
Follow us on Twitter: @massatcass | Instagram: @massatcass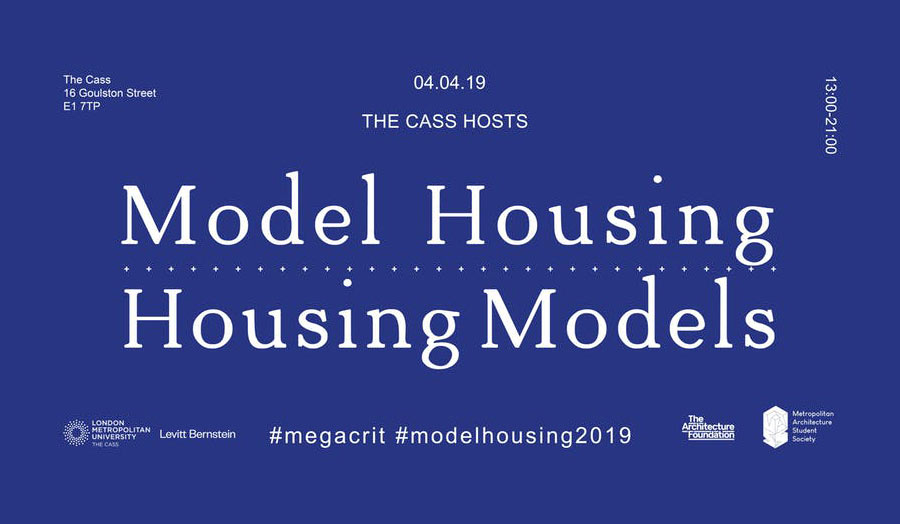 Details
Date/time
Thursday 4 April 2019, 1pm - 10pm
Book now
Eventbrite
Location
The Sir John Cass School of Art, Architecture and Design (The Cass)
London Metropolitan University
London
E1 7TP
MASS on Twitter
@massatcass
Follow The Cass
@TheCassArt