Open Field 2017-18: Bethan Hughes
Artist-in-residence at The Cass.
Bethan Hughes
Dates: 6 January to 3 February 2018
Introductory talk: Thursday 11 January, Open Field Studio, third floor, Calcutta Small Annex
Closing event: Thursday 1 February, 5pm, Open Field Studio, third floor, Calcutta Small Annex


Bethan Hughes (b. 1989, Wigan) is a multidisciplinary artist based in Leeds and Berlin. She uses digital processes and 3D visualisation software to create images and animations which then migrate off the screen and manifest as tactile objects, prints and audio-visual environments. Her practice seeks to explore how 'digital life' might render, replicate and fracture conceptions of both images and bodies.
Bethan is currently undertaking a practice-led PhD at the University of Leeds in the Faculty of Fine Art, History of Art and Cultural Studies, where she also teaches in the undergraduate studio. She received a BA in Fine Art from The Glasgow School of Art in 2011 and an MA in Media Art and Design from the Bauhaus-Universität Weimar (DE) in 2015 (funded by the DAAD).
Please contact Ben Cain (b.cain@londonmet.ac.uk) for further details.
Image: Bodies of Water, 2017. Latex, scaffold, 4 minute render loop, ratchet straps, risograph print, photocopies, iPad with gradient ramp, vinyl text, plastic bags, bowl, water.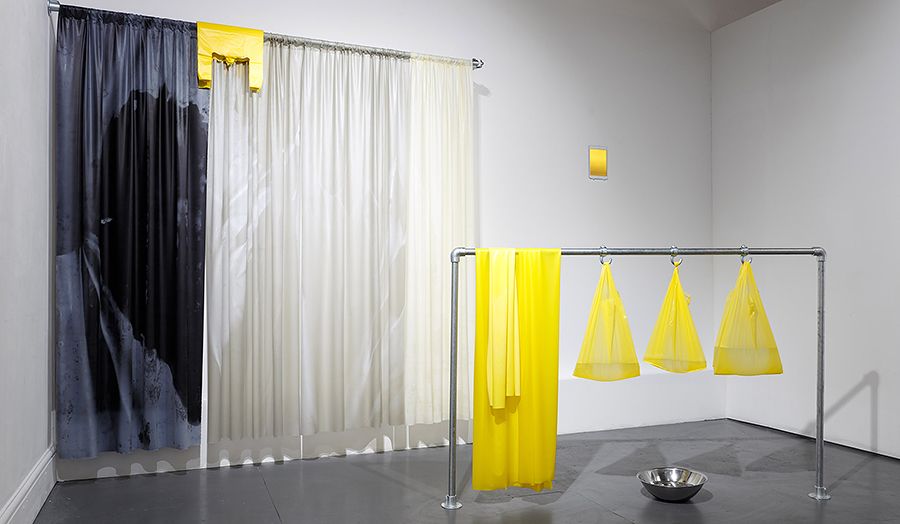 Details
Dates
6 January to 3 February 2018
Introductory talk
Thursday 11 January
Closing event
Thursday 1 February, 5pm
Location
Open Field Studio
Calcutta Small Annex, third floor
Open Field residencies at The Cass