Secondary school English teacher Neha Doshi is studying a PhD that analyses podcasts, looking at how they are used by BAME groups as an accessible form of media. Her research will also consider whether podcasts are a safe space for racialised others to convene. Neha has been awarded a PhD scholarship to undertake this research.
After completing my master's in English Literature, I was sure that I wanted to continue studying, specifically to develop theory that moves beyond academia's generally Eurocentric limitations. I applied for several PhDs over the course of two years, and either did not receive funding or didn't get in. I applied to this scholarship almost as a last resort, feeling that it would be the perfect alignment of all of my interests and was thrilled, and quite surprised after so many setbacks, when I was actually awarded it.
What made you choose this particular research area? And why podcasts?
Race and gender have always been key research interests of mine because they have been central to my life. When I moved from Kenya to Australia at the age of nine, how others perceived my race often became an excuse for treating me in a hostile, ridiculing and suspicious manner. Academic Sara Ahmed, who grew up in Australia, describes an instance of being stopped by the police as a teenager with the single question "Are you Aboriginal?" as if that were a justification to apprehend her for a spate of burglaries in the area (Living a Feminist Life, 2017). Through academia, I wish to bring subjectivity to those of us who are black, brown and 'other', to humanise our experiences and ways of life, and dismantle notions that it was only the white man who had anything to contribute to rational thought.
Why podcasts? Anyone who has attempted to enter the media landscape knows how challenging it is for someone of colour to speak their mind and avoid self-censoring. Podcasts, with their informal distribution channels and low production costs, are an accessible form of media representation and offer an alternative space for marginalised people to convene. Podcasts are also hosted by people whose lived-experience align in some way with the guest or listener, so they have the opportunity to offer closure to those who've experienced the trauma of racism.
You also write for several online publications including An Injustice and Fearless She Wrote – can you tell us more?
Inspired by writers like Roxanne Gay and Sara Ahmed, I use my writing as a way of expressing the challenges of being an outspoken intersectional feminist in a world that wants to put you in a box and keep you there. I also write about getting things wrong, making fatal mistakes, and being a middle class – and therefore privileged – person in activist circles. I feel that being open about the struggles of standing up for what you believe in gives others the courage to fight their own corner – I know that reading the work of female and non-binary writers has certainly helped me along my journey.
How have you found the research culture here?
I have really enjoyed the openness with which people have shared their ideas with me. There are always conferences to partake in, lectures to listen to, and academics to engage with about my research interests. I've also been offered the chance to lead an undergraduate module, which is daunting as I'm still in the first year of my PhD, but also incredibly exciting to be given so much trust and ownership.
Have you made connections with other PhD students here yet? How valuable has that experience been if so?
Yes – doing a PhD can be a lonely expedition because you are the only person trudging through your particular learning journey. But I have made friends with a few people in the same department whose research interests align well with my own, and I have often sought them out for advice, or just to chat about what we might have learned. I've also become a member of the Postgraduate Research Society, which has also been a great space to share ideas, to ask questions and to learn about new opportunities. Both have been lifesaving at times.
How have you found your research supervisors Professors Jenny Harding, Anne Karpf and Peter Lewis?
Jenny, Anne and Peter are incredibly helpful and so approachable! I've heard stories of very aloof supervisors, or supervisors who want to direct their PhD candidate's research. I really have nothing to complain about, because they are very quick to respond and seem genuinely interested in my ideas.
No, not yet. But I've heard they've received a new grant to chart the history of the anti-apartheid movement in the UK, which I would love to get involved in.
I can see you've also studied in Melbourne – how was the educational experience different down under?
I thoroughly enjoyed the courses I took during my undergraduate degree at the University of Melbourne and they set a solid foundation for my future studies. But the context of what I was taught was quite different. Britain had an empire that extended across the globe. Australia, on the other hand, is a settler colony like Canada – Europeans created a colony in which they still live. Additionally, while the UK is situated in the continent of Europe, Australia is geographically surrounded by Asia. The questions pertinent to Australian academia are therefore quite different than those which interest Britain at large.
What's your biggest passion in life?
I am often told that I'm quite a passionate person, so maybe the people who meet me can answer that question best. I have a lot of interests – like film and literature – which sustain me. I am quite a firm feminist. But generally I'd say that my central tenet is that if things are not as they should be, then it's my responsibility to fight for change. I think I apply that to all areas of my life.
I understand that you taught for several years – what were your teaching highlights, and what is your teaching experience bringing to your PhD?
It was always rewarding when students in challenging circumstances achieved high grades, which is why I chose to work in areas of London with high proportions of students on free school meals. But the highlight of teaching wasn't students' academic success so much as it was driving their curiosity and getting them to think outside the box. I hope to apply that same curiosity to my PhD and to continue asking students at university questions that don't have easy answers.
What do you think will be the next step for you once you've finished the PhD?
My aim is to continue in academia and to become a professor in the field of cultural studies.
What's your favourite thing about London Met so far?
I love the diversity of London Met, with students and staff from many backgrounds and walks of life. I immediately feel at home when I walk into the library or a classroom. It feels like a safe learning environment, which hasn't always been offered to me.
What's your best piece of advice for anyone thinking about embarking on a PhD?
Join groups of PhD students – they will keep you going when the going gets tough. And when you lose sight of what you're doing, come back to why you chose to do the PhD in the first place.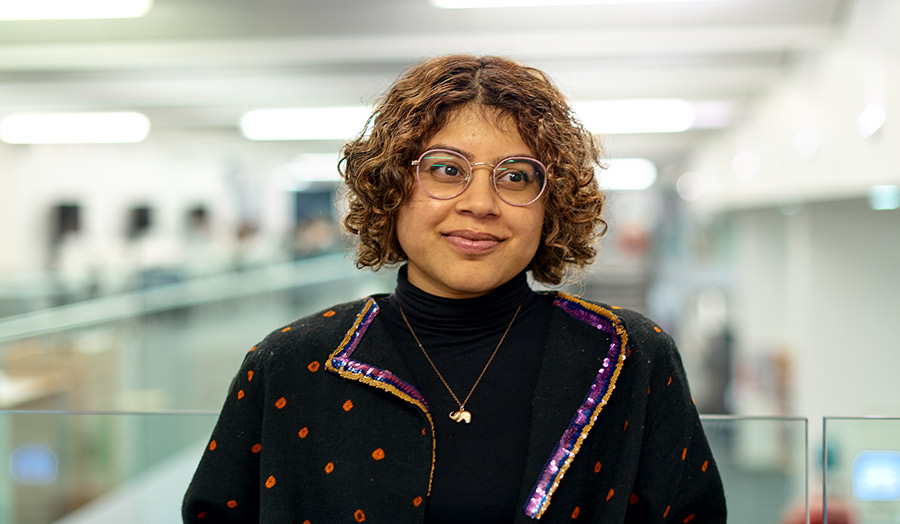 My central tenet is that if things are not as they should be, then it's my responsibility to fight for change. I think I apply that to all areas of my life.