Doing her dissertation with Great Ormond Street Hospital (GOSH) was a real highlight of Louise Taylor's Dietetics BSc (Hons) course at London Met. Read on to find out what happened with her other student placements thanks to Covid... and how she ended up presenting her research in front of expert dietitians at the British Dietetic Association (BDA) 2020 Research Symposium.
What made you choose London Met to study dietetics?
I chose London Met as they were one of the universities that offered a three-year dietetic course. This suited me well as was able to use credits from my previous nutrition degree and so didn't have to repeat modules. I'd already set up my life in London after moving from a small town up north three years previously and so London Met meant that I could continue to live centrally in a city which I really loved – and build on a career which I had planned towards for a long time.
The flexibility of the course also meant I could work as a pre-diabetes health coach and volunteer as well as studying – and so I was continuously using my learning in practice. My voluntary work and employment also helped my learning. I had also attended dietetic BDA events at the Uni and felt it had a really welcoming and friendly learning environment.
What have you enjoyed most about the course?
I really enjoyed the placement aspect of the course. My first placement was at Great Ormond Street Hospital, and I loved every minute here. This placement allowed me to grab the opportunity to volunteer with the dietetic team there and go on further to do my dissertation with the haematology and oncology dietitians. I was awarded 85% for this research project. I found a real interest in paediatric dietetics and aim to practise in this field in the future.
I was extremely grateful that the course could continue through virtual placements during the COVID 19 pandemic and was able to use the information and experience of my virtual placement during my final placement. During my final placement I felt I was able to learn and develop as a dietitian in a supportive environment, experiencing my different areas of acute and community care.
I expressed my interest in paediatrics and the placement site allowed me to spend some additional time with the paediatric dietitians. The supervising dietitians really made me feel welcome and I felt they valued my learning and overall placement experience.
What do you think's been the most valuable element of the course so far?
There are lots of things! But my main one would have to be my dissertation with GOSH. I learnt a lot about research within a tertiary centre for children and information gathering in addition to statistical analysis. Additionally, as recommended by Sarah Illingworth, I entered my dissertation abstract into the BDA Research Symposium for 2020 and had the opportunity to present this to a wide range of dietitians from many different specialities. This developed my confidence and presentation skills. I then went on to have my project spoken about on the University website.
I loved my final placement with North West London University Healthcare though also, and do feel that this was a valuable experience to speak about as I really could collect all the learning I had gathered throughout my whole course and just jump into the practical side of things. I was mainly at Northwick Park hospital but did spend some time at Central Middlesex Hospital too. The teams were absolutely amazing and I'd recommend anyone to choose there as a placement choice! The dietitians guiding me let me do this at my own speed and this just allowed me to keep on developing and developing my dietetic skills.
I understand that you're London Met's student rep with the BDA – what's involved there?
I acted as a bridge between the University and the London BDA branch committee. This involved helping to plan events for both student and registered dietitians, working with the University with regards to relevant topics and event spaces. I also promoted the BDA to new students, presenting during induction weeks.
Are you a member of any other London Met societies?
I was a member of the Nutrition Society and this allowed me to keep up to date with other nutrition-related topics and events at University. I was asked to present for one of their events, speaking about the BDA and my experiences as a student dietitian. This again developed my confidence and presentation skills but also allowed me to reflect on all of my efforts to build myself both confidence-wise and my ability to be a good dietitian.
I understand you've been working part-time for a number of years as a health and wellbeing coach?
Yes – this involved giving group and one-to-one education to patients referred onto the program as they had high blood sugar levels and were classed as having pre-diabetes. This would be a 14-week course, and I would guide the patient through the program, presenting a different dietary or lifestyle topic for each session.
I received a lot of additional training around diabetes and diet and lifestyle changes, motivational interviewing, behaviour change and presenting to an audience who had little to no diabetes knowledge. This training counted towards continued professional development and I feel this all helped me to adapt to my environment on placement and helped me when speaking to patients about complex dietary topics.
What's the best aspect of your work there?
The patient! Everyone is different and so although advice was general, I had to deliver it in a way that allowed people to individualise it and make it relevant to themselves and their lifestyle. This was a challenge that I enjoyed and I loved being a part of and helping and supporting people through this health journey.
I see you also volunteer at a school in Waterloo. Tell us more – and what your top tip is for encouraging healthy eating in schoolchildren...
This involved giving educational sessions to year 7 students regarding healthy eating both in school and at home with their families. We looked at food prices, takeaways and other food shops in the area and outdoor activities in and outside of school available for them. I also helped at the primary school, volunteering during the summer. I helped to put together a summer camp which involved outdoor and indoor games and activities to keep the children active. For example, PE sessions and baking foods such as different breads.
When giving advice to school children you have to make it really engaging so I'd definitely suggest an activity for them to do on a health-related topic and a leaflet or booklet that they can take home to parents.
How has Covid affected your work/study?
Study-wise, everything moved to online, including my second placement. It was very different, but I'm very grateful for all of the effort the University and my tutors put into my dietetic degree. Moving lectures and placement to online activities instead of face-to-face allowed us all to complete our degree on time whilst still learning in an effective way.The student acting sessions were really useful as it gave me some more experience of working with patients under pressure. It was also great to use MS teams and actually see fellow students to work in groups during certain placement weeks.
I feel it made me more adaptable to new situations and I stick by the saying 'where there is a will there is a way'. This was definitely proven to be true by the whole University.
My third placement was postponed by a month. However, when it did eventually come, I enjoyed every minute of it! The dietetic team were so so great and my lead supervisor was an amazing dietitian to learn from. I really enjoyed the fact the placement was rotational. So I was able to gain experience in gastroenterology, community, head and neck cancer patients, intensive care, dementia, surgery and care of the elderly. During consolidation I was able to effectively manage one ward and half of another ward. It felt great to develop independence.
My work also went online and I was able to deliver the above sessions via Zoom/ MS Teams and over the phone. This was not everyone's cup of tea but I worked hard to make the sessions as engaging as possible using PowerPoint slides and videos.
What advice would you give to anyone thinking of studying at London Met?
Go for it! It's a great, upcoming and adaptable university with supportive staff who really have your best interests at heart.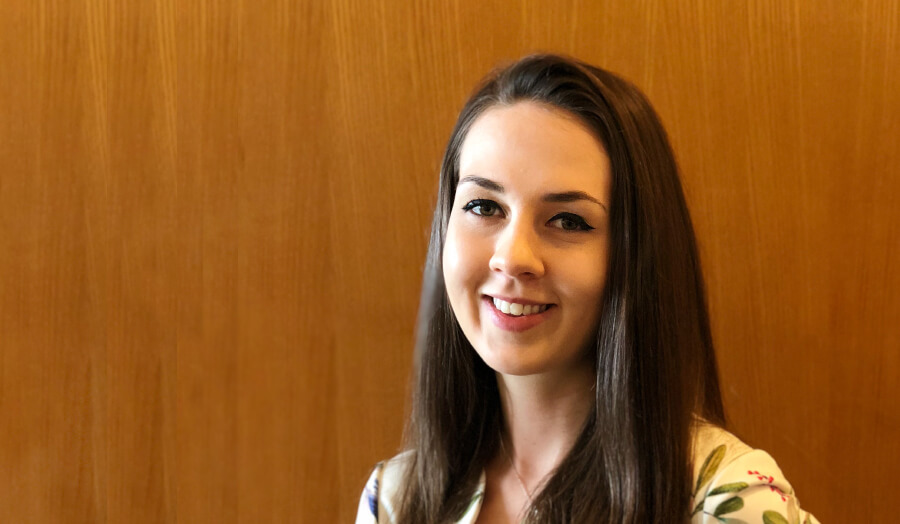 "Study-wise, everything moved to online, including my second placement. It was very different, but I'm very grateful for all of the effort the University and my tutors put into my dietetic degree."