Cross-Research Centres Symposium showcases cutting edge London Met research on the environment
Date: 22 June 2023
On 1 June, researchers from Health Sciences, Art, Architecture and Design and Social Sciences as well as The Centre for Urban and Built Ecologies (CUBE), The Centre for Life Writing and Oral History (CLiOH), and Global Diversities and Inequalities research centres gathered at the Holloway for a symposium entitled: Responding to the environment crisis: inter-disciplinary
The hybrid event was hosted jointly by the Global Diversities and Inequalities Research Centre and the Inter-Disciplinary Research Forum and organised by Professor Louise Ryan and Professor Nick Temple.
London Metropolitan University currently has 14 research centres engaged in important research on a wide range of topics, using diverse and innovative methodologies. There are many advantages in these centres coming together to explore synergies and work collaboratively across disciplinary boundaries. Prof Louise Ryan chairs the Peer Learning Group of Centre Directors and Deputy Directors which aims to explore precisely these opportunities for collaborative working. This symposium on the environment grew directly out of the Peer Learning Group.
The symposium created space for conversations across such wide-ranging disciplines as life writing, architecture, public health, psychology, neuroscience, technology and food science, enabling us to share our expertise and research specialisms.
Drawing on this wealth of expertise, the symposium also presented cutting edge research exploring possible solutions to address the current climate and environmental challenges through examples of good practice – locally and internationally.
Dr Sarah Illingworth, School of Health and Human Sciences, spoke about 'Making the most of food – a dietician's view of sustainability'. Prof Anne Karpf, (CLIOH) spoke on the role of 'Women and the climate crisis: how tackling gender inequality can help save the planet' based on her recent book – 'How women can save the plant'. Prof Nick Temple (CUBE) then spoke on the topic of 'synchronicity between natural and human-made conditions'. In a joint presentation, Dr Sian Moxon, School of Art, Architecture and Design, and Dr Justin Webb (School of Social Sciences and Professions) presented their current cross-disciplinary project on ' Urban Rewilding'. Finally, Dr Trevor Norris, School of Art, Architecture and Design, turned to the theme of activism and asked 'Why do Arts people need to understand Psychology, and what does this have to do with the climate emergency?'
The event was chaired by Prof Louise Ryan.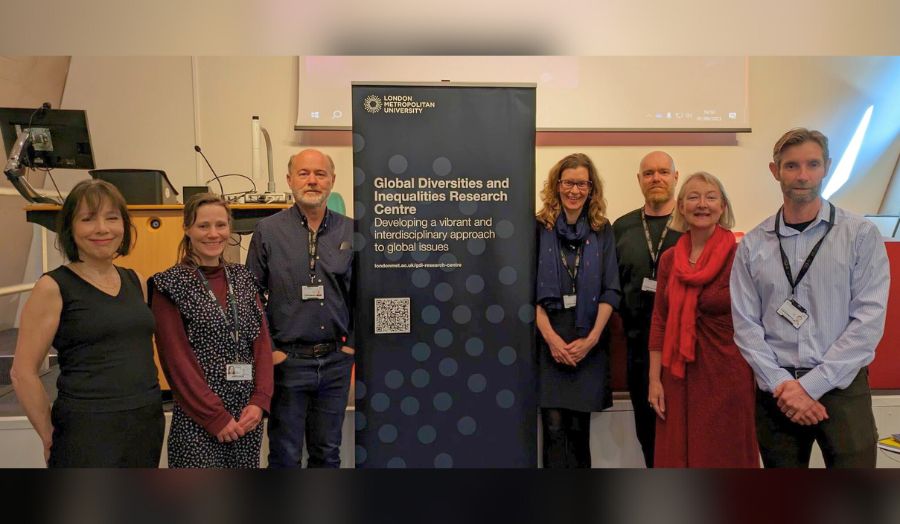 The photo shows:
(L to R) Anne Karpf, Sian Moxon, Nick Temple, Sarah Illingworth, Trevor Norris, Louise Ryan and Justin Webb.
A special thank you to Oliver Brooks and Anna Kamyk from the University's Research Office who supported this hybrid event.