Arts organisation run by Cass foundation lecturer presents new exhibition by Abigail Lane and Lala Meredith-Vula.
Date: 22 January 2020
Fermynwoods Contemporary Art, an organisation run by James Steventon who teaches Foundation year students at The Cass, is opening a new exhibition, The Forest is the Museum by Abigail Lane and Lala Meredith Vula on 25 January. The exhibition will launch with an Artist Talk with Yasmin Canvin, Lala Meredith-Vula and Richard Wentworth 25 at 2pm.
The culmination of Abigail Lane and Lala Meredith-Vula's residency at Fineshade Wood The Forest is the Museum' re-contextualises lost property collected in the forest, the artists working with Forestry England to reflect the human presence within these woods as well as our ongoing relationship with nature and managed natural spaces. It is the first time the two artists have worked together since Damien Hirst's famous 'Freeze' in 1988.
About The Forest is the Museum
Our possessions follow us and the process of losing, finding, and handing belongings into a lost property point is familiar worldwide. Each of the ninety items which now comprise The Forest is the Museum collection were considered important enough to carry into the forest by someone and, once lost, identified by a passer-by as something worth an attempt to reunite with its owner. Most items have little monetary value, but tagging and cataloguing the collection re-empowers these objects, imbuing each with new value and significance. Notably, many of the objects are plastic, a material which survives long past our individual human lifespan and arguably beyond that of many of our natural spaces.
The installation and accompanying photographs project our current existence into the future, treating the everyday artefacts of our recreation as future archaeological specimens or articles of evidence.
The exhibition features the beginnings of a new body of work in collaboration with Loughborough University's Studio of Light, with artefacts from the collection forensically photographed and presented as incredibly detailed platinum prints, a highly specialised photographic and reprographic process that dates back to the 19th century.
Image: Intellectual Property (Gun), from The Forest is the Museum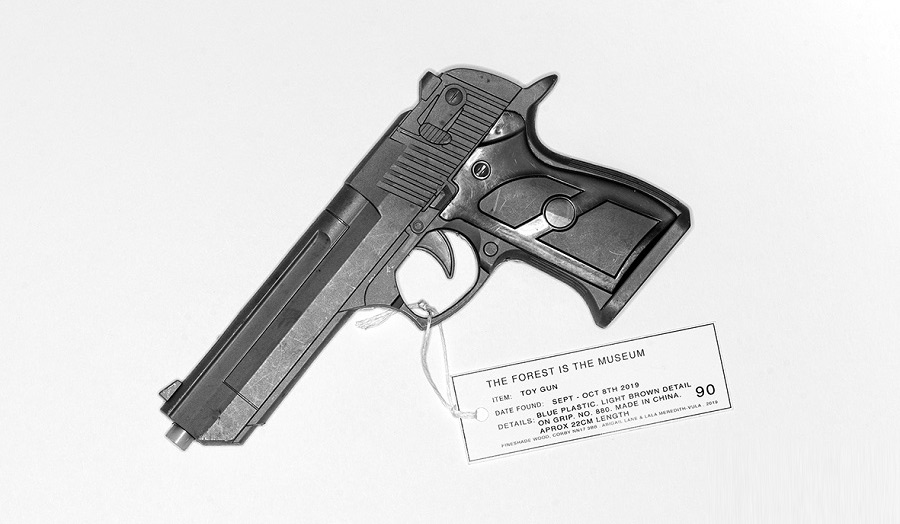 News details
Dates/times
25 January to 30 March 2020
Daily from 10am to 4pm
Artist Talk
With Yasmin Canvin, Lala Meredith-Vula and Richard Wentworth
Saturday 25 January 2020 at 2pm
Location
The Arches
Top Lodge, Fineshade Wood
Nr Corby, Northants
NN17 3BB
The Cass on Twitter
@TheCassArt