EVENT: Aldgate Winter Fair and Lantern Parade
Cass design students sell their work at annual winter fair.
Cass students from Fashion Accessories and Jewellery BA, Furniture and Product Design BA, Interior Design BA and Interior Architecture and Design BA are all taking part in City of London's third annual Aldgate Lantern Parade and Winter Fair.
The event represents a collaboration between residents, groups, schools and organisations from across the area. Open to everyone, Aldgate in Winter is a vibrant celebration of the cultural wealth of the surrounding community.
This year Cass students are hosting a stall on Aldgate Square, where they will exhibit and sell their work at the Winter Fair. The fair is accompanied by the annual parade which sees children, families, groups and individuals from across Aldgate walking together with lanterns to the beat of Barbican's Drum Works.
Proceeds from the beautiful and functional objects made by the students will fund an educational trip to Munich, and chosen charities such as Refugee Action.
Talking about the event Marianne Forrest, head of Cass 3D said "We are really looking forward to taking part. Our Jewellery students – AKA the Metropolitan Evocateurs- will be presenting beautiful rings, pendants, earrings and brooches. It's a great opportunity to pick up a unique handmade gift as well as support a good cause."
The stalls will be on Aldgate Square from 4-7pm, and the Lantern Parade leaves Sir John Cass Primary School at 4.45pm. Bring a lantern and join the parade!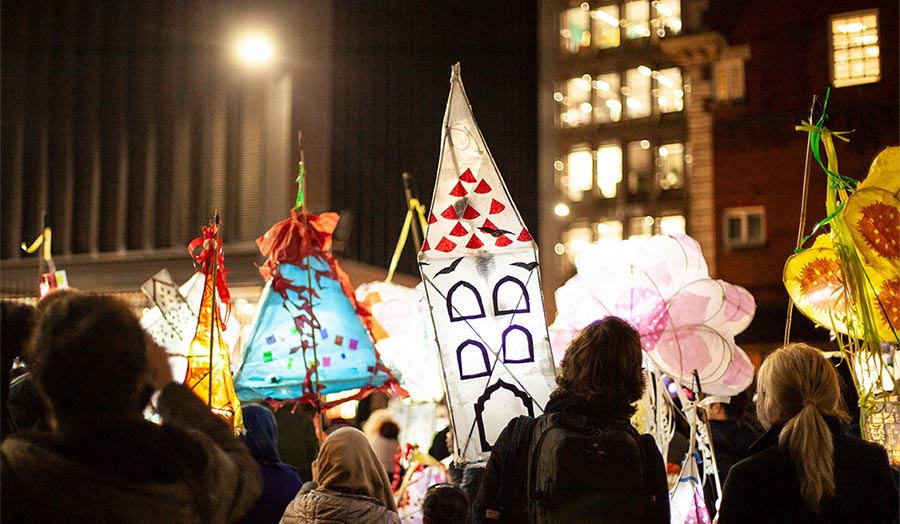 News details
Date/Times
Friday 6 December 2019
4-7pm Winter Fair
4pm Lantern Parade
Registration
Register here
Location
Aldgate Square
Aldgate High Street
London
EC3N 1AF
The Cass on Twitter
@TheCassArt