Photography equipment and facilities
Cameras
Digital cameras:
Hasselblad H6ds with 50c digital back and Hasselblad H6d lens 80mm
Canon EOS 5Ds
Canon 800Ds
Canon 700Ds
Analogue cameras:
35mm, medium and large format
Accessories:
a range of Prime lenses, tripods and carry bags
Black-and-white darkrooms
Enlarger types:
Dunco model II-67VC
Meopta Magnifax
Devere 504s
processing equipment: Print processing system ILFORD 2150 RC x 2
Colour darkrooms
Enlarger types:
De Vere 203
De Vere 504
De Vere 5108
processing equipment: Colenta Studioline processor -80RA50, (4 tank system)
Advanced darkroom
Enlarger types:
Ilfospeed multigrade 500
De Vere 504
Varicon
Cathomag
De Vere 5108
horizontal large print enlarger Durst 1000
Lighting studio
Profoto A1 on camera flash units
Profoto D2 lighting systems with a range of softboxes, umbrellas and reflectors
Profoto Air Remotes
Lastolite Skylites
Daylight studio
Profoto A1 on camera flash units
Profoto Air Remotes
Flash head (Bowens Gemini Pro-750) x 6
Super coolite x 2
Red heads x 4
Interfit Super5 x 2
Bowens SL 455 x 4
Lighting Kit Bowens Flash head x 3
Quadx3000 serial TC0125
Bowens Duo 1200 BW 7590
Location lighting
Profoto B1x 500 Air TTL Location Kits
Rotolight AEOS LED Light Kits
Elinchrom TTL Location Kit
Digital print facilities
Scanner (Imacon-Flextight 646)
Flatbed scanner (Epson V850-Photoscanner)
Epson Stylus SC-P800 printers
Epson Stylus 2100 printer
4K iMacs
Eizo grading screens
Software
Capture 1 Pro
Phocus
Adobe Creative Cloud
You'll be required to complete the photography health and safety induction.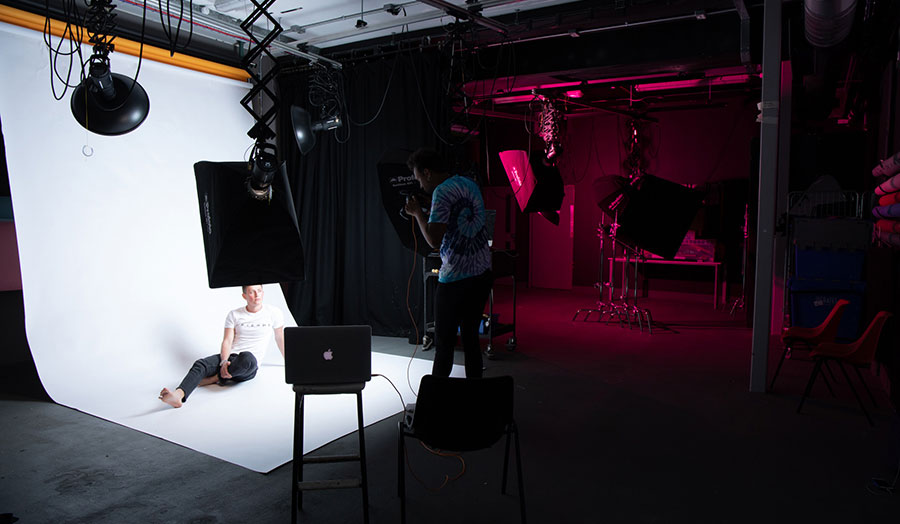 Location
Basement darkrooms and digital print facilities CMB-34 to CMB-43
Lighting studio room CMB-49
Daylight studio room CM2-06
Staff
Lisa Rigolli, Naomi Groves and Sebastian Edge
Open access
For open access times please refer to the weekly Workshop and Staffing schedule. The schedule is available to view or save from the Downloads section. Printed copies are available in the Photography area in Calcutta house at the Old Castle Street reception desk.
Alternatively, speak to Lisa, Naomi or Sebastian.
Images