Now What: Re-thinking Practice
Wednesday 17 March, at 5.30pm via Zoom
About this event
Re-thinking Practice is the second event in the 'Now What' series, this time bringing together built-environment practitioners to reflect on and discuss the opportunities brought by 'non-traditional' forms of practice. The evening will aim to question the power that multi-disciplinary practice holds in reshaping the dynamics of the built-environment to become more just and responsive to the urgencies of our time, as well as enabling the wider community to understand the city as something that can be engaged with and influenced.
How can the practice of designers and architects move beyond a singular position of influence to claim an interdisciplinary role as advocate and facilitator? In what way are architects still necessary in a model of interdisciplinary design and community engagement?
Hani Salih is the Co-founder and Director of Migrant's Bureau, a multi-disciplinary social design and urbanism practice facilitating sustainable design interventions, research, podcasts and community workshops for both trans-local and global disenfranchised & migrant communities. Currently completing his postgraduate studies in urbanisation and development at the London School of Economics and Political Science, Hani's interests sit at the intersection of architecture, policy, economics, international development and urbanism. Hani is also a Trustee at the Architecture Centre, Occasional Lecturer at the University of the West of England and an Advisor at Theatrum Mundi. In each of these roles, he attempts to bring together questions about systems and an interdisciplinary line of questioning.
Amahra Spence is an artist, organiser and spatial practitioner, passionate about community systems architecture. Through her practice, she has been exploring the possibilities of 'healing infrastructure', particularly in the context of intergenerational wisdom, Black liberation and the radical imagination. In 2013, she founded MAIA, an arts and social justice organisation, supporting people to change the world through resource redistribution, infrastructure building, platforming and programming. In 2020, Amahra launched The Black Land and Spatial Justice Project with a campaign to raise £30,000 to invest in knowledge production, experimentation and transformative action in natural, virtual and built environments.
Thomas Aquilina is a London-based designer invested in building communities of radical thought and progressive practice. Since 2017 he has worked for Adjaye Associates. He co-directs the New Architecture Writers (N.A.W.) programme and is a co-founder of collective Afterparti with an eponymous zine series working to reshape urban space in a way that is more equitable and diverse.
This event is part of the 'Now What' student and staff project at the School of Art, Architecture and Design at London Metropolitan University.
'Now What' is an open discussion about re-learning design, history and aesthetics from a viewpoint that acknowledges multiple voices, backgrounds and forms of practice. 'Now What' looks out towards a future that begins from recognising the social constructs that have allowed unjust systems to remain in place for centuries.
'Now What' is a collective established by Lucia Medina, James Thormod and Ektoras Arkomanis.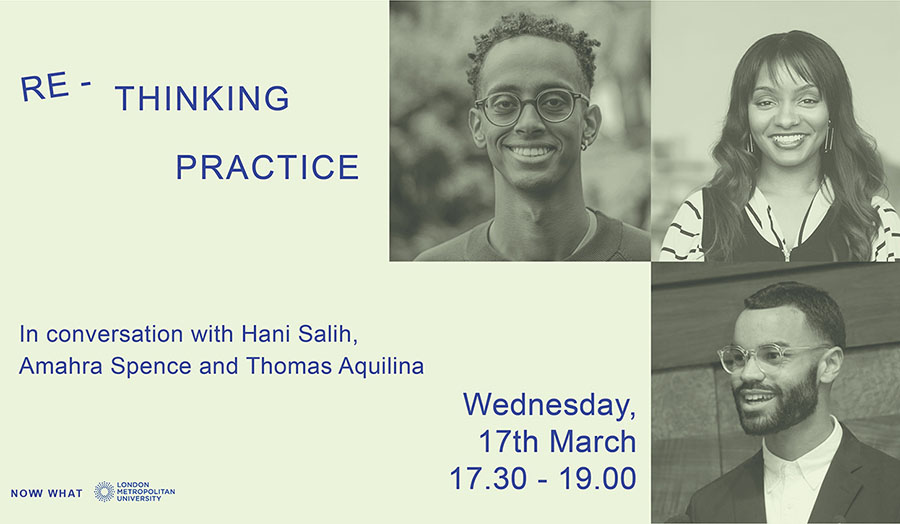 Details
| | |
| --- | --- |
| Date/time | Wednesday 17 March 2021, from 5.30pm to 7pm |
| Online event via Zoom | Registration ended |
| Follow The School of Art, Architecture and Design | @LdnMetArts |
Now What: Re-thinking Practice
Re-thinking Practice brings together three leading practitioners of the built environment across architecture, academia and urban design to discuss the future of architectural practice and showcase their own work.