From protest to institutional change - Architecture, Race, Gender and Education
Over 200 attended an online event at which keynote speaker Lesley Lokko engaged with issues raised by MASS: Metropolitan Architecture Students Society. MASS asks, now what?
Date: 08 February 2021
By Lucia Medina Uriarte and James Thormod of MASS: Metropolitan Architecture Student Society, with School alumna Sylvia Aehle.
-
A panel of speakers joined Professor Lesley Lokko last week to address the context of her success in winning the RIBA Annie Spink Award for Excellence in Architectural Education: a major award in the discipline of architecture. This achievement was followed soon after by winning another major award, the Ada Louise Huxtable Prize for Contribution to Architecture. Lokko, a former academic at London Met who went on to hold leadership roles in Schools of Architecture worldwide, is a key figure in debate on architectural education with regard to questions of race and gender.
Our student society MASS was invited by Dr Matthew Barac, who chaired the event and was behind Lokko's nomination for the award, to open a dialogue with the speaker. The conversation, ranging from Lokko's personal experiences through to last year's Black Lives Matter (BLM) protests, was at once personal, relatable, and provocative. Representing the student voice across our School subjects, we took the opportunity to build upon Conversations on Racism, a publication launched by MASS in the aftermath of BLM protests, to address the question of what we should do next.
Lesley Lokko - who is also a bestselling novelist - is known for her ability as a wordsmith. Arriving virtually into the Architecture Foundation's event last week, titled Leaning in, we found ourselves thinking back to the Power vs Palladio debate, hosted by the New Architecture Writers last October. Then Lokko claimed 'it's not enough just to be allowed to speak, you have to be clear about what you want to say'. This spoke of a need not just for anger and protest, but for speaking clearly about the change that is needed. It was therefore exciting to hear, as we moved into the Q&A segment of Leaning In, that Lokko's perspective picked up on the reflections she herself had sparked in us. For MASS, as a student group wrestling with concerns about diversity and discrimination – in our profession and the context of education – we asked:
'how can we move beyond the ability to protest; how can we look towards achieving practical, and lasting, change?'
The event served to acknowledge her contribution to architectural education, and included four other speakers: Nicky Watson (RIBA Education Committee Chair), Zoë Berman (Part W Founder), Dr Thandi Loewenson (RCA) and Gugu Mthembu (University of Johannesburg alumna); who Lokko discussed the context, impact and meaning of the award with. Some would agree that Lokko's win feels like, in the words of her former student Mthembu, a 'no brainer'. But the odds were stacked against her; nobody black, and only one other woman has won in the 20-year history of the award. Her nomination followed a career of advocating and enabling change in institutions across the world. During the evening we learnt that this process was not a fast paced one, but a slow and patient build up. The 'long run of teaching', as she called it, does not feature actions with immediate results, it is rather about seeing change come in a generation's time. The alignment of the award with last year's BLM protests, in this sense, is in no way fortuitous: it follows thirty years worth of 'asking, making work, doing' and formulating questions that are now put on the table when the world is willing to listen.
It therefore felt right that Lokko finished the evening by encouraging us, as students, to embed the demand for change in every layer of our social and institutional context. A view that went hand in hand with the earlier reminder that 'The minute you think you have asked all the questions is the minute you stop'. Instead, it is now that issues of race and gender in education have come to broader public consciousness, that we must ask again, and ask new questions: more critical, deeper questions, beyond merely seeking the permission to speak. What is certain is that, if we thought the protests last summer were enough in themselves, we have missed the point.
As we enter the next phase of seeking equality, we may find that we are 'leaning in to discomfort', as Lokko put it. Beyond asking hard questions, we may have to start telling some harsh truths: Lokko said 'I don't need someone to tell me my life matters', a striking but necessary statement. Allyship and the acknowledgment of 'Black Lives Matter' is great, but we already know that. The real work begins now, when the dust has settled and the questions remain… Our work going forward means changing the conversation for good, educating the people who think black lives do not matter; calling out unconscious biases, and, if in a position to do so, making changes that disable systemic racism. Having figures like Lesley Lokko, who has campaigned for change over a lifetime, only inspires us to continue and strengthen our commitment.
MASS was established in 2017 to organise events at London Met and provide alternative means for students to raise questions about architectural education and practice. In response to the BLM protests last summer, MASS produced the "Conversation on Racism Publication" that is available to buy and read online. This year MASS is organising a series of talks titled "Now What", which builds on the questions raised in the Conversation of Racism publication. It invites a diverse range of speakers to share their work and question; the future of the city; alternative forms of architectural practice; and architectural education. You can follow MASS on instagram to receive updates on our latest events.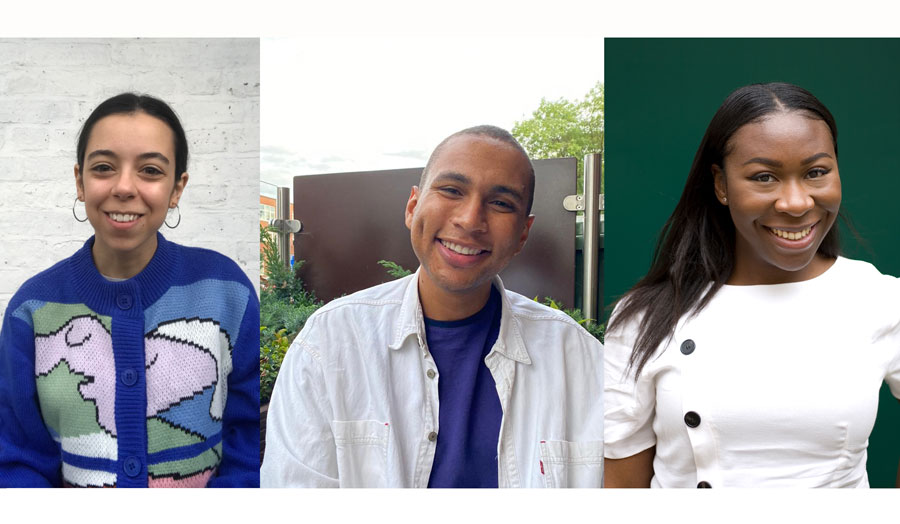 L-R: Lucia Medina, James Thormod, Sylvia Aehle
About the authors
Sylvia Aehle is a graduating architecture MA student at London Met, who has written about her own experience as a black woman in architecture, and was published in a dezeen article last year. Lucia Medina and James Thormod are fifth-year architecture MArch students at London Met and members of the MASS committee. Lucia and James established the Now What initiative last year together with Ektoras Arkomanis (Senior Lecturer in architectural history and theory), and are currently organising a number of online events and talks as part of the project.
Now What aims to facilitate interdisciplinary discussions about race, diversity and BAME representation, to develop teaching and learning tools for the decolonization of curricula at school level and across institutions.