Perspectives from Aileen Ling, Zoe Powell and Rokiah Yaman on how local scale, ecologically sustainable systems can initiate social change.
The effects of extractive and exploitative industries within the current neoliberal system have resulted in global issues such as climate change and rising social inequality. Transformative and dynamic solutions will need to be developed within communities in order to address these issues within varying environmental, social and political contexts.
The aim of the event is to introduce practices that explore and create "Ecological Commons" as a possible method for this needed transformative change. Ecological commons use the principles of concepts such as the circular economy and permaculture to create regenerative systems, products and processes. These ideas are then adapted to be co-developed, locally implemented and managed by the communities in which they are created. Value generated from these systems is accessible, shared, and circulated within that community. The act of ecological commoning aims to create environments for the development of civic empowerment within communities through the implementation of ecologically sustainable projects.
This evening will bring together a handful of practitioners with diverse approaches and experiences that enable ecological commoning. The discussion will provide an opportunity to reflect and share insights about these different methodologies and perspectives.
Speakers:
Aileen Ling – The Makeshift Commons Project and MA Design for Cultural Commons student.
The Makeshift Commons Project is a socially motivated design practice. We aim to enable communities to affect change starting from the grassroots scale, while also negotiating these needs with those of institutions at the policy level. Our goal is to create a network of ecological commons by using an approach that combines: "circular ecologies" to ensure the use of practices that take care and work with systems of nature, "commoning" to promote community wealth building and resource management, and "design methodology" to transform needs and desires into tangible built projects.
Rokiah Yaman – Community by Design and LEAP
Community by Design (CbD) is a not-for-profit social enterprise dedicated to delivering projects that combine social, environmental and economic outcomes. We develop creative solutions that contribute to the global movement towards greater empowerment, decentralisation and resilience.
In 2011, CbD formed LEAP, a cross-sector partnership with the London Wildlife Trust and the Community Composting Network (CCN's) Micro Anaerobic Digestion steering group. LEAP aims to develop micro anaerobic digestion in order to generate green employment, training and educational opportunities, and empower local communities by harnessing the growing grassroots movement towards sustainable resource management.
Zoe Powell – Materiom
Materiom provides open data on how to make materials that nourish local economies and ecologies. We support companies, cities and communities in creating and selecting materials sourced from locally abundant biomass that are part of a regenerative circular economy. By making this knowledge open, we accelerate materials development and lower barriers to entry in materials markets around the world to support the development of local biomaterial supply chains.
The discussion will be chaired by course leader Torange Khonsari, course leader for Design for Cultural Commons MA and director at the not-for-profit critical design practice, Public Works.
Tickets are free and all are welcome!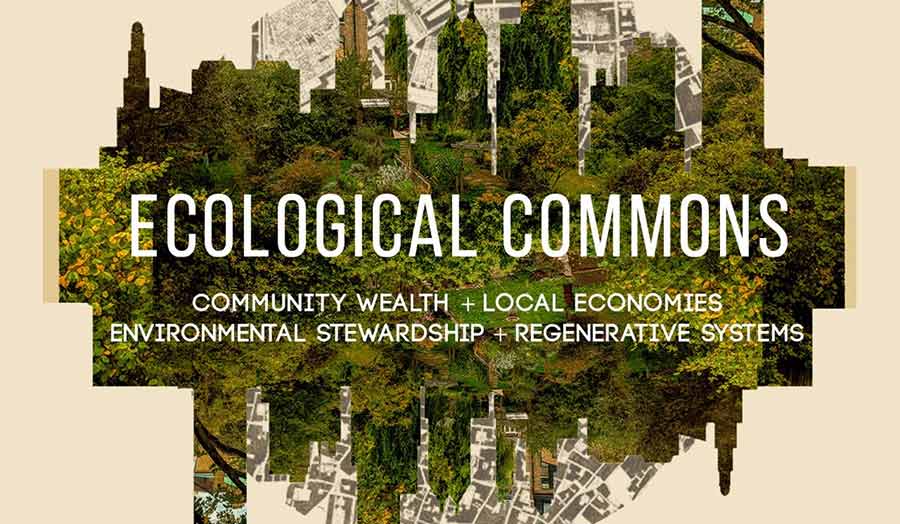 Design for Cultural Commons lecture series