Sophia Allwood studied Biomedical Science BSc at London Met, and we caught up with her recently to ask her a few questions about joining the University through Clearing and her highlights at the Uni.
How was your Clearing experience?
"I took a gap year after college to decide what I wanted to do as I had to change my career plans. I then decided to do A-Levels to open more doors. It's scary ringing at Clearing because you have a battle of emotions inside – you're upset because you didn't get the grades you wanted, you're further upset because you didn't get into the uni you wanted to go to… and you're wondering what you're going to do with the next three years of your life," Sophia comments.
"I then came to see London Met over the summer, way after all the other unis – and that's when I realised I should have applied here instead. I chose this Uni mainly because of the course and the really impressive lab," she continues.
Any highlights to share?
"Funnily enough, working at the Uni," Sophia explains. She was earning while she studied as a student ambassador for London Met, and made some great friends as a result. "I loved it! It was really fun because we never did the same shift – each time the students and the things that we did would be slightly different." Sophia also enjoyed the practical aspects of her course, especially "the time that we got to spend at the lab, doing all the really cool experiments."
What makes it an especially valuable degree?
Like other undergraduate students here, Sophia benefitted from work experience opportunities that are built into the degree course, perfect for furthering her plans to get into graduate medicine and train as a surgeon.
Are there opportunities to play hard too?
"I'm not a social animal – but sometimes after lectures I'd go with my friends to The Rocket, which is the Uni bar – to chat and play pool."
What are the lecturers like?
"The lecturers are really kind and helpful – even though it's slightly terrifying contacting professors or people with PhDs!"
Any advice for anyone going through Clearing?
"I'd like to say don't panic but that's never going to happen! Seriously, I really feel like it's going to work out in the end for you – I believe everything happens for a reason," she reflects. "I'm really really glad I came here for the people that I met, and the experiences I had."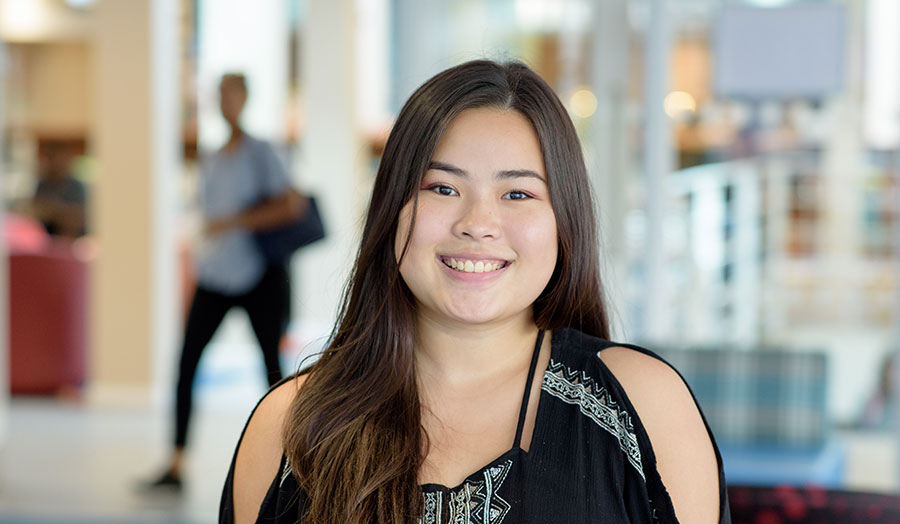 "I loved the time that we got to spend at the lab, doing all the really cool experiments."