One person who is at the heart of Covid-19 research and infectious disease control is Mia Outteridge, one of our PhD candidates – and one of the recipients of our Vice Chancellor's PhD scholarship. Graduating with first-class honours in her Biomedical Science degree (also at London Met), Mia then completed an MSc at the London School of Hygiene and Tropical Medicine (LSHTM). She also works part-time as a medical laboratory technician in a clinic where she's helping to test for SARS-CoV-2 using PCR tests.
Were you already studying human coronaviruses before the pandemic?
My biomedical science course introduced me to the world of diseases. I signed up to study the Infection Control module in my second year where I learned about many outbreak scenarios and endemic diseases. Since then, I have been eager to learn more about this field of biomedical science from wider viewpoints, which led to studying an MSc in Control of Infectious Diseases at LSHTM.
When we entered our first lockdown, I spent a lot of time reading about Coronaviruses, and my fascination grew. Professor Gary McLean had introduced the topic to me – and I felt determined to contribute to this research topic!
What sort of novel antiviral agents are you studying?
My aim is to design my own molecular inhibitors to prevent viral replication, predominantly in the mild Coronaviruses (that cause common cold-type symptoms) with the hope to transfer across to the severe strains, including Covid-19. I am still in the very early stages.
How did you feel when you found out you'd been awarded a PhD scholarship?
It is honestly one of my biggest achievements in my academic career so far, alongside being accepted to study my PhD. To contribute towards the University's commitment to improving opportunities and experiences of students and staff from Black and Ethnic Minority backgrounds, is a true honour.
Thinking about where I was when I was 18, confused, overwhelmed and utterly terrified when I did not receive the A-level grades I wanted, it really does make me emotional to think how far I have come. I am so thankful to the Research and Postgraduate team for the opportunity, to my supervisor, Professor Gary McLean, for his incredible support, and Sean Frost, a previous lecturer at London Met, who saw something in me that I didn't believe existed in that same scared 18-year-old.
It really does prove that anybody can achieve anything they want to, and that hard work really does pay off. Nothing is out of your reach.
Is there anything that particularly stands out about the University?
Hearing about the Superlab, one of the the biggest teaching labs in Europe, and then being able to work in it, was incredible. I had never seen such a big lab! It is always so nice to see fellow PhD students in the research lab as well and chat about our work. The biggest thing that stands out to me about the University is the community it has. It is so warm and welcoming, and I'm always so excited to come in every day.
Have you made connections with other PhD students here yet?
I have already made some great friends on my course so far. It is great to talk about what we are doing in the lab and have discussions about our research.
How have you found your research supervisors so far?
Professor Gary McLean was my supervisor during my undergraduate project, and I am very lucky to be continuing my research with him. I feel many of my achievements would not have been possible without him. I am also so enthusiastic to start the drug discovery-side of my research with Doctor Kevin Devine, another fantastic co-supervisor.
I understand that you travelled to Kenya in 2019 to teach children and young adults about biological systems and disease prevention. That must have been an amazing experience!
I did! It was a very eye-opening experience that I will forever be thankful for. I discovered a charity called Younique Travel Adventures, which is a part of Younite Foundation based in Swindon, where they organise groups to go to either Kenya, Vietnam or India to engage in community development. I was able to gain some teaching experience with the incredible students and learn about the culture. I saw first-hand just how excited these students were to learn, and their drive and ambition is what is going to change the world someday.
I can see you've also worked as a Success Coach at London Met – tell us more!
I loved working as a Success Coach! I used to attend various tutorials for first and second year classes, and it was so great to support the students from modules I had also taken. Some students may feel a little nervous to ask lecturers for help, so I think it is a great bridge between students and staff to feel more comfortable and confident in their work. A highlight for me was being asked to become a Success Coach Trainer, and train new students to become coaches as well!
What's your biggest passion in life?
My biggest passion in life is to contribute to the world of scientific research. There are many infectious diseases that are lacking attention and I am determined to work first-hand in different endemic countries to research the disease and treatments.
What do you think will be the next step for you once you've finished the PhD?
It would be wonderful to continue working at London Met if there is the opportunity, otherwise it'll be full-time work for me, I think! (And a very long holiday, granted Covid allows me…).
What's your favourite thing about London Met?
Some of my best memories here have actually been in the library. It is a great place to meet up with friends and work together. I also really like The Rocket to wind down after a hard day. I have always felt like I could walk into any space at the University and chat to anybody, and that has got to be one of my favourite things about London Met.
What's your best piece of advice for anyone thinking about embarking on a PhD?
Don't let any self-doubt or anxieties stop you from doing what you are more than capable of doing. It is a scary step, and there could even be a bit of imposter syndrome there, but it will be one of the best decisions you make.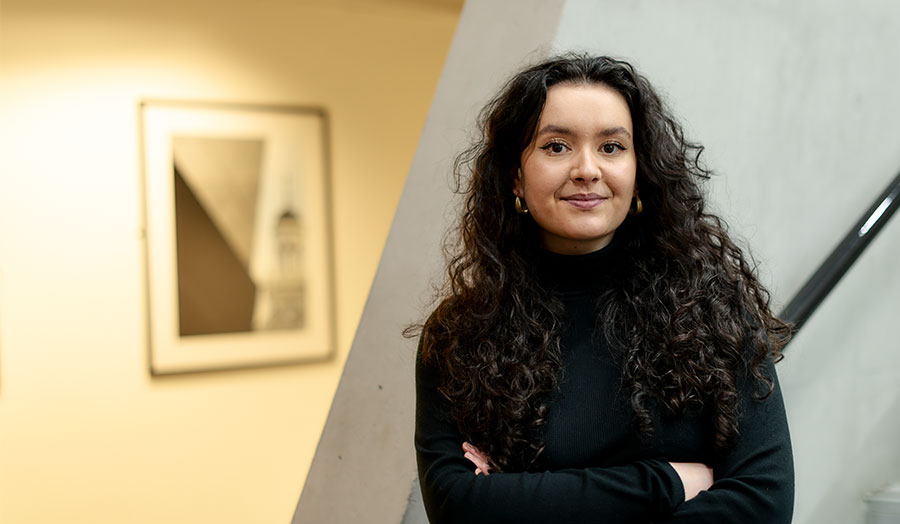 My biggest passion in life is to contribute to the world of scientific research. There are many infectious diseases that are lacking attention and I am determined to work first-hand in different endemic countries to research the disease and treatments.