Researching wave-based sensor technology to monitor vulnerable people who can get dehydrated frighteningly quickly is the area that PhD researcher Innocent Lubangakene has chosen to focus on. A self-confessed robotics and artificial intelligence junkie who also studied his undergraduate degree here (see our Computer Systems Engineering and Robotics BEng), we find out what's driven his interest in this fascinating field where biomedics and engineering meet.
Tell us a little bit about yourself...
I am originally from Uganda, East Africa, where I initially lived for 18 years. In 2015, I relocated to the Caribbean, where I spent an additional two years until I was 20.
What brought you to London Met initially?
The chance to further my education and career – particularly in the field of engineering, which I have always been passionate about.
What did studying at London Met mean to you?
It meant that I had the necessary tools to better myself as an individual academically, whilst also growing as an individual. The career advice, social and intellectual interactions were all a wonderful cocktail.
How did you feel when you found out you'd been awarded a PhD scholarship?
Ecstatic would be an understatement. I have always wanted to create something or a device that would positively impact humanity. The PhD scholarship is a gateway to this journey and I feel grateful every day as I have a chance to actually do it. I strongly believe I will.
Your PhD is titled Non-Invasive Electromagnetic Wave Based Sensor for Biomedical Applications – tell us a bit more about that and why you're interested in this particular area of research.
Firstly, during my undergraduate studies, I worked in the care system and I saw first hand what vulnerable people (particularly those with dementia, learning disabilities, old age) experience as a result of dehydration. I saw that such people develop acute health problems that can lead to organ failure if not treated.
Secondly, through research, I found that current ways to measure hydration are either chemically based (urine samples) or use impedance meters with electrodes (ie step on a machine and hold with your hands). These methods are cumbersome, invasive and do not provide real-time information.
Non-invasive methods mean that the device carrying out the medical procedure will not infiltrate human tissue and destroy it. For example, a needle to draw blood is invasive, while a thermometer to measure temperature is non-invasive.
The electromagnetic wave-based sensor I intend to develop will utilise WIFI signals (2.45GHz) which are permitted by OFCOM to measure reflected signals from the skin. More signal will be reflected when hydration is poor, and less signal is reflected when hydration is high.
What real-world impact would you hope your research would have?
As discussed earlier, this research is primarily engineered to solve the problem of under-hydration and dehydration being experienced around the world. According to statistics, nearly 3.5 million people die annually from water-related diseases. Adequately quantifying hydration status in real time could seriously mitigate the death rate and improve on the way vulnerable people are treated and taken care of.
I understand you did a computing and electronics undergraduate degree here too – what were the highlights?
The highlight was achieving a First-class honours degree in my specific field of study.
I also made friends and acquaintances who will last a lifetime. Lastly, I personally enjoyed the struggle and grit involved in research and experiments. It's no surprise I opted to continue as a PhD researcher. For an engineer involved in an experiment, often times you'll fail before you succeed. This sentiment I have grown to love and cherish.
What's your favourite piece of Uni equipment or your favourite space at London Met and why?
I enjoy the sports centre – it's a place to regroup and rejuvenate my thought structure.
I also enjoy working away in the microwaves lab as it has all the equipment I need to actualise my research objectives and goals.
What is your biggest passion in life and where did that passion come from?
My passion is learning and exploring new adventures in robotics, virtual reality and artificial intelligence. I've always been obsessed with learning as much as I can about anything in this field. The world is continuously evolving into the digital age. Having the right skills and knowledge will help you adapt more easily to the changing times.
What drives you?
The chance to always improve is my fundamental driving force.
I can see you made it to the semi-finals of the Mayor's Entrepreneurial competition in 2021 – can you explain your business concept and how that came about?
My business concept (LID xR) was tailored around using virtual reality (VR) technology as a marketing tool for businesses in the hospitality sector – mainly hotels, resorts and beaches.
Did you use Accelerator, the University's business incubator?
Yes, I consulted with staff at the Accelerator who were readily available. I was coached on how to improve on my pitching and also on my business plan which I found very useful in strategising for the Mayor's Entrepreneurial competition.
Tell us a little bit about your interests outside of uni and why they are important to you.
I am obsessed with boxing and running. I strongly believe actively engaging in physical exercise nurtures one's serotonin levels which can improve stress levels.
I also love soul music. Music is simply beautiful!
How has Covid affected you?
I've learnt to be more creative when finding solutions to my problems. Adaptability is the word I would use.
What's next in your career?
I hope to continue with my research, publish peer-review papers showing progress in my research. Lastly, I am optimistic that I'll be able to present my research to create more awareness about my research topic.
Do you have any advice for anyone else considering studying at London Met?
Simply go for it. Not only will you develop academically, but you'll also have opportunities to get involved in alternative intellectual activities such as the Uni's Big idea Challenge as well as student conferences that help build capable individuals who are ready to inspire the next generation.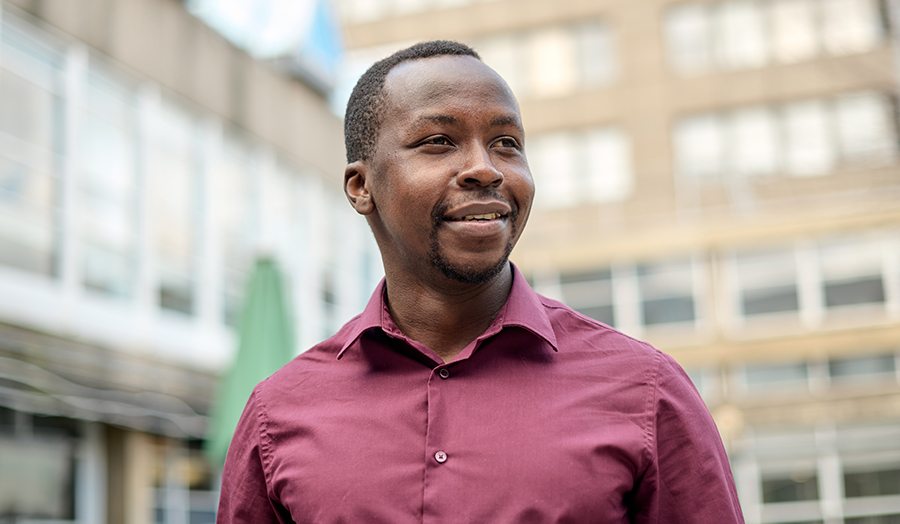 According to statistics, nearly 3.5 million people die annually from water-related diseases. Adequately quantifying hydration status in real time could seriously mitigate the death rate and improve on the way vulnerable people are treated and taken care of.