Getting local children involved in community redevelopment schemes is just one aspect of the unique architectural mapping research that PhD candidate Hosn Houssami is involved with. Focusing on the residents within informal settlements in Freetown in Sierra Leone, her research on this topic within her MArch at London Met was nominated for the AJ Sustainability Student Prize, and she's now been awarded a Vice-Chancellor's PhD Scholarship to continue her exciting work. We find out more.
Tell us a little bit about yourself (where you're from, where you grew up)
I am a second-generation migrant, having been born in the UK to parents who migrated from Lebanon. I grew up across different parts of London.
What brought you to London Met for your MArch?
Having completed my Part 1 Undergraduate degree in Canterbury – and as great as that experience was – I knew that I wanted to pursue my Part 2 master's in London.
Having made the location decision, London Met was an easy choice for me. The School of Art, Architecture and Design (AAD) has a range of excellent academics working in a range of architectural spheres. I knew of the Architecture of Rapid Change and Scarce Resources (ARCSR's) bottoms-up architectural work in developing communities in locations such as Nepal, India and Athens, and during my interview made it clear that Unit 6 was a driving force in my decision to apply.
What has studying at London Met meant to you?
Studying at London Met reinvigorated my passion for architecture. After an unpleasant experience in practice, I almost chose to not continue with my architectural education and change career directions. Having been accepted into London Met I decided that the experience would be the deciding factor; luckily it was an amazing one.
I understand that one of your MArch projects, Feast on Samba, was nominated for the AJ Sustainability Student Prize – tell us more...
Sustainability has been a key issue in architectural discourse over the past few years and one of the (ARCSR's) key focuses – as in the name – is scarce resources. However, material sustainability isn't enough. Modern built building have an average physical lifespan of 50-80 years, and a building's schematic lifespan is often much shorter. It was important to me in my design phase to ensure the spaces I designed were structurally sound enough to last at least that long, but also adaptable enough that the use can change over time as is needed. I think it was this reason my project Feast on Samba was the School of AAD's nominee for the AJ Sustainability Student Prize for Social Sustainability.
My project Feast on Samba, based in Freetown, Sierra Leone, was a proposal looking to develop an existing informal pathway. By reimagining the existing communal cooking habits used by the women of Christchurch – from domestic to commercial – I believed that there was a strong opportunity for female enterprise. Achieved through a series of timber market features, and larger blockwork kitchens and community halls, the existing undermaintained pathway along Samba gutter would transform into a vibrant pedestrian route, and creating a true social high street.
By adapting the local vernacular and construction techniques – in conjunction with locally sourced sustainable materials – the proposal is highly replicable along the numerous gutters which run through Freetown. Because of this, the expansive aim of the proposal was to establish a collection of community halls and markets along the gutters of Freetown. Establishing them as socially flourishing formalised places of commerce; each with their own retail specialism, run by the women of Sierra Leone.
Tell us more about your PhD topic and what real-world applications you hope it might have.
Freetown, Sierra Leone, is a city that has borne significant physical and institutional changes due to its unique topographical landscape and socio-economic climate. There is often a disconnect between how these settlements are recorded by the government, international organisations and the residents themselves, with the styles of recording and purposes differing greatly.
My thesis builds on the place-based research carried out to date in Freetown's neighbourhoods by ARCSR at London Metropolitan University and ASF-UK. The aims are to understand the matters of most concern to the inhabitants of Freetown's informal settlements, to examine what the local physical and cultural topography can contribute to address these concerns, and to develop a physical proposal from this.
The main research method will involve extensive first-hand mapping across several scales – from individual homes to the wider city – analysing not only the physical (topographical) of these scales, but also the individual social and ethnographic narratives embedded within them. These will then be cross referenced with existing contemporary and historical research as narrative involves time. In order to fully contextualise a singular persona's narrative, one must assess the historical imprint of a location. It is important that the new maps and narratives produced are not only observations detailed by an 'outsider', but also authentic recordings of the observations and experience of local residents of all ages, gender and abilities.
Empirical research will include map-making participatory workshops within particular transitional settlements as the primary forum for narrative exchange. The aim will be to host at least four workshops each in two distinct settlements: one workshop with important community leaders representing different parts of their communities; one workshop inviting any adult wish to participate regardless of their gender, abilities and social role; and two following workshops with children. These settings are chosen not only to produce new primary data but also to encourage local social ownership of that data. In addition to promoting urban equality by giving the local residents ownership of the outcomes developed through the workshops.
The expected output of this thesis is the provision of a mapping toolkit for the settlements, their governments and potential NGO initiatives combining cartography, architecture, ethnography and indigenous narratives to inform, imagine and represent community-led action plans at the local and city scales. In addition to this, the hope is that I will be able to co-design with children in Freetown a set of satellite proposals that can be implemented across several sites in the city.
How have you found your supervisors so far?
Professor Maurice Mitchell and Dr Bo Tang I have known for some time now; they were my Part 2 tutors at London Met, and a big part of why I chose to do a PhD at London Met. And having the perspective of Dr Beatrice De Carli – who has an abundance of on-ground experience in Freetown – has been vital to how I've began to approach possible future workshops in Freetown.
What is your biggest passion in life and where did that passion come from?
It is probably cliché to say that architecture – and therefore my career – is my biggest passion in life, however I have always wanted my career to be something I enjoy. I have always enjoyed both highly academic and highly artists subjects, and architecture is both of those. It is a passion where I am able to both think methodically, and also embrace my creativity.
What drives you?
I believe that my current achievements are not the ceiling of what I can achieve in general. As soon as I achieve a goal, I have proven to myself that I am capable of achieving more, and that is then what I set out to do.
What's the proudest moment in your life?
There are a few moments that come to mind, however I think the main one would be graduating from my master's degree. My parents sacrificed a great amount to relocate to the UK, and I am glad I have been able to make the most of every academic and career opportunity I have been blessed with. I am of the first generation in my family to have gone to university, and the first person in my family to acquire a master's degree.
What's next in your career?
My current goal is to successfully complete my PhD. Further from this I hope to complete the architecture accreditation process, in order to become a fully qualified architect. I wish to expand my knowledge and practice to sufficiently be able to design in difficult economic regions, with a focus on humanitarian-driven bottoms-up architecture.
I hope to establish an architecture firm where I am able to combine both research and practice; as I believe that the two don't solely belong to either the realm of academia or occupation respectively.
What's your favourite space at London Met and why?
My favourite space at London Met would probably be the Unit studio spaces. Studio culture is a huge part of the study of architecture. It is a highly time-consuming course and being able to work alongside your peers – especially near to critical deadlines – is so incredibly beneficial. It is something that has been denied to some recent architecture students due to current events.
My biggest advice to any architecture student, whether undergraduate or postgraduate, would be to make the most out of their studio space and to work in unison with their peers when they can.
Did you get involved with any clubs or societies at the Uni?
In my first year of my master's degree I was a member of the School of AAD's resident Architecture Society.
I wholeheartedly recommend the experience. Not only was I able to meet architecture students from different units and year groups, it was also a way to participate in academic and practical discourse in a socially driven and non-curricular way.
Do you have any advice for anyone else considering studying at London Met?
Make the most out of resources available to you. London Met has an amazing library team, and the School of Art, Architecture and Design in particular has many great workshop spaces that are available to students. This also includes clubs and societies; higher education can seem daunting at times, but having connections to like-minded people at the same university as you makes for a great support system.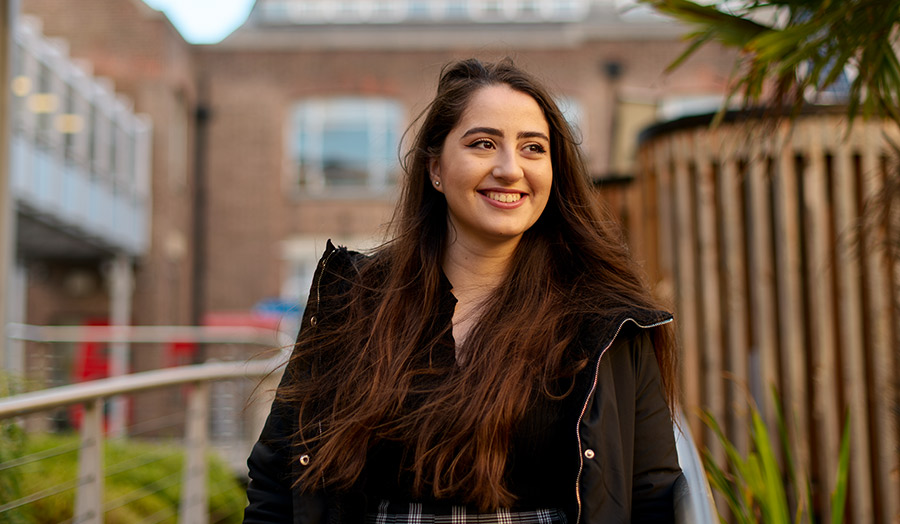 "My parents sacrificed a great amount to relocate to the UK, and I am glad I have been able to make the most of every academic and career opportunity I have been blessed with. I am of the first generation in my family to have gone to university, and the first person in my family to acquire a master's degree."