Healthcare giant Johnson & Johnson (JNJ) is where Pharmaceutical Science BSc graduate Chipo Muchindu from Zambia has been working since she was awarded a first-class degree from London Met. We find out a bit more about her role at JNJ, and what she most enjoyed about her time at London Met.
We'd love to hear more about your background and what led you to London Met?
I joined the pharmacy industry after I had my daughter, as I had an interest in medicinal drugs. During my time working in a pharmacy, I discovered I was more interested in active pharmaceutical ingredients, excipients and patients' information leaflets.
During my time at college, I knew that I definitely enjoyed being in the laboratory more than being in the pharmacy. A few years on, I decided to return to studies. I chose to study at London Met because of the promptness and friendliness of the staff – whenever I emailed with a query, I would get a quick response with clarification of my queries and more information. It is really diverse, in terms of both staff and students.
The superlab was also a deciding factor – it's amazing! It's very spacious (one of the biggest in Europe). This spacious environment meant that I enjoyed always having the option of a whole bench to myself... it's really well equipped too.
Pharmaceutical Science is quite a career-focused course – what industry experience was particularly helpful to you?
During my second year at London Met, I attended an employment event organised by the Chemical and Pharmaceutical Science area and this is how I got my current role.
I understand you're working for JNJ (the world's largest healthcare company, and developer of one of the life-saving Covid-19 vaccines). Tell us more.
Yes JNJ is a dream company to work for. So, I am currently working as a drug safety associate. Amazing job. The team is so dedicated, I'm learning a lot about drug safety and quality assurance for medicines. Working on clinical trials and postmarketing surveillance (or PMS, which means monitoring the safety of a pharmaceutical drug or medical device after it's been released on the market), it's such a great privilege to be working in this field at a time of a global pandemic. I feel very honoured to be part of the change that the pharmaceutical industry is bringing. I enjoy taking ownership of my work and carrying out quality checks.
Can you tell us about your research project?
For my research project I had an opportunity to work and research a topic that is very close to my heart, and am very passionate about. I synthesised chloroquine analogues as potential anti-malarial compounds. This involved carrying out several experiments, and later doing quality checks on finished products.
I enjoyed analysing the quality of my products and studying the results with my project supervisor, as well as getting feedback from my supervisor, confirmation that the results were good and as expected. This was very rewarding.
Were you a mature student? If so, did you feel like you received good support from the University?
Yes, I was. I received excellent support from the whole team in the Chemical and Pharmaceutical Science area, they were amazingly supportive. They have played a very vital role and set me on such a good career path in the pharmaceutical industry. Without them, I wouldn't be where I am. They made my journey at London Met an experience that I will always talk about – even at work!
What challenges did you face outside your studies?
To begin with, juggling childcare and studies, but with the support of the Chemical and Pharmaceutical Science team, I managed this well and it ceased to be a challenge; but rather a part of my journey into the pharmaceutical industry.
What was the best part of the course for you?
The third year of my studies – although very demanding, I found it to be great preparation for the real working world in the pharmaceutical industry. The team ensured that we were prepared well for work.
What was your favourite piece of tech in the Superlab?
The rotary evaporator. During my research project I conducted several experiments, after which I would make different chemical products. From these products, I would need to send samples for analytical tests, in order to determine structure and confirm I had made the desired product. Beforehand, the solvent would need to be removed from the product. This is where the rotary evaporator came in handy.
The rotary evaporator is a piece of laboratory equipment used to evaporate solvent from a flask by way of applying vacuum and gentle heat via a warm bath. I liked it as it was very efficient, as it reduced the amount of time it would normally take for a solvent to be removed from the flask. Another plus of the rotary evaporator is that it uses gentle heat, therefore there's less chance of the product decomposing in the process.
What was your favourite module and why?
This is a difficult one because I enjoyed most of my modules. It would have to be Formulation and Quality Assurance of medicines, and my research project, definitely.
If you could describe London Met in one word or phrase, what would you say?
I think I will need more than a phrase to describe London Met! Excellent staff, always ensuring the best for every student, and the delivery of the modules and material is beyond fantastic!!
What are your future plans?
My future plans are to establish a successful pharmaceutical company in Zambia, ensuring international ties.
Any last thoughts for anyone thinking about taking a science course here?
The staff are very passionate about the subjects they teach. They always go above and beyond, to make sure all the students are doing well. The learning resources are amazing, from the Superlab to the second floor of the library (that was my favourite place in the University after the Superlab).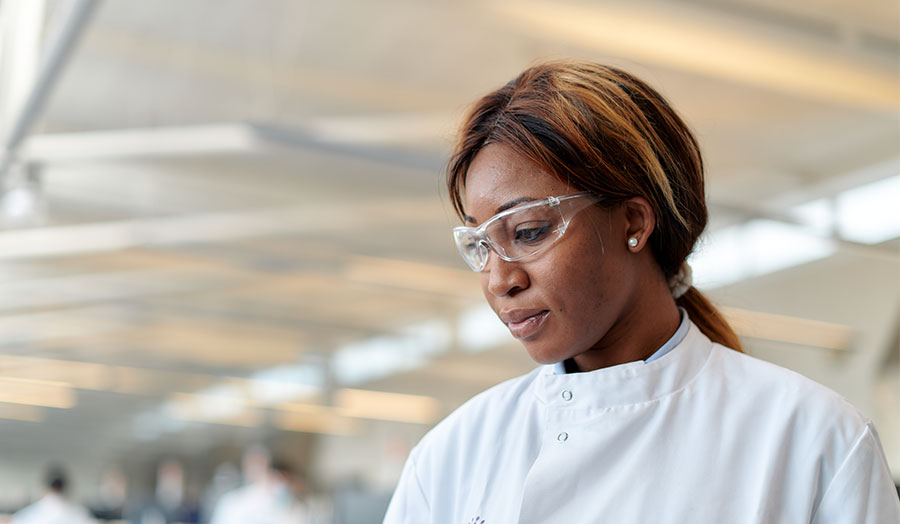 "There are excellent staff, always ensuring the best for every student, and the delivery of the modules and material is beyond fantastic!!"