Living with EDS (Ehlers-Danlos syndrome) has posed many challenges for Dietetics and Nutrition BSc (Hons) graduate Bianca Tharme-Loose who's working in the NHS as a renal specialist dietitian. However, she's found unexpected benefits in some working measures introduced during the pandemic. We find out more.
Tell us a little bit about yourself.
I'm from Bakewell, a small town in the peak district. I currently live in Leeds in West Yorkshire. I moved here for my first dietetic role at Leeds General Infirmary.
Tell us more about EDS, and how it's impacted your studies and your work.
EDS is a genetic, multisystem, connective tissue disorder. It can cause an array of debilitating symptoms including joint pain and dislocations, fatigue, blood pressure regulation issues, blurred vision and malfunctioning organs – primarily ones that contain large amounts of connective tissue. EDS can cause autoimmune issues, hence why I received the shielding letter.
I hear that you have found hybrid working incredibly useful whilst you've been having to shield – can you explain more?
Absolutely, hybrid working has been very helpful, and opened some doors that were not previously available to me. The opportunity to work from home has been invaluable for me, and when I had surgery on my toe last year, it meant that I was able to take less time off work, and continue running my outpatient phone clinics.
Working from home, and hybrid working – which my line manager has supported very well – is now available in so many roles. I can see how opportunities to work from home, and requesting reasonable adjustments, will be key to opening up many employment opportunities, and make them more sustainable for people with EDS and other illnesses.
Tell us about your day-to-day NHS job and what you most enjoy about it.
I really enjoy treating a diverse range of patients. For example, one day I may be treating a patient on the wards who has had a failing kidney transplant, or I might speak with a patient who is having dialysis. As a renal dietitian, I'm gaining exposure to many different diets including low potassium and low phosphate (these are minerals that build up in the blood and can cause cardiac issues and many other unpleasant symptoms).
Moving forwards, I will be carrying out telephone clinics mostly from home, as well as two days treating patients on the wards. I'm looking forward to treating patients as they progress through the stages of kidney disease.
What brought you to London Met?
I've always wanted to live in London, hence why London Met Uni was such a good fit for me. Not many universities in the UK offer dietetics and nutrition as a degree.
What did studying at London Met mean to you?
I only applied to study dietetics at London Met, so when I was accepted I was really pleased! I was aware that London Met offered many clinical placements in large teaching hospitals; I knew early on that a career in community dietetics wasn't for me and London Met has links with many prestigious teaching hospitals in London.
What is your biggest passion in life and where did that passion come from?
I really enjoyed writing at school, and haven't had the opportunity to do this again until more recently. I received an offer to study English Language and Literature several years before I studied Dietetics and Nutrition. I turned this down, as I felt on balance working in healthcare had more job prospects – on reflection, this was the right decision. I've been fortunate enough to have written a few articles, including one for Ehlers-Danlos Support UK. I enjoy writing and encouraging others in difficult situations to succeed where possible!
What drives you?
I've always been driven to help people, and keen to continue doing so. If, like me, you're affected by an illness or condition, it doesn't mean that you can't find rewarding and fulfilling employment. I won't pretend it's been easy working full-time; and there have been periods in my life where I've been unable to work at all. During my placement, I met an amputee who was employed as a doctor. I think it's fair to say having only one arm will never make things simple. That night, I had a long hard chat with myself – he was working in healthcare, and therefore so could I.
What's the proudest moment in your life?
Graduating from London Met with my degree has to be my proudest moment. It wasn't an easy degree but it was worth it. I'm really pleased that I was able to leave university and find a job where I use my skills daily.
A close second would be my interview for the dietitian café podcast on Spotify – the aim of the interview was to ascertain if, as dietitians, we are doing enough to represent disability in the profession. I also provided tips for students embarking on clinical placements and for studying their degree.
Did you do any work experience as part of the course?
Yes – as part of my degree, I carried out three hospital placements – all in large acute hospitals in London. Highlights include access to many different clinical areas of dietetics including renal and gastroenterology. This provided me with a good insight into these conditions – I think this is where my interest peaked for these areas. In addition, the University was very helpful in considering my placement choices and supporting me with accommodation, which did take some of the pressure off.
Challenges I encountered included a large flare-up of my condition, which at the time was untreated – landing me in A& E, resulting in time off near the end of my final placement – this was a struggle. Course leader and head of health science's Sarah Illingworth was invaluable during my placements and helped to instigate reasonable adjustments, and reassured me that despite my condition I still have a lot to offer an employer.
What's your favourite piece of Uni equipment or your favourite space at London Met and why?
I think it would have to be the library mezzanine floor – as it's relaxed you can talk freely with friends and the booths are good for group work. Another bonus is that it's close to Costa Coffee!
How did the Uni support you in your studies and in finding your job?
I was offered extensions when required, I was provided with a laptop and supportive pen grips as my fingers hurt when typing. I had an operation in my third year, and had a particularly difficult time where treatment fell mid-exam, and I had to attend an exam with a cannula in my arm. The University were extremely helpful and made adjustments for me when required, I definitely had more time off than your average student. In our final year, we had a session to prepare us for interviews, and mock questions were asked – I found this really helpful.
Tell us a little bit about your interests outside of uni and why they are important to you.
I love city breaks, I try to travel to London as much as possible to visit all my university friends and my brother. I also like reading, films, podcasts and going out for dinner. I think when you work in healthcare, you certainly can experience some very sad situations, so time away to relax is paramount. I realised this more than ever when I was shielding and carrying out phone clinics from home – listening to some very distressed patients all day requires some R&R.
What's next in your career?
I started my new role as a specialist Renal Dietitian in May. I'm just scraping the surface in terms of knowledge and experience so far. I'm pleased to be able to do both outpatients clinics and inpatients, and really appreciate my team being flexible about this!
I was the IBS lead and specialist gastroenterology dietician at St James University Hospital until I moved into my new role– I was fortunate to be able to go on several courses including the low FODMAP diet by the British Dietetic Association. Fortuitously my line manager has extensive experience so I learnt a lot during my gastroenterology post.
Do you have any advice for anyone else considering studying at London Met?
GO FOR IT
London Met is a very inclusive university, I felt at home there as a mature student (25) when I started studying. In addition, the disability and dyslexia service are helpful. Many of my classmates used the dyslexia service and found this useful.
London is an extremely exciting and diverse city with so much to offer – you won't be bored, I promise.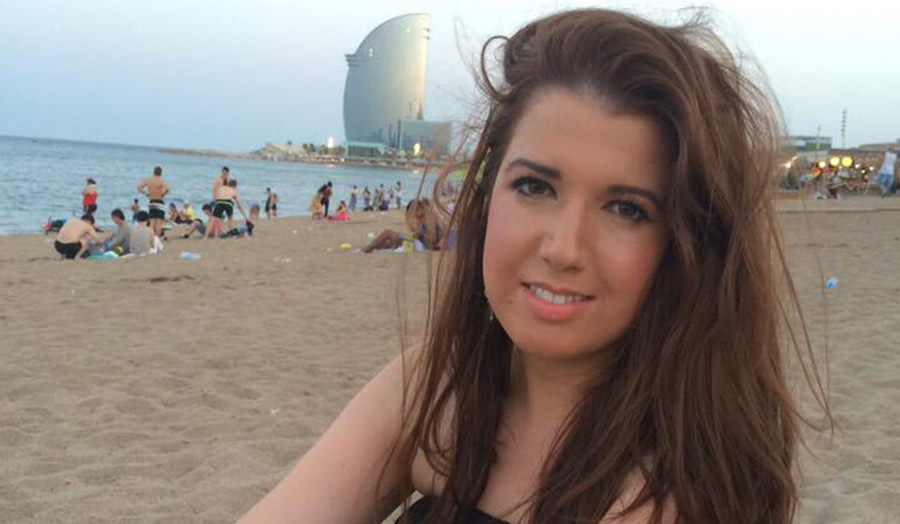 "Working from home, and hybrid working – which my line manager has supported very well – is now available in so many roles. I can see how opportunities to work from home, and requesting reasonable adjustments, will be key to opening up many employment opportunities, and make them more sustainable for people with EDS and other illnesses."