The treatment and experiences of migrants arriving in the UK has been much in the news recently, and it's a subject that Italian PhD student Alessia Dalceggio has chosen to focus on – specifically, the higher education experiences of forced migrants. It's a subject she holds close to her heart, and chimes well with her role as a consultant and trainer for the Diversity Trust. We find out more.
Tell us a little bit about yourself.
I was born and grew up in Italy, where I did a BA in Languages and Cultures. As part of my degree I spent a year in Cardiff as an Erasmus student, which inspired me to pursue a master's in the UK. In 2013 I moved to Bristol to do an MSc in Ethnicity and Multiculturalism, fell in love with the city and decided to gain some work experience there. Nearly a decade later I'm still here and happy to call Bristol my home.
What brought you to London Met?
Whilst doing my master's, I learned that I enjoyed doing research, asking questions and discussing/finding possible answers, so I started thinking about the possibility of doing a PhD. However, I knew I wanted to gain some experience outside of academia first. In 2020, I decided to give the PhD a serious go, and a year later, I came across the opportunity of applying for a VC Scholarship at London Met. I looked up the work of the School of Social Sciences and Professions and the Global Diversities and Inequalities Research Centre and I thought London Met was going to be a great place to do my research. The day I was awarded the scholarship was one of the happiest I had, and I feel extremely grateful to have been given this opportunity.
Can you tell us more about your work with the Diversity Trust?
I am an Associate Consultant and Trainer at the Diversity Trust, a community interest company that provides training and consultancy on matters related to equality, diversity, inclusion and belonging. I'm self-employed, which means that I have flexibility in the ways I organise my work. I love that through my job I get to have deep, constructive (if challenging) conversations, and although I'm an introvert, one of the things I enjoy the most about this job is making a connection with people, listening to their experience and getting to know them. I believe that listening leads to learning and understanding, and that goes a long way in creating kinder communities where we uplift one another and keep each other accountable.
Another plus of my job is working with a fantastic team of passionate, knowledgeable, and fun people – you get a boost of endorphins just being around them.
Tell us about your recent role as an Equality Officer in higher education.
Before starting my PhD, I worked as an Inclusion Officer in higher education. I worked on anti-harassment policies and on diversity and inclusion strategies and activities for both students and staff. I went through a learning curve at the beginning, but once again, I was fortunate to be surrounded by amazing allies that made a huge difference in my development and my day-to-day job. In my most recent role I teamed up with a group of amazing staff and PhD students to work on inclusive research practices, and that's how the Inclusive Research Collective was born. It was during and thanks to these experiences that I developed the research idea that eventually became my PhD project.
Can you explain a little about your PhD topic and why you decided to choose that particularly?
My research is focused on forced migrant students' experience of higher education in the UK. My aim is to understand how pre- and post-migration experiences intersect with individual identities and how they impact on students' participation and sense of belonging. I'm also interested in understanding how the hostile environment and the wider immigration regime in the UK influence HE institutions and play a role in increasing the inclusion or further marginalisation of students.
What is your biggest passion in life and where did that passion come from?
People, stories and food.
What drives you?
Empathy.
What surprised you about London Met?
How community-based and driven the University is.
Tell us a little bit about your interests outside of uni and why they are important to you.
I'm really interested in narratives and storytelling; curling up on a sofa or laying in the sun with a novel is one of the simplest, greatest joys of life to me. I also enjoy cooking, sharing a meal with friends and travelling. I'm a couch potato at heart when it comes to sports, but lately going for a run, doing some yoga or going to the gym have been super helpful for both my physical and mental health.
Do you have any advice for anyone else considering a PhD at London Met?
Go for it! Keep in mind that each journey to a PhD is different, and that each pathway is valid.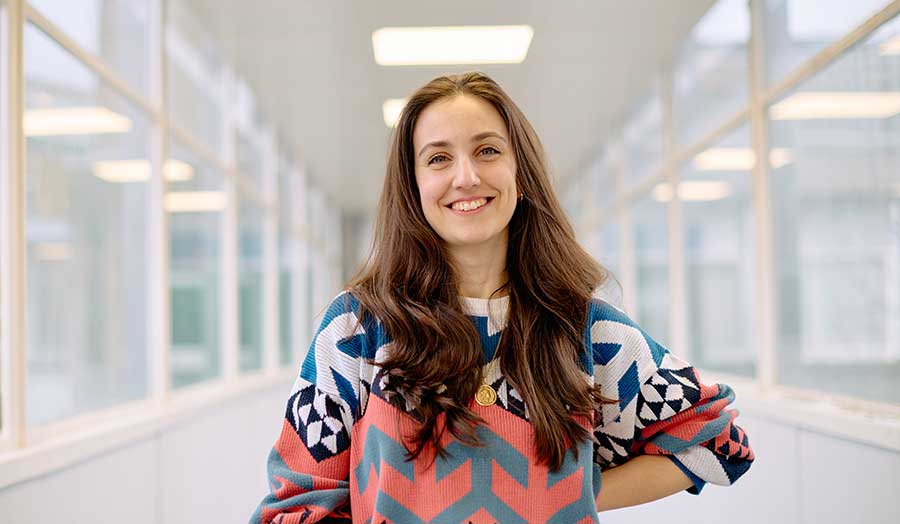 "Although I'm an introvert, one of the things I enjoy the most about this job is making a connection with people, listening to their experience and getting to know them. I believe that listening leads to learning and understanding."