Professor Digby Warren is Head of the Centre for Professional and Educational Development (CPED), Professor of Higher Education, and Co-Director of the Higher Education Research Group (HERG) at London Met.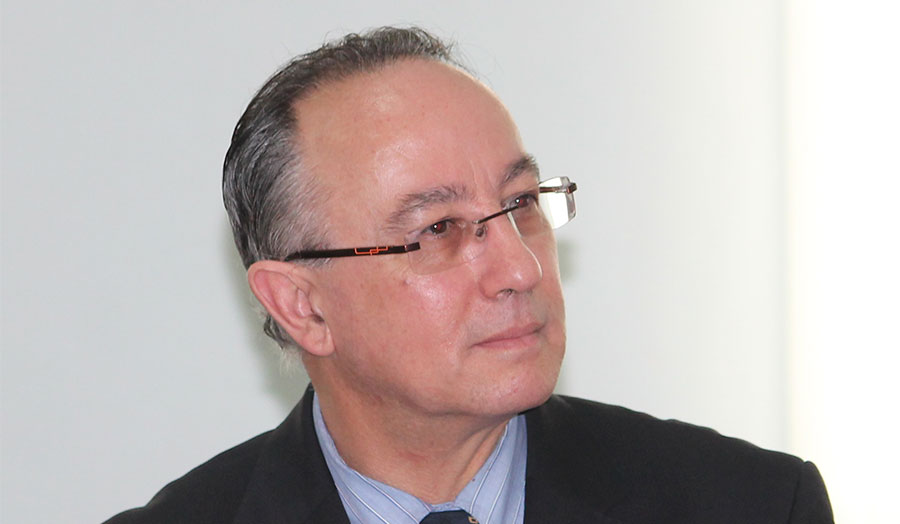 More about Digby Warren
Digby Warren has been working in higher education development for 30 years, joining what is now London Metropolitan University in January 2001. His chief area of expertise is curriculum development and higher education pedagogy, about which he has produced over 60 conference papers, published articles and book chapters – with a focus on student diversity and transformational approaches. He has co-edited two books on contemporary teaching practice in higher education, one of them extensively updated and expanded for a second edition (published in 2021).
Head of Educational Development at London Met since 2010, as a consultant member (2004-2008) of the Oxford Centre for Staff and Learning Development, he has delivered workshops at a number of UK universities, and was also co-editor of conference proceedings for the London series of International Conferences on the Scholarship of Learning and Teaching (2005 to 2010).
On the international front, he played a lead role in two successful EU-funded projects (2011-2018) to modernise higher education, using curriculum and teaching development as a driver for innovation. He was also external evaluator of a British Council project for enhancing assessment practice at participating universities in India (2013-14).
Course Leader of the Learning and Teaching in Higher Education MA at London Met since 2010, he has also served as an external adviser on a number of validation panels for postgraduate programmes in academic practice, as well as an external examiner.
Digby Warren has specialised in research, and provision of staff professional development, related to course and learning design in higher education, including discipline-based approaches and holistic and creative pedagogies, centred around enabling diverse students to engage growthfully and successfully with university study, underpinned by critical pedagogy and a commitment to social justice.
His research has more recently extended to exploring academic teachers' values and their influence on teaching and curriculum practice.
Warren, D and Payton, J (2021) Holistic and Creative Pedagogies, in H. Pokorny and D Warren (eds) Enhancing Teaching Practice in Higher Education (2nd edition) (Sage), chapter 11
Pokorny, H and Warren, D (2021) 'Teaching in the Changing Landscape of Higher Education', in H Pokorny and D Warren (eds) Enhancing Teaching Practice in Higher Education (2nd edition) (Sage), chapter 1
Pokorny, H and Warren, D (eds) (2021) Enhancing Teaching Practice in Higher Education (2nd edition) (Sage)
Webb, J, Arthur, R, McFarlane-Edmond, P, Burns, T and Warren, D (2021) An evaluation of the experiences of the hidden curriculum of Black and minority ethnic undergraduate health and social care students at a London university, Journal of Further and Higher Education
Warren, D (2020) 'Social responsibility' and the curriculum in higher education: the influence of teachers' values – a case study, in E Sengupta, P Blessinger and C Mahoney (eds) Civil Society and Social Responsibility in Higher Education: International Perspectives on Curriculum and Teaching Development. Innovations in Higher Education Teaching and Learning, Volume 21. (HETL and Emerald Publishing), chapter 13 (pp. 261–276).
Warren, D and Luebsen, W (2020) Students as partners in student engagement: themes from PASS scheme biographies, in T Lowe and Y El Hakim (eds) A Handbook of Student Engagement in Higher Education: Theory into Practice (Taylor and Francis), chapter 15
Warren, D and Luebsen, D (2017) 'Getting into the flow of university': a coaching approach to student peer support, The Journal of Educational Innovation, Partnership and Change, vol 3. No. 1
Warren, D (2016) Course and learning design and evaluation, in Enhancing Teaching Practice in Higher Education (London: Sage), chapter 2
Griffiths, D and Warren, D (2016) Effective Supervision, in Enhancing Teaching Practice in Higher Education (London: Sage), chapter 9
Pokorny, H and Warren, D (eds) (2016) Enhancing Teaching Practice in Higher Education (London: Sage)
Messenger, H, Warren, D and Bloisi, W (2016) 'Home and Away: a case study analysis of a learning and teaching programme supporting the development of a 'transformative' partnership with a private HEI in Sri Lanka'. In Blessinger, P.and Cozza, (eds). University Partnerships in Higher Education. (Emerald Publishing) pp.141-157
Warren, D (2013) Arts-based Inquiry as Learning in Higher Education: Purposes, Processes and Responses, in Creativity in the Classroom: Case Studies in Using the Arts in Teaching and Learning in Higher Education (Intellect Books, Bristol; University of Chicago Press)
McIntosh, P and Warren, D (eds) (2013) Creativity in the Classroom: Case Studies in Using the Arts in Teaching and Learning in Higher Education (Intellect Books, Bristol; University of Chicago Press)
Warren, D (2013) 'Using the arts for transformative learning', Educational Developments, 14 (3), pp.26-27
Warren, D (2009) Case Study: 'Engaging with assessment in a professional development programme', in H Fry, S Ketteridge and S Marshall (eds) (2009) A handbook for teaching and learning in higher education: enhancing academic practice(3rd edition), Routledge, pp.481-483
Warren, D (2007) 'Thinking and Writing History: an integrated approach to learning development', in G Crosling, E Thomas, L Thomas, and M Heagney (eds.), Improving student retention in higher education: the role of teaching and learning, Routledge, pp.88-94
Warren, D (2005) 'Approaches to the Challenge of Student Cultural Diversity: learning from scholarship and practice', in J Fanghanel and D Warren (eds) (2005) International Conference on the Scholarship of Teaching and Learning: Proceedings 2003 and 2004. London: Educational Development Centre, City University (ISBN 0-9543742-1-5), pp. 237-253
Warren, D (2003) 'Curriculum Development as a Form of Scholarship of Teaching and Learning', Third International Conference on the Scholarship of Teaching and Learning, London, 19-20 June 2003
Warren, D (2003) 'A Discipline-based Approach to Developing Academic Literacy', in D Gosling and V D'Andrea (eds) International Conference on the Scholarship of Teaching and Learning: Proceedings 2001-2002. London: Educational Development Centre, City University, pp. 109-117
Warren, D (2002) 'Curriculum Design in a Context of Widening Participation in Higher Education', Arts and Humanities in Higher Education: an international journal of theory, research and practice, 1 (1), pp. 85-99