Watch 'The Invisible Mind'
A thought provoking documentary about what work based stress and what some employers are doing to tackle it.
For World Mental Health Day, a group of recent London Met film graduates explore workplace stress and anxiety in a new documentary.
Date: 8 October 2021
Recent graduates of London Met have produced a short documentary exploring work-related stress and what some employers are doing to tackle it.
The Invisible Mind, made by Kyri Xeno, Chyna Gentles, Jessica Kiss, Katrina Orlans and George Kelly, aims to raise awareness of work stress and anxiety as part of World Mental Health Day, which falls on 10 October. The film opens with the shocking statistic that in 2019/20, there were an estimated 828,000 workers affected by work-related stress, depression or anxiety, representing around 2.5% of workers and an estimated 17.9 million working days lost.
Director Kyri Xeno spoke about the inspiration behind the project, saying "Some members of the group had previously shared their own experiences of workplace stress, and the mental battles they overcame during those times. The group as a whole was inspired by these stories and began thinking of ways that we could raise awareness on the topic.
"We found that The Invisible Mind was a great opportunity to reach and inform a wider audience of the struggles people face in the workplace. One of our main objectives was to remind employers and employees who are going through any form of mental struggle in the workplace, that they are not alone and they do not have to suffer in silence; there are ways to combat workplace stress."
A number of workers were interviewed as part of the documentary, including Karen, a receptionist. She said, "It all started with a new line manager. Things were okay for a while then things changed. She started criticising my work, how I dealt with people, how I spoke to people. It made me frightened to carry out my job.
"There were months where I would come home, cry, I couldn't sleep overnight because the thought of going to work in the morning filled me with dread.
College administrator Zara also shared her experiences of anxiety in the workplace. She said, "When you are anxious, you kind of expect the worst and assume that you're going to have to answer all these things you don't know.
"I think I just started crying at one point, I wasn't too sure why, it just felt like mounting pressure, and a lot of the time you just feel like you're crying for no reason."
The documentarians also spoke to employers about how they are trying to help to promote wellbeing at work. Operations Manager of management consulting firm Korn Ferry, Michelle, spoke about the practical steps her organisation has made to improve mental wellbeing.
She said, "A group of us are mental health first aid trained, and that group grew legs almost. What we didn't want to do was just say, 'okay we've got this training' and tick a box, and then nobody knows about you or that you're there. So then what we were trying to do was raise awareness, so people were aware that this group of first aiders existed and were in place. Korn Ferry were very quick to say 'yes, let's do this.'
The film premiered in the School of Computing and Digital Media's 2021 Final Cuts Festival.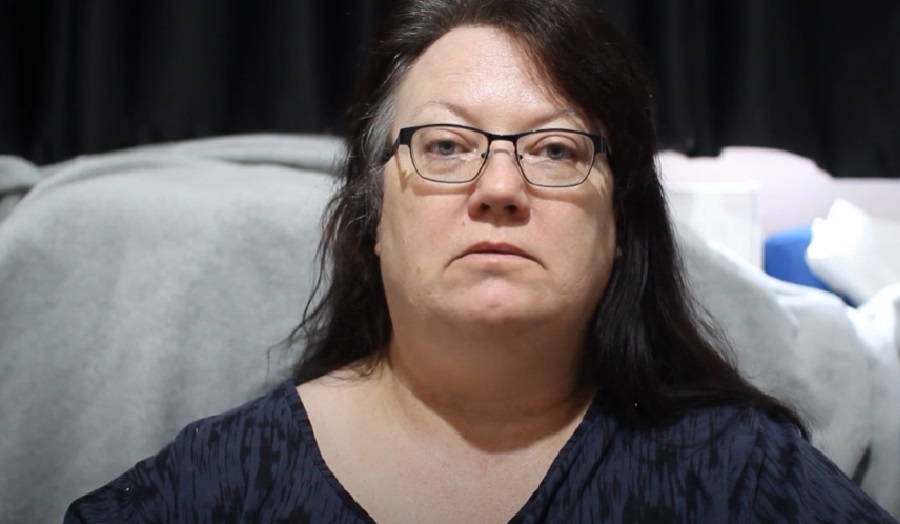 Pictured: a still from the documentary showing Karen, a receptionist, who discussed her experiences of workplace stress.