Sustainable Fashion: Are we doing enough?
India Gustin, third-year Fashion Marketing and Journalism student, reports on the latest Newsweek event.
Date: 9 March 2022
Sustainability has become a hot topic within the fashion industry. Although it may seem that we constantly refer back to it, actions and decisions may not be taken as seriously as they ought to be. Panelists at the debate from London Metropolitan University's Journalism course, Fashion Reborn: Reuse and Rethink, discussed this as well as other issues.
The panel consisted of Delphine Chui, Caroline Ash, Ross Pollard, Tina Charisma and Brooke Roberts-Islam. Each had their own perspective on just what we need to do but also reflected on what has already been done to tackle sustainability issues in fashion.
Delphine Chui is an award-winning editor and sustainable fashion brand writer. She stressed that as journalists and consumers, we have a lot more power to make change than we think. Understanding how influential our decisions are in the buying process is the first step in working towards a more sustainable future.
This point was shared by Caroline Ash, Director at Fashion Enter/Fashion Capital, who said that buying from fast fashion brands won't make the problem disappear. On the other hand, focusing on sustainable brands which may currently be a bit more expensive now, will inevitably drive down the price.
"Sustainability is such a huge buzzword," said Chui, especially when educating people on the topic. The panelists linked this concept to that of ethics in fashion. Although they may refer to two different aspects in the field, they were all adamant that there isn't one without the other.
Brooke Roberts-Islam is a sustainability journalist, artist and public speaker. Sustainability and ethics "are inexplicably linked". Ross Pollard, Asia Pacific and Emerging Talents Fashion Editor at MilliOnAir Magazine, agreed with her: "Absolutely, the two must go hand in hand."
Roberts-Islam believes there's a lack of framework that the term 'ethical' was given when it first started being used in CSR (Corporate Social Responsibility). She pointed out that the fashion industry therefore needs better tools to directly measure their levels among brands.
One topic which had to be touched on during the debate was that of the current war in Ukraine. Although fresh, the panelists had a lot to say about how this linked to sustainability and ethics in fashion.
Chui said that looking sustainability through this new lens is a shift in mindset. She explained that although the headlines have changed to a terrifying reality, the sustainability issue is more important than ever.
Tina Charisma is a Communications Specialist and Sustainable Solutions Advocate. She said that sustainability is deeply rooted, and that no matter is happening around the world, this issue will always remain.
What are the big fashion brands doing to solve the sustainability problem? One student said that smaller businesses were doing a lot more than larger ones.
Roberts-Islam disagreed, insisting that big investments is where the solution lies. As she focuses on material science, she knows just how important it is to correct the sustainability flaws in materials. This is where the big brands come into play: "On the ground, there is a lot of investment happening." They are the only ones with enough money to make a difference in this regard.
Once the panel concluded, some students put on an amazing catwalk. They flaunted off their own looks by wearing clothing which they sustainably sourced, whether from charity shops or their parent's wardrobes.
Photo by Sam Sorajbee, first-year Photojournalism student.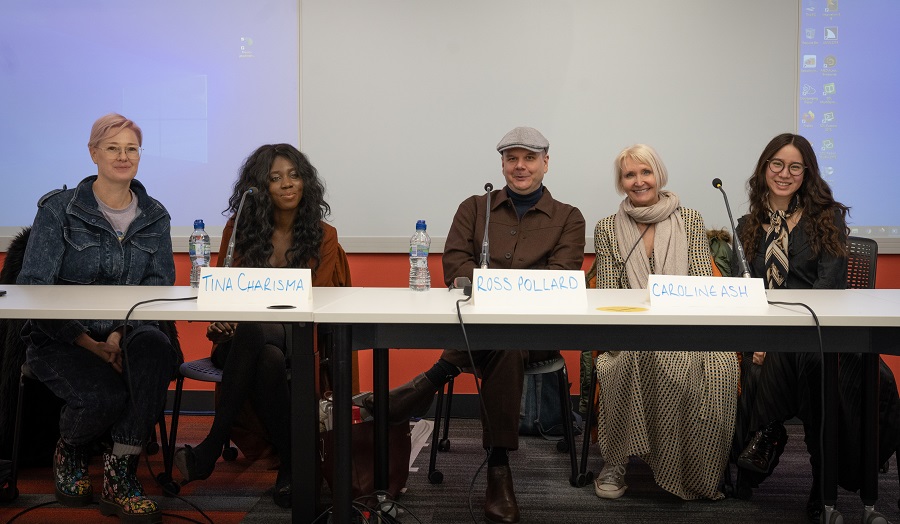 More information on: