New mural unveiled as part of London Met's collaboration with Arsenal FC and Lavazza
Dream team of London Met, Italian coffee brand, Lavazza, and Arsenal FC launched a new mural created to inspire young people in North London to dream big.
Date: 28 February 2023
The eye-catching mural, titled 'Learn to Dream', which was painted by artist Gabriel Pitcher and arts collective Wood Street Walls. The two-wall design is inspired by young people in the local community and represents London Met, Lavazza, and Arsenal's shared goal of supporting and encouraging North Londoners in their ambitions. As a visual representation of this commitment, the mural seeks to leave a permanent mark and to foster a forward-thinking environment.
North Londoners, London Metropolitan University students, and football fans will all be able to enjoy the new mural, as the 1,800 square foot artwork stands in pride of place opposite the entrance to Emirates Stadium.
Connecting through creativity
Through the power of art, the mural showcases two young people whose stories are tied to North London, Maria Epam and Lee McEwan. "Being chosen as a subject for the mural is such an honour. I regularly volunteer to work on creative projects, so I feel deeply connected to community projects that seek to inspire young people." said Maria Epam, Art and Design student at the London Metropolitan University.
Featured alongside Maria Epam is Lee McEwan, former participant of Lavazza and Arsenal's A Cup of Learning Project, which seeks to promote long-term employment opportunities by upskilling young people through barista-training programmes in North London. Lee McEwan, comments "A Cup of Learning opened a lot of doors for me, so I am especially privileged to take part in another project with Lavazza and Arsenal. It's amazing to see myself as an inspiration for people in the area I was born and raised in."
Lee has lived in Islington his whole life, goes to a local school and attends a range of Arsenal in the Community programmes. From his involvement in playing football with Arsenal, he was able to join the A Cup of Learning programme with Lavazza where he learnt the skills to become a Barista which taught him about time-management, precision, retaining information and taking pride in his work, he is now applying the skills around coffee-making to learn to become a football coach on the Arsenal Coach Development Programme.
Empowering London and the local community
Sophie Cloutterbuck, Director of London Engagement at London Met, commented "London Met is home to a welcoming community of inspiring and determined students, teachers and innovative thinkers. We have numerous initiatives that support and inspire those in the local area, and we want our environment and partnerships to embody our ethos and commitment. The Learn to Dream mural is just the starting point of a wider partnership with Lavazza, driving positive change in the community through the London Met Lab: Empowering London."
Pietro Mazzà, General Manager UK and Regional Director UK & Nordics at Lavazza Group comments "The 'Learn to Dream' project is a testament to the joint commitment of Lavazza and Arsenal to promoting and supporting the United Nations Sustainable Development Goals. The mural is a tangible example of our initiatives aimed to inspire the younger generations to strive for and work towards a better future. We started with our 'A Cup of Learning' program, which will be further expanded in 2023, and we will continue to develop projects that encourage meaningful change in the local community, together with Arsenal, as well as London Metropolitan University."
Juliet Slot, Chief Commercial Officer at Arsenal said, "The Learn to Dream mural is a fantastic way to leave a permanent and inspiring reminder of what we can all achieve when we work together. We are proud to be working with our partners on initiatives that create real opportunities in our local community, and we're looking forward to building on this with Lavazza."
The mural is also connected to the arts app 'Smartify' which allows fans to scan a QR code to learn more and get access to a wider online gallery of inspiring stories, photographed by London based photographer Jake Green, whose portraits have formed the basis of the murals.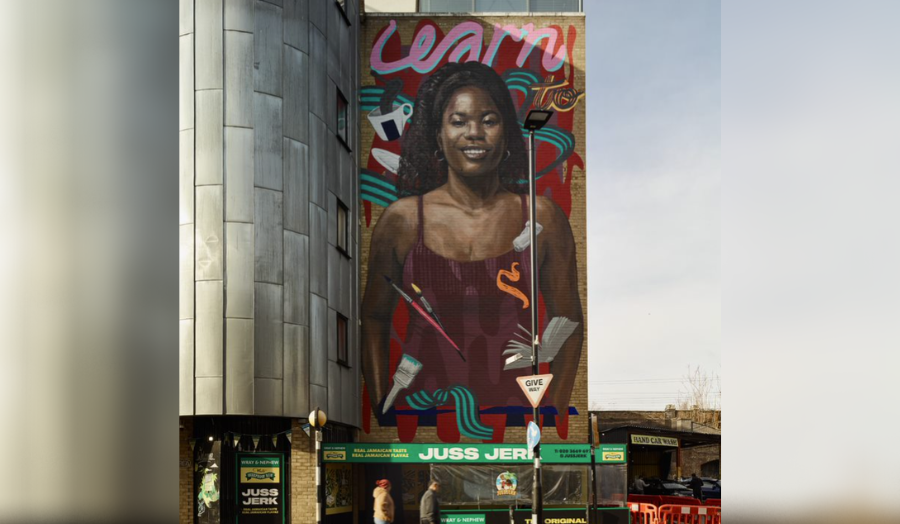 Pic: The 'Learn to dream' mural of London Met student Maria Epam.
"That's me up there!" Maria Epam and the mural were featured in the Islington Tribune on 3 March.