London Met artist recognised in Queen's Birthday Honours List
Dr Andrew Hewish has been awarded a British Empire Medal for services to the Arts, in recognition of his role as founder and Executive Director of the Centre for Recent Drawing.
Date: 15 June 2021
London Met's Dr Andrew Hewish has been awarded a British Empire Medal (BEM) in the Queen's Birthday Honours List for services to the Arts.
Dr Hewish is Coordinator of Critical Contextual Studies in Art and Photography at the University's School of Art, Architecture and Design, and has taught at the University since 2009. In addition to Critical and Contextual Studies, he teaches studio practice at undergraduate level and has previously supervised on the MA by Project. He is also a practising contemporary artist and curator, and founder of the Centre for Recent Drawing (C4RD), a social practice and a UK charity which has curated over 100 exhibitions in drawing and where he remains as Executive Director.
He said, "I'm very pleased that the role of C4RD in making drawing more inclusive and accessible has been recognised in this way. C4RD's purpose is to make space for drawing; I conceived it in 2004 at a time of sky-high London rents and very commercial forms of contemporary art, with a view to 'what comes after this?' In general, drawings are not a commercially viable form, so being able to do all this under the aegis of a UK Charity was important if it were to happen at all. Without our volunteers and supporters this would not be possible - C4RD is an entirely volunteer-led and run organisation.
"Drawing is part of the rich fabric of who we are as humans. Characteristically humanist in its associations, I see drawing as a performed analogy (mentally/manually) of human consciousness - hence C4RD's tag-line 'Mind on Line'. C4RD is inclusive. Not only do we seek to show a 'minor' art form, but we also seek minor and minority voices within this. If we just showed drawing from the contemporary art scene then we would not be expanding the space of drawing - hence the 'recent' rather than 'contemporary' in the title.
"We have worked with many of the art schools in London to support the next generation of art students, with London Met students in particular having benefited from assisting and having shows dedicated to their work."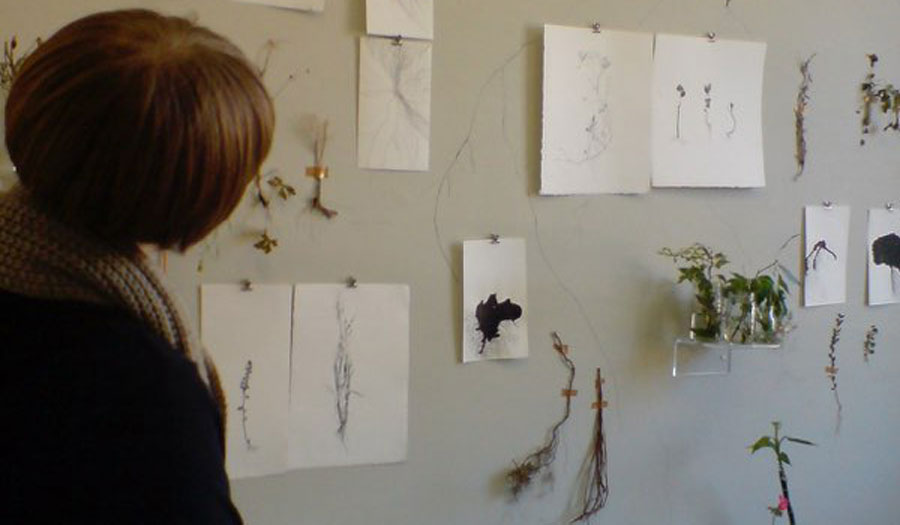 photo: Marga Steinwasser "Subterranea" exhibition, C4RD, 2008