Interprenet and London Met celebrate new partnership
The first cohort of students have completed practice program shadowing professional interpreters, while graduates participate in dummy interpreting booths set up for real events.
Date: 14 July 2022
Students from London Met's Conference Interpretation program have completed a practice program that allows them to shadow professional interpreters during live events. As part of a partnership between Interprenet, a leading global language service provider, and London Met the shadowing component kicked off in September of 2021 to sharpen the interpreter's listening skills and their ability to recognise different accents.
The first cohort of students to successfully complete the shadowing program will now be able to move on to practice interpreting using dummy booths at real events. This component of the program allows them not only to hone their skills using Interprefy's state-of-the-art interpreting platform, but also to prepare for unexpected situations that arise during live events. Target languages in which students practice include Arabic, Mandarin, French, German, Italian, Japanese, Russian, and Spanish. Twelve students in the class of 2021-2022 already completed the live practice interpreting program using dummy booths.
"We are delighted to see our partnership with London Met thrive and congratulate the first cohort of students who represent the next generation of world-class language interpreters," said David Medrano, CEO of Interprenet.

"We see a growing demand for remote simultaneous interpretation (RSI) and are thrilled to equip aspiring interpreters with the skills essential to a smooth, high-quality RSI experience."
London Met's master's courses in Interpreting and Conference Interpreting are highly regarded in preparing students to work as professional conference interpreters for international organisations and the private market.
"This new scheme offers a two-way dialogue between academia and employers that continuously informs the curriculum. Students can then safely apply their newly acquired know-how to real-life assignments. This form of experiential learning makes all the difference to professional growth," said Danielle D'Hayer, Associate Professor at London Met and course leader for the Interpreting MA and Conference Interpreting MA.
"When I started recruiting interpreters for RSI back in 2018, all roads led to London, where we currently have more than 100 interpreters," said Carolina Herrera, Global Services Director at Interprenet. "Many had been through London Met's interpretation program, so we thought giving the students a chance to experience the challenge of real-life events would put them in a great position to find work upon graduation."
Independent market research firm CSA Research estimates that the remote interpreting market is growing 14% compared to pre-pandemic levels. As the world of simultaneous interpreting continues to shift to remote interpreting, it is critical for aspiring interpreters to master the use of modern RSI technology and rise above the challenges of real events. The partnership between Interprenet and London Met is a key component in training interpreting students to graduate with the necessary skills to transition smoothly to the workplace.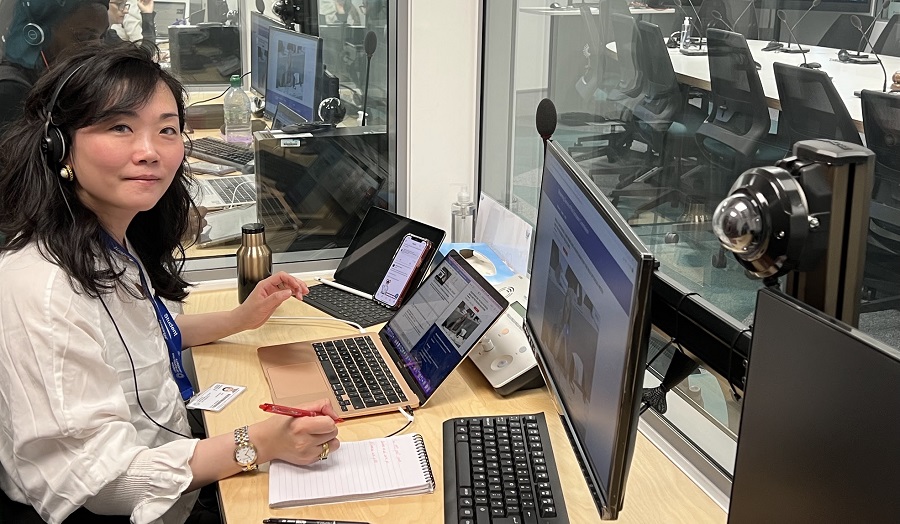 More information on: