Hannah Parr reports on a celebration event for a new book by architect and academic Pierre D'Avoine, which explores the design of dwelling environments.
Date: 18 November 2021
As we gear up for the first event in our 2021-22 season of AAD Books – a dedicated AAD Sessions series about publications – it is timely to return to the closing session of the 2020-21 edition. On 22 June, we celebrated Dwelling on the Future: Architecture of the Seaside, Middle England and the Metropolis authored by architect and academic Pierre d'Avoine, erstwhile studio leader at London Met and currently a PhD Supervisor. The research at the book's core concerns the design of dwelling environments, asking how an architect should respond to the challenge of providing humane places to live for a growing, multifarious population in an increasingly divided world. It offers words, drawings and photographs, documenting over 20 years of practice and pedagogy.
Attracting over 100 registrations, the online event sought to capture the conversational character of the book with a panel discussion involving the book's collaborators or commentators in the wider debate. Panel members were introduced by Dr Matthew Barac who chaired the session. They included Georgia Hablützel, Gleb Sobolov, Jos Bosman, and Dean Hawkes (see right for biographical notes on the contributors).
Pierre titled his presentation "One Thing Leads to Another" to capture the process of bringing the book into being. He was initially commissioned alongside Clare Melhuish, Director of UCL Urban Lab, and their original title was Dwelling in the Future: Housing, Land Use and the Conditions for Contemporary Architectural Production. Clare withdrew from the project, leading Pierre to recast its scope and change the title to Dwelling on the Future: The Seaside, Middle England and the Metropolis. Moving from 'in the future' to 'on the future' and adjusting the subtitle invited, suggested Pierre, a 'discursive and playful approach' as well as inclusion of several design projects and other voices: Ana Nicolaescu, Sebastien Tiew, Georgia Hablützel, Amy Glover and Ryan McStay.
The book – and at over 350 pages it's a big book – includes essays, descriptions and drawings of 12 housing projects designed by Pierre d'Avoine Architects, alongside 15 interviews with protagonists involved in their design or delivery. He highlighted juxtaposition as methodologically significant in his design, writing and teaching practice:
I have attempted a dialogical approach in which the work unfolds on the basis of interaction between a range of different voices. The making of the book was an open-ended process aiming for the polyphonic and carnivalesque…
Architecture is 'an act of anticipation', and Pierre's thinking about designing and building houses is informed by an anthropologically-nuanced interest in place-making. Speaking to this theme, he quoted James Clifford from The Predicament of Culture:
Ultimately my topic is a pervasive condition of off-centeredness in a world of distinct meaning systems, a state of being in culture while looking at culture, a form of personal and collective self-fashioning. This predicament…responds to the twentieth century's unprecedented overlay of traditions. A modern 'ethnography' of conjectures, constantly moving between cultures, does not … aspire to survey the full range of human diversity or development. It is perpetually displaced, both regionally focused and broadly comparative, a form both of dwelling and of travel where the two experiences are less and less distinct.
In conclusion he offered his take on authoring as architectural practice. For him, the writing journey provided an opportunity to reflect, but also to declare the dilemma of conflicting agendas faced by architects: moral, ethical, political and personal conflicts. Taking a long view across more than two decades of practice has enabled him to come to terms with his strengths and limitations, tempered by the struggle of upholding a certain duty of care in a world where mainstream building procurement is now 'almost completely corrupt, and architecture … increasingly marginalized'.
Georgia Hablützel, who worked closely on the making of the book, then spoke about joining Pierre's practice in 2017 for her 'year out' between degrees. She painted a vivid picture of the office culture – books were always piled up in stacks on desks, or at arm's length during design discussions, with a new package arriving every week, sometimes twice; once opened the volume would be passed around the staff. Pierre's library formed, she said, 'an ongoing network reaching far beyond the walls of the studio'. Former students would drop in, often arriving with a book (and almost certainly leaving with one). It was, for a young architect-in-training, an induction into a more poetic world of practice than what most new graduates expect, one where there is a 'constant life of double books, absent books, old books, new books, but never forgotten books'.
In his remarks, Gleb Sobolov – Pierre's friend, long-term collaborator, and a practising architect and academic in Moscow – said the book breaks new ground as an 'anthropological study by the architect of his own works'. Inclusive in character, accommodating diverse stakeholder views (rather than allowing the architect's outlook to dominate) it tells the hidden story of professional practice. Gleb cited Pierre's contribution to his public project 'Architecture and Context', an ongoing commitment to tackling the deficit of dialogue in Russia's architectural field. Later, he noted that the significance of the book's refreshingly open, critically reflective discussion about architecture.
Speaking next, Jos Bosman recalled an opportunity he had enjoyed two years earlier to discuss a preliminary iteration of the publication with Pierre. In 2019, he curated an exhibition in Eindhoven to launch Pierre's original mock-up of the book. At that time, he was able to explore the innovative interplay of drawings, textual analysis, intellectual ideas and cultural insights that characterised the mock-up. For Jos, it is the juxtaposition of abstraction and empathy that contextualises the book within its ambitious goals. Dwelling on the Future may be "understood in the tradition of modernism" because it integrates a design sensibility with a people-centred interpretive programme.
Panel chair Matthew Barac introduced the final panellist, Dean Hawkes, as a 'living legend' in the architectural world. Dean considered the question: can design practice be research? Mindful of the sometimes controversial debate surrounding this question in academia, he argued or it as "an important contribution to demonstrate that design can be research." The factor that makes it more than an account of practice, and transforms it into a valuable research contribution, is the combination of architectural representation, critical analysis, and interviews. This combination has produced a vital narrative regarding the production of housing in Britain.
Opening the discussion, Matthew Barac recalled a notion raised by Clare Melhuish in the book of architecture as an 'impure medium', drawing attention to the manner in which real life inevitably foils the neat abstraction of 'ocular' drawings. Questions raised from the virtual floor addressed the state of the profession, the character of the book as a journey, and how the context of the pandemic has made us think more deeply about our homes – how they function, and what they mean to us. Despite the necessary pessimism at the heart of the book's critique, Pierre pointed out that as architects 'we have to be optimistic to make buildings'. However, as the book argues, the context for the development of the built environment inevitably 'becomes a dilemma' for the architect.
Dwelling on the Future is available to order or as a free download from UCL Press online. A video recording of the panel discussion is available in the Past Events area of the CUBE landing page.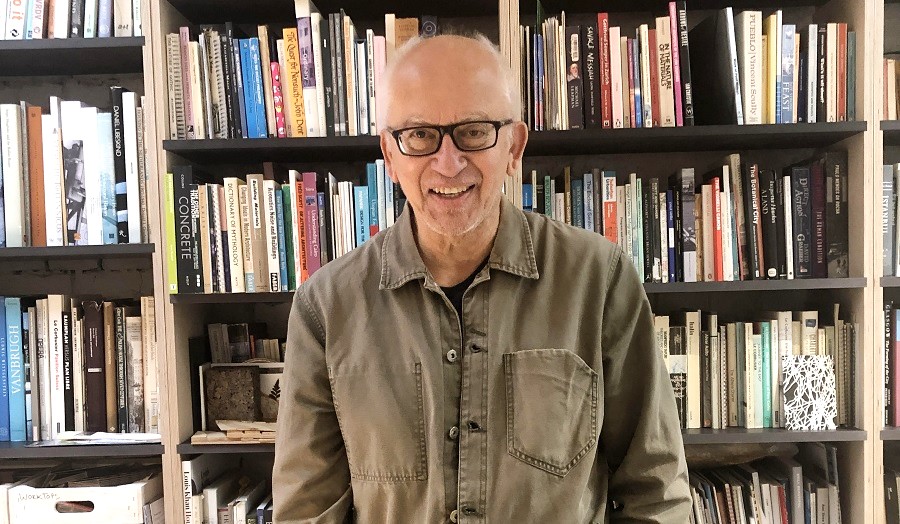 Biographical notes:
Pierre d'Avoine is an architect and teacher based in London. He set up Pierre d'Avoine Architects in 1979 and studioDA with Pereen d'Avoine and Nilesh Shah in 2017. Pierre practices, teaches and exhibits internationally. Pierre teaches MArch Unit 14 at London Met's School of Art, Architecture and Design and has also taught at Bath School of Architecture and at the AA. Pierre has been Visiting Professor at the Welsh School of Architecture and at the Royal Danish Academy of Fine Arts, Copenhagen.
Matthew Barac is Professor of Architecture & Urban Culture at London Metropolitan University, and a UK-registered architect. His research, which concerns the interface of formal and informal orders of urban change in the global south, has won plaudits including the RIBA President's Award for Research and the International Bauhaus Award. His writing about architecture and urbanism has appeared in academic journals and books, as well as mainstream and industry publications.
Hannah Parr is a London Met alumna and Part 2 Architectural Assistant. Before moving into professional practice at Henry Holland Architects in June 2021, she spent a year as a Research Assistant where her role entailed working with the Centre for Urban and Built Ecologies: CUBE, the Centre for Creative Arts, Cultures and Engagement: CREATURE, and supporting the London Met submission to the 2021 REF: Research Excellence Framework in Unit of Assessment 32.
Georgia Hablützel (AA Dip) is a designer and researcher based in Tel Aviv and London. Her work investigates spatial culture and the image, through tracing the historical development of policy, settlement and ownership. She has served on the Architectural Association (AA) Academic Committee and taught at Cardiff University, Shenkar School of Design, and the AA. She currently teaches at the Negev School of Architecture and Bezalel School of Architecture.
Gleb Sobolev is a practicing architect and member of the Moscow Union of Architects. He is currently an associate professor at Moscow Architectural Institute and lead two units (4th and 5th years), as well as practicing architecture. He graduated from MArchI and studied at the Architectural Association School of Architecture in London. Gleb has for more than four years curated his own international educational projects "Ruralities" and "Architecture and Context".
Jos Bosman is emeritus professor in architectural design at Eindhoven University of Technology where he was curator of CASA Vertigo. In the 1980s he worked for the National Monuments Care Agency and subsequently worked as a researcher at the Institut für Geschichte und Theorie der Architektur (GTA) of the ETH Zurich.
Dean Hawkes is an architect and award-winning academic. He is emeritus professor at Cardiff University and emeritus fellow of Darwin College, University of Cambridge. He has held visiting positions at the Chinese University of Hong Kong, the National University of Singapore, Glasgow School of Art, Huddersfield University and De Montfort University. He has published numerous books, essays, and papers on architecture, and his practice Greenberg & Hawkes won a number of RIBA awards.
Image: Pierre d'Avoine in the library of his office in Limehouse, London