Congratulations on your offer!
Congratulations! You have an offer of a place to study with us!
We've put together a simple step-by-step guide on what you need to do now. Have a read through and if you still have any questions, don't hesitate to contact us on: international@londonmet.ac.uk
"I have classmates from Austria, India, America, France and many other countries – there is a little world in my class. It's amazing to share experiences from our different countries."
Alessio Cofone – Digital Media student (pictured)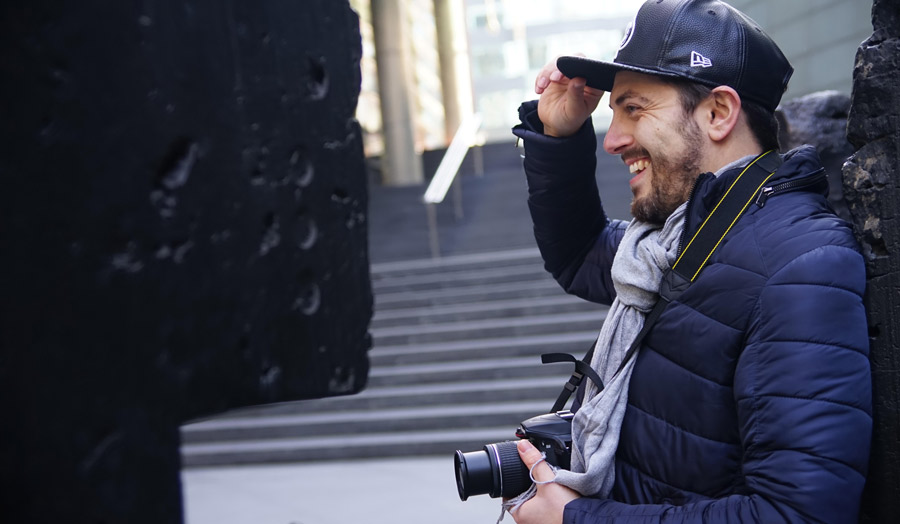 You need to carefully read the conditions listed on the letter and make sure you fulfill all of them. You may need to provide more documents such as your academic certificates or your proof of meeting our English language requirements. Please upload digital copies of all documents listed as conditions on the applicant portal.
How do I accept my offer?
You can accept your offer by following the instructions on your offer letter. If you have applied via UCAS, you can accept your offer on the UCAS Hub. If you have applied directly, you can accept it on the applicant portal.
Can I accept a conditional offer?
Yes, you can! If you have decided that you want to study with us, you can accept your offer even if it is conditional.
If paying a deposit is listed as one of your conditions on your offer letter, you will be asked to pay the deposit via email. Please keep an eye out for an email from us with the subject line: You can now pay your deposit and request your CAS. Please note the deposit amount is 50% of your fees.
Once you have made your deposit payment, please click on the second button in your deposit email to complete the "Request your CAS" task and upload your deposit payment evidence.
Our Finance team will confirm your deposit payment as soon as possible. A confirmation email will be sent to you directly. Once your deposit is confirmed, our admissions team will issue an unconditional offer. After your unconditional offer, you will receive an invitation from lmu@int-mail.cas-shield.com to request a CAS document through the CAS Shield system. This will allow you to track the progress of your CAS request and provide any documents or information as needed.
As an international student, you are normally required to obtain a Student visa before entering the UK to study. In order to obtain a Student Visa, you must first:
firmly accept your unconditional offer and complete the Step 2 above
prepare to pay the NHS surcharge – this can usually be done at the same time as the visa application
ensure you meet the financial maintenance requirement as detailed in the Student visa guidance (page 45 onwards) – if you need to send your bank statements to UK Visas and Immigration (UKVI) for your visa application, we will ask to see them before we issue your CAS so we can best advise you
Please make sure you complete the above steps as early as possible. However, please note, CAS letters will not be issued until six months before the start of your programme. You must then complete all further steps required to obtain the visa as indicated on the .
"I could call on my tutors whenever I needed their help or advice. I felt very supported. I had high hopes and they were met."
Demi Owoseje – Architecture student
Step 6 – Apply for accommodation
Living in London is a fantastic experience as a student – with so many places to explore, things to do and people to meet. Whether it's working in the UK, the cost of living or how to register with a doctor, we understand that as an international student you may have some questions and concerns about moving to London – we hope that the information below will help answer your questions.
"The careers service at London Met was excellent, not only in supporting me at the beginning of my career but also in developing the job search skills which I still use today."
Fabio Massaro – Marketing student
If you've completed all of the steps above or you're still in the process of completing them and you have questions, please don't hesitate to contact us by emailing international@londonmet.ac.uk. In the meantime, we'll be sending you regular updates by email to remind you about deadlines and any documents that you need to send to us.
We look forward to welcoming you to London Metropolitan University.
"London Met gives you a platform to shine. The sky is the limit and it's up to you how far you want to take that further.''
Margaret Ampomah – International Relations student