Workout with a difference
Please note: Due to COVID-19 and the University closure, all fitness classes and events have been cancelled until further notice.
Our number one focus is your health and wellbeing. We want to help you move as much as possible and look after your physical and mental wellbeing during these times. To help you, we are working towards a new timetable for the start of term.
Please follow our Instagram and Facebook pages as we regularly post helpful stretches, tips and and motivational quotes!
Please read our Virtual class disclaimer before participating in any session. By joining the class your consent and agreement to the disclaimer will automatically be given.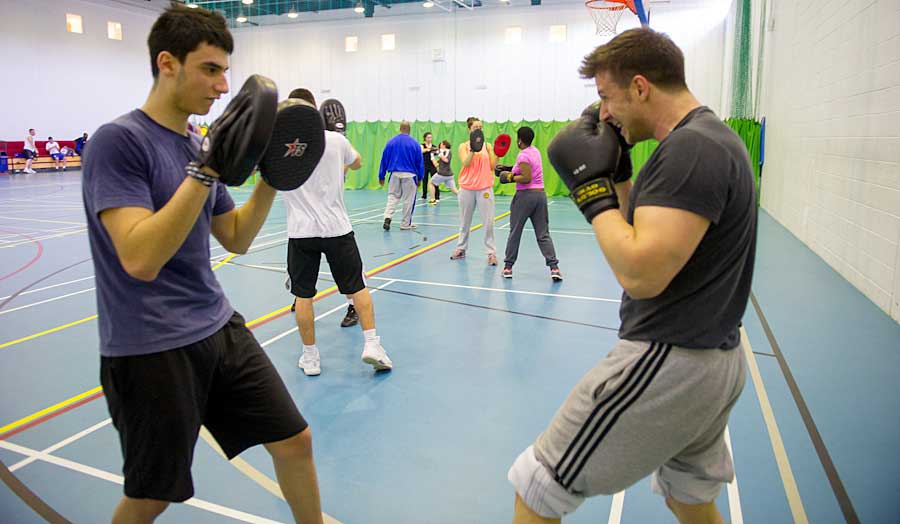 Our classes have now finished for the summer and our instructors are taking a well earned break.
In the meantime, the Fitness and Recreation team are putting together a great programme for the new term, so keep posted for all updates on this page, or visit our social media channels, Instagram, Facebook and Twitter.
With our wide range of classes, there's plenty of opportunity to get adventurous and try something new. Here you'll find a brief description of each class:
| | |
| --- | --- |
| Aikido | A non-competitive Japanese martial art teaching self-defence and physical fitness, Aikido also develops mind and body coordination and confidence. |
| Badminton | Meet new people, get fit and enjoy a beautiful sport. |
| Boxfit | Circuit-type exercise using boxing techniques. All the gain, but no pain! |
| Boxing | Learn self-defence, build strength and stamina, enhance hand-eye coordination, improve self-confidence, increase muscle tone and de-stress! No experience needed – everyone is welcome. |
| Brazilian Jiu-Jitsu | A practical grappling martial art that serves as the basis of modern mixed martial arts (MMA), learn how to take down, control and neutralise an opponent. Jiu-jitsu develops respect, discipline, self-confidence and fitness and can provide a high-intensity workout as well as developing self-defence skills. |
| Circuit training | Short bursts of vigorous activity to train your heart and tone the body. |
| Core Power | Improve your posture and build core muscle groups through a variety of exercises designed to strengthen your abdomen and back muscles while increasing your flexibility. Walk taller, feel stronger. |
| Spinning | An intense and fun cycling workout. |
| Stretch/Mindfulnes | Group class consisting of gentle stretches, movement sequences, body awareness, breathing awareness and deep relaxation using mindfulness techniques. |
| Pilates | Guaranteed strong abdominal and back muscles. Great for posture and stress relief. |
| Tennis/soft tennis | Come along and get help from our coach! |
| Low Impact HIIT | High-intensity impact training. |
| Yoga | Suitable for everyone regardless of age and experience, this class features a variety of yoga styles and is a gentle way to improve flexibility. |