Matthew Barac: Affirmative Irony in City Making
Join us for The Living Memory of Cities, a seminar series convened in collaboration with Eric Parry Architects and the Centre for Urban and Built Ecologies (CUBE), London Metropolitan University.
Affirmative Irony in City Making: Practising the Afropolitan Future
In search of the nexus of debate concerning the city yet to come, we might usefully shift our gaze from the alpha cities of the global north to the south, where transformation and innovation are profound. Africa is the world's most rapidly urbanising and youngest continent; 60% of the population are under 25. It is – in Achille Mbembe's memorable phrase,developed by Lesley Lokko for the 2023 Venice Biennale's curatorial theme – the 'laboratory for the future'. Questions of continuity and order are often scrambled in postcolonial cities where residents improvise to work around system failure, all the while endeavouring to keep their heads below the administrative radar. Ongoing ambivalence about what the citycan offer gives rise to a 'double consciousness' that resonates with Simmel's 1903 diagnosis of the mentality engenderedby metropolitan life. Urban change in Africa, historically characterised for many by struggle, continues to challenge the search for a foothold in often precarious circumstances. But if life throws everything at you, why not laugh in its face? This paper highlights a performative, ironic urban disposition, long-established in many African cities, with diverse anddistinctive local attributes. Street styles and spatial displays represent a mode of urban orientation that typically takesparody as the starting point for new cultural hybrids. Irony is treated, in this argument, as a strategy hinged on wit; as acounter-form that undermines institutional urban imaginaries, pushing back at reality. In Duchampian fashion, and afterRichard Hamilton, the urbanism of an 'irony of affirmation' offers a glimpse of cosmopolitan subjectivities to celebratecultures of city-making in prospect.
Matthew Barac is Professor of Architecture & Urban Culture at London Metropolitan University. He is a UK-registered architect with professional experience in Britain, South Africa, and the USA. His doctoral research, supervised by Peter Carl, won the RIBA President's Award for Research (2007) and the International Bauhaus Award (2004). His core interest concerns the play between formal and informal orders of urban change in the global south, with particular attention to questions of orientation. Key academic outputs include "Technologies of Belonging" in Building Owning & Belonging (UN-Habitat/European Union, 2019), "Changing Places" in Phenomenologies of the City (eds Sternberg & Steiner, Routledge, 2015) and "Place Resists: Grounding African Urban Order in an Age of Global Change" (Social Dynamics, 37:1, 24-42, 2011). He also writes about design in the mainstream design media including Icon magazine, Building Design, Architecture Today, Elle Decoration, Il Giornale dell'Architettura, World Architecture, and House & Leisure. Honorary positions include membership of the RIBA Research Development Group and Architecture & Culture editorial board. He was a founding trustee of charity Architecture Sans Frontières-UK, and chaired the board until 2015.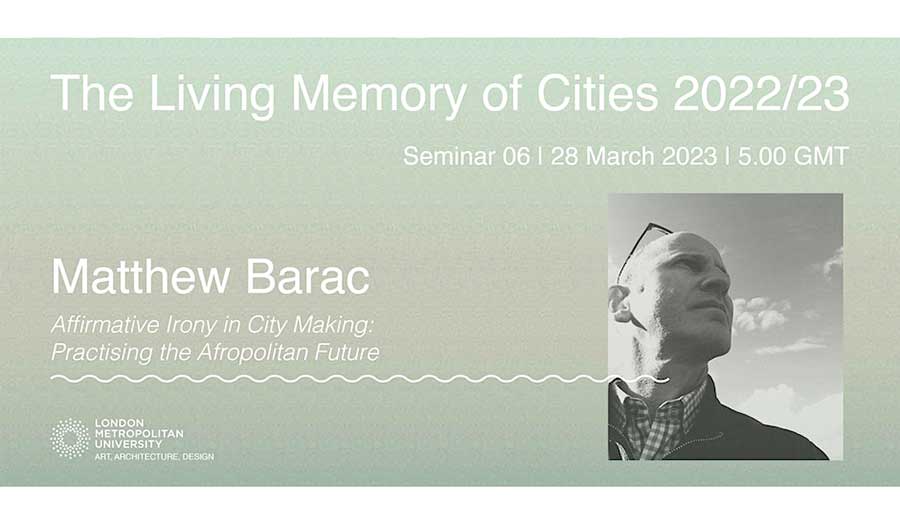 The Living Memory of Cities 2022-23 seminars