Call for Participants! CAMP Programme
The Architecture of Rapid Change and Scarce Resources (ARCSR) is a studio-based teaching and research area within the practice and academic discipline of architecture. It examines and extends knowledge of the physical and cultural influences on the built environment, focusing on situations where resources are scarce and where both culture and technology are in a state of rapid change. ARCSR is based at within the School of Art, Architecture and Design at London Metropolitan University.
Working in partnership with Sirius Training, ARCSR will be leading a professional development course - CAMP: Community, Architecture, Migration, Participation - in Athens from 10-17 April 2022. The project aims to train staff from London Metropolitan University and participating organisations to gain a greater understanding of issues that affect non-EU migrants, refugees and asylum seekers when integrating within host European cities. We also seek to understand the effects of architecture and migration on people in transit. How can place-based* architectural practices affect/improve displaced people's ability to participate in and craft their own spaces in host communities? What are the intercultural inclusion issues that many of these people face? What are the opportunities for livelihoods and employability which migrants and refugees can take advantage of?
We are delighted to be able to offer funded places to London Metropolitan University staff members who would like to participate on the programme.
The project will be financed by the Erasmus Plus Programme and the funding will cover:
Travel expenses (London to Athens return trip)
Accommodation expenses
Individual support and daily fees
International training fees
The six-day training programme will include the following:
Topics such as place-based* architecture and migration; participation and (bottom-up) placemaking, community integration and intercultural inclusion.
Sessions comprising of daily on-site fieldwork and round-table seminar discussions and workshops with lectures.
A personal reflective diary to be submitted following completion of the programme.
We are looking for enthusiastic, energetic and committed participants who are keen to develop creative communication and explore new skills (such as drawing, sketching and mapping), working closely with others in group-based activities involving fieldwork. Applicants should have a keen interest in issues relating to place-based* architecture and migration; participation and (bottom-up) placemaking, community integration and intercultural inclusion. A background in architecture, geography, urban design or planning is beneficial, but we also encourage applications from those with diverse professional backgrounds and experiences.
This opportunity is ideally suited to those with less than five years professional or academic experience, but consideration will be given to all applications from staff employed at London Met on any academic or professional support pathway and in roles up to and including PSG Grade 7, Senior Lecturer level (SL) or equivalent (and includes those on AsL contracts). Applications from PhD students are also welcome.
For further information or to submit an expression of interest, please email Dr Bo Tang – b.tang@londonmet.ac.uk. The deadline for initial submissions of interest is Friday 11 February. If successful, you will be invited to submit a formal application to join the programme.
* Placed-based architecture is a reaction to the negative effect of the top down imposition of pre-conceived architectural form onto an existing urban neighbourhood, a process which is typified by large scale masterplans. It seeks rather to respond to, engage with and build on the bottom-up concerns and dispersed initiatives existing within the neighbourhood, so as to fit with the dynamic city metabolism.
Image: Exploring home and memory, Priti Mohandas, MA by Project, 2018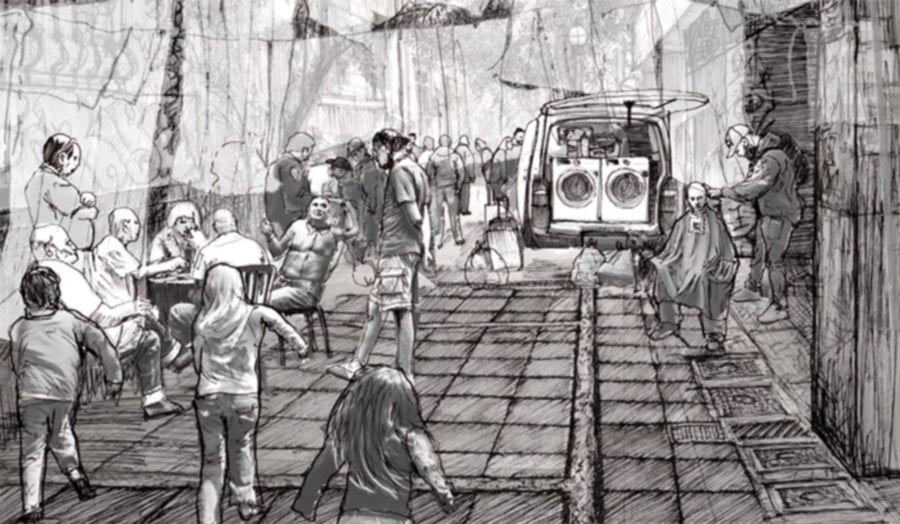 Details
| | |
| --- | --- |
| Dates | Course in Athens from 10 to 17 April 2022 |
| Contact | Dr Bo Tang: b.tang@londonmet.ac.uk |
| Follow London Met's School of Art, Architecture and Design on Twitter | @LdnMetArts |