More about this project
Following the publication of live projects designed and constructed by ASD students for local primary schools in North London in the Architect's Journal Small Projects Award in 2006, ASD Projects were approached by Kingsmead Primary School in Hackney and invited to compete for the design of a new reception classroom, outdoor learning space and parents' waiting area.
We were successful in securing the project and design work started in April 2006 and the new classroom was ready in time for the second intake of reception children in January 2007.
Anna Page, an ASD graduate working on her year out in ASD Projects was responsible for the design under the supervision of Anne Markey, principal architect at ASD Projects.
The new classroom is an ecologically sustainable design that incorporates learning into the very core of the proposal. Balancing the intention of using energy saving building materials against the short build time, a prefabricated timber structure was deployed with large east / west fenestration for maximum natural day lighting. A living grass roof to improve the thermal performance of the classroom and help reduce the existing room's current tendency to overheat was added by the school post-completion when funding had been obtained. The design also incorporates an external learning area that is safe and secure for the very young age group that the classroom has been designed for. This external learning area and the adjoining garden embrace the principles of the "open air school".
The completed classroom was short-listed for the Architect's Journal Small Projects Award and was exhibited at New London Architecture in 2008.
The structural engineer was Alan Conisbee and Associates and the quantity engineer was Jackson Coles. The main contractor, Framework CDM, was selected for their fast- track building system, which is pre-engineered and assembled on site to innovative architectural designs.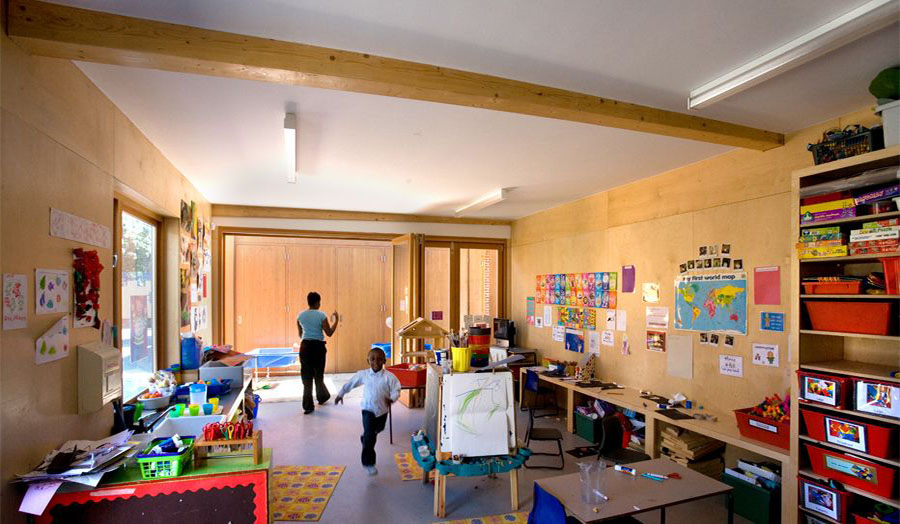 Project images