Tunde Okewale studied LLB Law – (Hons) at London Met and now works as an international human rights barrister at Doughty Street Chambers specialising in crime, sports law and regulation. In 2019 he was honoured as a Governing Bencher of the Inner Temple, where he is one of the youngest Benchers in its 650-year history. He was awarded an MBE in the 2016 Queen's Birthday Honours list for services to the community and disadvantaged young people. Tunde is also a consultant, public speaker and recipient of numerous other awards including the JCI London Ten Outstanding Young People Award 2013, Diversity Champion at the UK Diversity Legal Awards 2014 and the inaugural Chambers & Partners award for Outstanding Contribution to Diversity.
What's a normal day like for you at the chambers?
No two days are ever the same; I might be conducting research on law or preparing to appear in court. The cases I deal with, along with the issues of law, are often similar but always different, and so there is variety in each and every day. There are also instances where I may not be in chambers for many weeks because I am conducting a trial.
You've said that careers advisors and professionals in the field told you you'd never make it as a barrister. How did you overcome such barriers?
By having a Rocky Balboa mindset. Things rarely work out the way you plan and there will always be negative people, distractions and stumbling blocks that you have to deal with. The key point to remember is to persist and to develop the courage to move on even when everyone around you is telling you that it is OK to give up.
What did you enjoy most about London Met?
The teachers – most were very passionate and committed to helping their students. They were always willing to help and provide advice.
As well as being a barrister, you've also found time to help the Jamaican and Canadian governments facilitate workshops for disaffected youths and to feature as an expert on the BBC Radio 1 Xtra broadcast of Gangs on Film. Of which achievement/ project are you most proud?
Of all my achievements, I would say that I am most proud of the charity organisation that I created called
Urban Lawyers
. It provides education to young people about their legal rights and inspiration to law students from non-traditional backgrounds through online resources, merchandise, networking and events. I created Urban Lawyers because I wanted to be in many places at the same time, helping as many people as I possibly could. The only way to do that was by creating an initiative which could exist even if I was not around.
You took on a role at Hackney Community Law Centre and are quite heavily involved in the community that you grew up in. How did that start and why is it important to you?
I was delivering a keynote address at an event at BPP law school and one of the members in audience was a member of staff at Hackney Community Law Centre. I was approached at the end of the event and asked if I would like to become a patron. I'm honoured to have been asked to be a patron for a law centre that operates in the community that I grew up in. If you are in position to give back you must do so.
What advice would you give to students who are thinking about studying law?
Start now – there are many factors that contribute to success in both your professional and personal life but the one factor that's required is action. Most people don't reach their full potential because they never start. They are always preparing, planning and waiting for the best time to begin. You will never be completely ready so just start now and adjust along the way.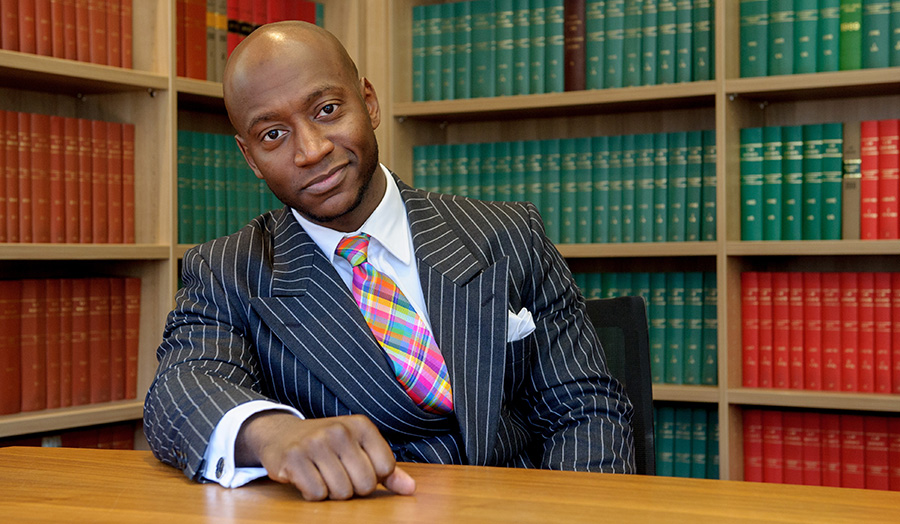 Law courses offered at London Met