Now one of the most powerful female figures in the African Francophone and Congolese communities in the UK, International Relations, Peace and Conflict Studies BA graduate Marie-France Nguo is now a community ambassador for migrants, asylum seekers and immigrants from Francophone backgrounds through her work with Amnesty International, London Met's Global Diversities and Inequalities Research Centre, as well as through New Hope for Life – a charity that she founded.
Can you tell us a bit about your background and what made you choose us for your degree?
I have an international background and mixed heritage. I see myself as a community ambassador with a powerful advocacy record for human rights and social justice. I have defied categories by speaking my mind loud and clear to advocate for migrants, asylum seekers and immigrants from Francophone backgrounds. I have been empowering refugees, asylum seekers and migrants to make the transition from a negative place to a positive place, enabling them to face their challenges, address their fears and embrace and celebrate who they are! For the past several years, I have devoted a significant portion of my time to volunteering with a non-profit organisation dedicated to improving the lives of refugees, women and girls affected by conflict and poverty in the UK and the DRCongo. I joined London Met as a result of the University's reputation for being hugely diverse, with students from worldwide. As a mature student, I wanted to feel part of a diverse community.
What was your BA like here?
My BA was an eye opener and an activator tool to help me acquire relevant knowledge in connection with peace and conflict studies, such as mediation and advocacy skills. I was keen to learn more about the evolution of peace studies, and success stories of peace agreements worldwide and an overview of the causes of different conflicts and how international relations theories could be applied to resolve these conflicts and promote peace. My lecturers looked well prepared to teach. The course materials had in-depth knowledge of the different aspects of each course. There was a lot of interactive discussion between students and lecturers during the lessons, some very provoking topics that required critical analysis skills to get involved. The more you listen, the more your public speaking skills improve, and the more you get involved in discussions.
In addition, the lecturers were always available to help students improve their learning experience. They understood our mistakes and left room for improvement with constructive feedback. In my view, the course materials were just outstanding, they helped me understand and achieve my course. There were plenty of materials for us to access, from the library to the weblearn/VLE, and lecturers always brought along recommended reading lists for extra knowledge. The teaching sessions, assignments and seminars were logical and completed each other. Coup de chapeau on that point!
What was the best thing about London Met for you?
The feeling of belonging, a sense of community is the best thing about London Met. As an African, living in a community is a culture and you find that culture in London inside London Met.
I understand you're now involved as a student member with our Global Diversities and Inequalities Research Centre – can you tell us more?
The Global Diversities and Inequalities Research Centre complements my work with Amnesty International and New Hope for Life. All three organisations have a common cause of promoting and protecting human rights and working to put an end to systematic violence occurring worldwide because of gender, racial, ethnicity, faith and much more. The Centre is a home for everyone (students, scholars, fellows etc) from everywhere. Next year, I hope to take a supportive role in the Centre's development, by becoming more involved in seminars and other research projects with academics and professionals from various locations and disciplines.
I hear that you were president of the London Met Amnesty Society – how did this come about, and what was involved?
London Met is my second home. As I was involved with Amnesty International as a speaker and trainer, my mission was to bring the Amnesty candle inside London Met and start campaigning or taking action for people who are victims of inequalities. The society involved campaigning on human rights issues and fundraising for Amnesty International. We had a few workshops, talks and seminars with guest speakers from Amnesty International talking about different human rights subjects and campaigns and students used to take action at the end of the workshops, such as writing letters to MPs, writing messages of solidarity to prisoners of conscience. We also had JAMnesty, which was all about fundraising for Amnesty International.
The most challenging aspects of the role was mixing up my motherhood roles, my studies and society and I learnt that it was about planning in advance and setting priorities.
You've also done some work as a volunteer for Amnesty, speaking and running workshops in schools and universities – can you give us more details?
While working with a refugee organisation, I witnessed an increased number of domestic violence cases within the Black African community. Most of the victims were unable to seek help and support to overcome or flee the abuses. It was so sad to see so many women suffering in silence and this condition sparked an interest in me to advocate for those women. That is why I joined the biggest human rights campaign organisation in the world. My role primarily is to help deliver campaigning on Amnesty UK's portfolio and advocate for change.
I hear you visited the House of Commons as part of your work through Amnesty?
Amnesty International organises a Human Rights Day each year, during which human rights activists visit the House of Commons and speak with MPs about human rights issues. When I attended the event, my focus was to speak to MPs with interest in West and Central Africa and the Great Lakes region about child labour. I discussed with them an Amnesty report This is What We Die For, which exposed child abuse within the Cobalt supply chain in the DRCongo. I insisted that MPs ensure corporations with their headquarters in the UK should take measures to conduct due diligence in their supply chains, following the United Nations Guiding Principles (UNGPs). It was an amazing experience to get to meet people like Jeremy Corbyn and Mr Speaker.
Can you tell us a little about the charity New Hope for Life that you founded and what made you decide to start it?
I founded New Hope for Life after my visit to DRCongo. The country is a home for minerals like cobalt, helping with phones and electric vehicles, batteries, gold, diamonds and much more. But the country is failing to deliver development. The country's mineral resources are causing conflicts and war instead of developing the country. When I visited DRCongo in 2010, I was shocked to see that people's basic rights weren't being met. DRCongo has continued to face pressing humanitarian needs for the last few decades. Millions of people are internally displaced, and some have left the country to seek asylum.
During my trip to DRCongo, I visited internally displaced people living on the streets with their children. It was a sad experience. Once I came back, I decided to set up a charity and start fundraising to help support children's education and fight poverty. Back to the UK, I realised that this could be only successful with the involvement of the Congolese diaspora. Most Congolese diaspora face language barriers, so I decided to assist them in assimilating into British society. I started requesting grants from different organisations such as the Big Lottery to provide them with skills for life, such as English lessons, CV and interview techniques, IT lessons and much more. New Hope for Life (NHL) now assist and empower refugees, asylum seekers and migrants from Francophone backgrounds. The most rewarding part of founding NHL is seeing those of Congolese heritage attending university as they want to be like Aunty Marie-France. I strongly believe that everyone deserves equal opportunities and respect regardless of their country of origin, sexual orientation, race, ethnicity or gender and I do my very best to work hard to be a role model for our children and our heritage so that one day, our children will not be victims of knife crime. I'm a Christian and I'm passionate about making a difference in the well-being of others.
How has Coronavirus affected your work / life?
I started a new job as a graduate intern at London Met's School of Social Sciences, and then came the lockdown. My job responsibilities changed quickly. I was feeling lost with children studying from home and trying to complete my course as I'm currently studying for my master's in law. Thank God my manager Jo Skinner was always present to rescue me. She was a counsellor, a prayer warrior, a teacher and much more. Big up to you Jo!
What's next for you in your career?
My dream is to join a PhD program, and complete it by spending my working life in academia at London Met.
Any advice for London Met students or anyone thinking of studying here?
My advice for our newbies would be: first, seek help when you're stuck! Use your lecturers' advice for success, as mostly they use their own academic experiences. Finally, change will come from your voice or keyboard, so use them to influence your generation. And don't be scared to dream big!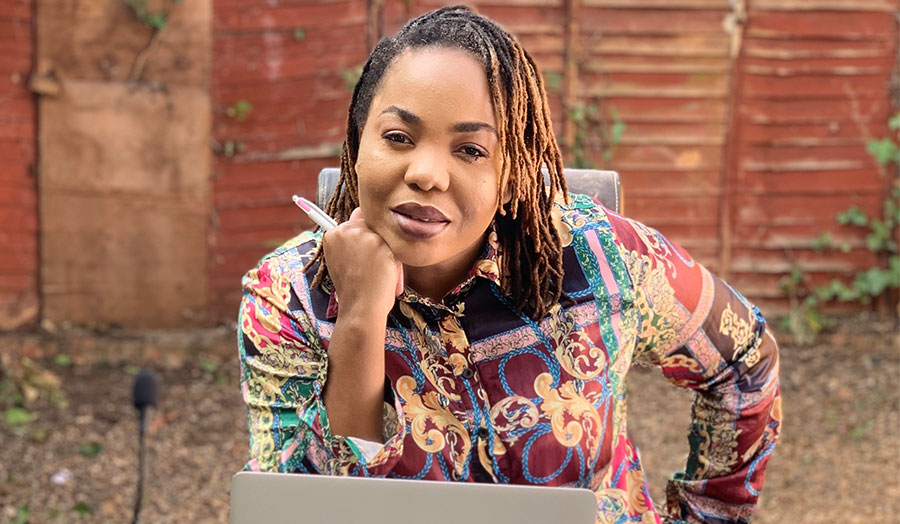 "London Met is my second home. As I was involved with Amnesty International as a speaker and trainer, my mission was to bring the Amnesty candle inside London Met and start campaigning or taking action for people who are victims of inequalities."